Dominion Voter Systems Chief Faces Death Threats after Trump Attacks on Firm: 'It's Terrifying'
A director from Dominion Voting Systems whose technology helped facilitate the election in 28 states says he is hiding out from death threats due to constant attacks on the firm by President Donald Trump and his allies.
State and federal officials say the election was secure, but Trump has said without evidence that Dominion's electronic voting system has cost him millions of votes. Trump's claims range from votes being deleted and switched to President-elect Joe Biden, to describing it as a "radical left" company which is in hock to his opponents.
Dominion's director of product and security, Eric Coomer, told the Associated Press (AP) that he started getting harassed when Trump's campaign lawyers first claimed his company had rigged the election.
He was given personal security and warned not to return home. His photo and details about his family and address were published on far-right chat rooms and then the "first death threats followed almost immediately."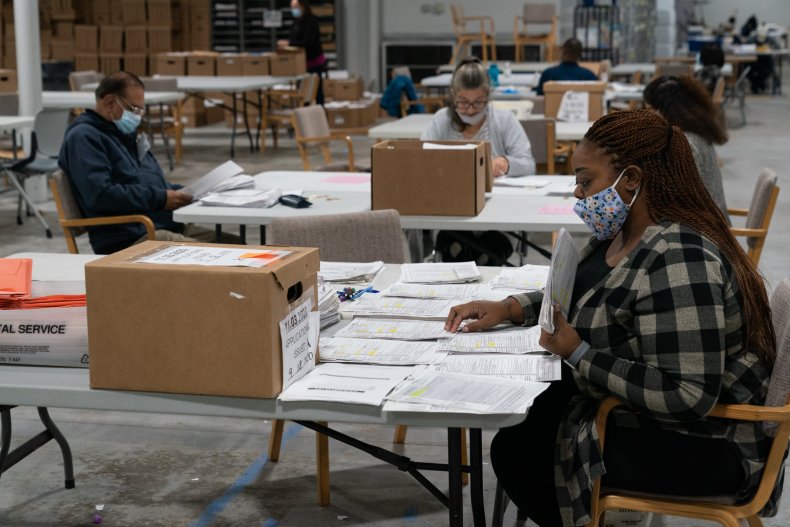 What started as harassment on Twitter escalated into phone calls, text messages and even a letter to his father which called his son a traitor. Although Coomer has relocated to a secret place, he still gets messages from people saying they will track him down.
"It's a daily thing and no, I have not had a decent night's sleep since all of this," he told the AP.
"It's terrifying. I've worked in international elections in all sorts of post-conflict countries where election violence is real and people end up getting killed over it. And I feel that we're on the verge of that."
There is concern at harassment of election officials as Trump and his allies ramp up the election fraud claims. Others threatened included Christopher Krebs, whom Trump fired as director of the Cybersecurity and Infrastructure Security Agency (CISA) after concluding the election was the most secure in history.
In a comment he later insisted was a joke, Trump's campaign lawyer Joseph diGenova told a radio show Krebs should "be drawn and quartered," and "taken out at dawn and shot."
GOP Secretary of State Brad Raffensperger who defended the integrity of the election in Georgia, which Biden flipped, has had to deal with intruders on his property. Meanwhile, a contractor for Dominion has also faced death threats.
The climate of intimidation led Gabriel Sterling, a Republican elections official in Georgia to make an impassioned plea for Trump to denounce the threats, saying: "it's too much, it's not right."
Trump's lawyer Rudy Giuliani said on Wednesday that regarding the intimidation of officials, "you have got to get them to remember that their oath to the Constitution sometimes requires being criticized. Sometimes it even requires being threatened."
Coomer fears the intimidation is likely to continue after the presidential inauguration. "I do not think this goes away on January 20," he told the AP, "I think it will continue for a long time." Newsweek has contacted the Trump campaign for comment.
This graphic provided by Statista shows the amount of money spent in the last six U.S. elections.