The cybersecurity chief sacked by President Donald Trump after he declared the election the most secure in history said he refused to be cowed by threats and described as "profoundly un-American" claims that the ballot was marred by fraud.
Christopher Krebs was dismissed from his role as the first-ever director of the Cybersecurity and Infrastructure Security Agency (CISA) after he and his team debunked claims made by Trump and his allies of hacking, or of votes being deleted, lost, changed or compromised.
On Monday, Trump's campaign lawyer Joseph diGenova called Krebs an "idiot" telling The Howie Carr Show, that he should "be drawn and quartered," and "taken out at dawn and shot" in a comment he has since downplayed as light-hearted.
Krebs wrote in an op-ed for The Washington Post: "A lawyer for the president's campaign plainly stated that I should be executed. I am not going to be intimidated by these threats from telling the truth to the American people."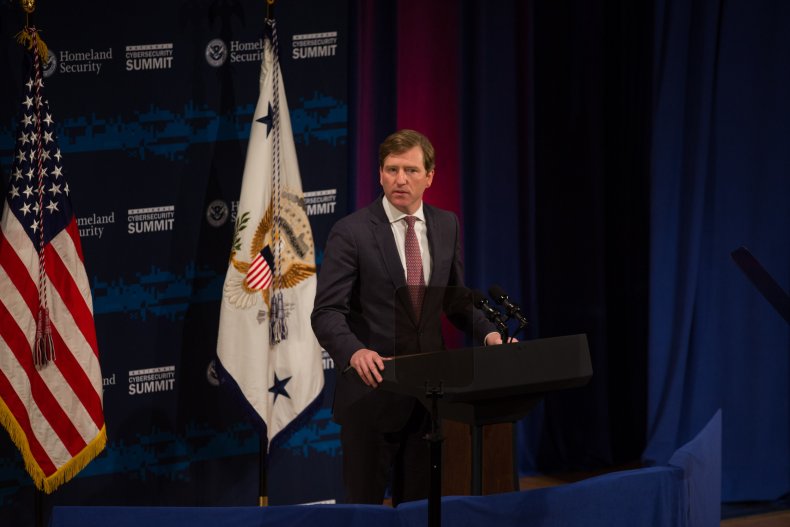 In the piece, Krebs described how he had been drawn to take the role out of a sense of civic duty to protect American democracy following "brazen" interference by Russia in the 2016 election.
He said his team at CISA had worked with state and local election officials as well as the private sector to make sure machines and systems supporting the election were protected from hacking.
Establishing the Elections Infrastructure Information Sharing and Analysis Center helped states and jurisdictions share security-related information, he said.
He also wrote that the phasing out of Direct Recording Electronic machines, or DREs, which did not generate paper records for individual votes, helped with the auditing of the election.
The number of expected votes cast with a paper ballot had moved to above 90 percent, including the traditional battleground states, he added.
"My understanding is that in the 2020 results, no significant discrepancies attributed to manipulation have been discovered in the post-election canvassing, audit and recount processes," Krebs wrote.
"This point cannot be emphasized enough," he continued, referring to how secretaries of state in Georgia, Michigan, Arizona, Nevada and Pennsylvania, and officials in Wisconsin had ensured there was an auditable paper trail.
Krebs said the recount in Georgia, which involved a full hand recount, matched the computer-based account and so debunked claims of fraud.
"That's why Americans' confidence in the security of the 2020 election is entirely justified," he wrote.
"The 2020 election was the most secure in U.S. history. This success should be celebrated by all Americans, not undermined in the service of a profoundly un-American goal," he added.
Newsweek has contacted the Trump campaign for comment.