Cyber Security Chief Trump Fired Rejects Election Meddling Claims: 'The Proof Is in the Ballots'
A top cyber security official, who was fired by President Donald Trump after saying the 2020 U.S. election was the most secure in history, has branded as "farcical" claims made that the vote was marred by foreign interference.
In the first interview since he lost his job, Christopher Krebs, the former director of the Cybersecurity and Infrastructure Security Agency (CISA), rejected allegations made by Trump and his team that any votes had been tabulated in foreign countries.
"All votes in the United States of America are counted in the United States of America," Krebs told 60 Minutes. "I don't understand this claim. All votes in the United States of America are counted in the United States of America. Period."
CBS interviewer Scott Pelley referred to claims made by Sidney Powell, who was dropped from Trump's legal team this week, about a conspiracy theory that election systems created in Venezuela helped sway the election in favor of Democratic President-elect Joe Biden.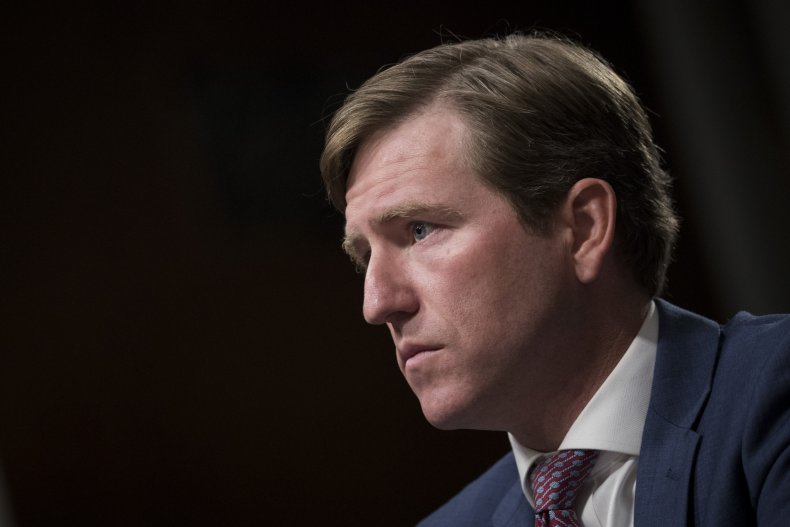 Powell told a press conference last week that Dominion Voting Systems, which supplies voting machines, had used technology developed under the regime of the late Venezuelan leader Hugo Chávez.
Krebs said: "So again, no evidence that any machine that I'm aware of has been manipulated by a foreign power. Period."
When asked about the Trump team's claims about funding from China and Cuba being used to influence the election, Krebs visibly sighed and said: "Look... we can go on and on with all the farcical claims alleging interference in the 2020 election, but the proof is in the ballots."
"The recounts are consistent with the initial count, and to me, that's further evidence, that's confirmation that the systems used in the 2020 election performed as expected, and the American people should have 100 percent confidence in their vote," he added in an excerpt of the interview which will be shown in full on Sunday. Newsweek has contacted the Trump campaign for comment.
Krebs' assessment that the election was secure was criticized by Trump, who tweeted his insistence, without evidence, that there has been "massive improprieties and fraud." These included debunked claims that dead people voted, observers were not allowed into polling machines and glitches in voting machines.
"Therefore, effective immediately, Chris Krebs has been terminated as Director of the Cybersecurity and Infrastructure Security Agency," Trump tweeted.
Krebs swiftly responded, tweeting: "Honored to serve. We did it right. Defend Today, Secure Tomorrow. #Protect2020." He told 60 Minutes that although he expected his termination, he regretted how abrupt it was. "I didn't get a chance to say goodbye, so that's what I'm most upset about," he said.
The graphic below from Statista shows the number of clemencies granted by recent U.S. presidents.