Dominion Warns Legal Action Against Rudy Giuliani 'Imminent' As Exec Sues For Defamation
Rudy Giuliani was threatened with an "imminent" lawsuit from Dominion Voting Systems while one of the company's executives sued him and others for defamation over unsubstantiated claims that the company facilitated massive voter fraud.
In his quest to overturn President-elect Joe Biden's election victory over President Donald Trump, Giuliani, the president's lawyer, has been one of many to promote baseless claims that Dominion machines flipped votes from Trump to Biden. On Tuesday, the company's lawyers sent Giuliani a letter reminding him of his legal "obligation to preserve and retain all documents relating to Dominion and your smear campaign" while warning that "litigation regarding these issues is imminent," according to CNN.
"With this letter you are on notice of your ongoing obligations to preserve documents related to Dominion's claims for defamation based on allegations that the company acted improperly during the November 2020 presidential election and somehow rigged the election in favor of President-Elect Joe Biden," the letter reportedly reads.
A similar letter was sent to White House legal counsel Pat Cipollone, demanding that "any communications between Trump and any White House employee with Powell, Giuliani, [Trump lawyer Jenna] Ellis or [lawyer Lin] Wood must also be retained," according to the report.
Newsweek reached out to the Trump campaign and the White House for comment.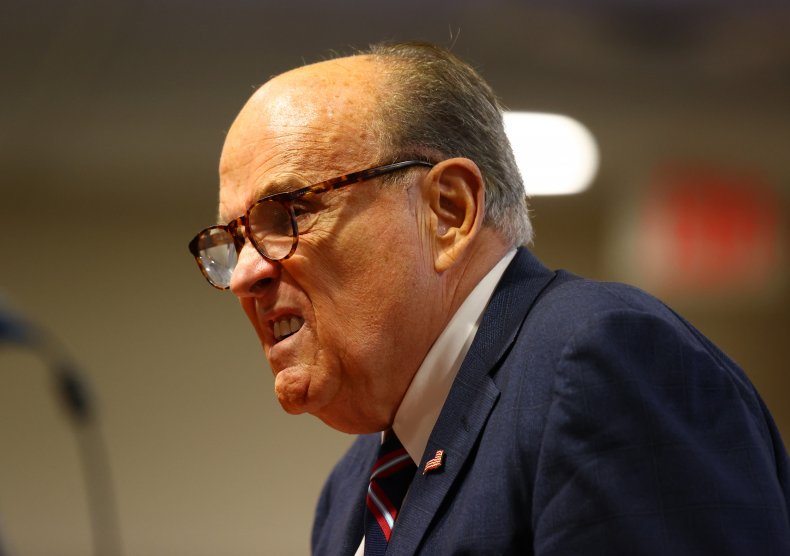 On the same day, Eric Coomer, Dominion's director of product strategy and security, filed suit against Giuliani and the Trump campaign, along with several others who have pushed the bogus fraud claims, including pro-Trump lawyer and conspiracy theorist Sidney Powell and conservative news outlets Newsmax and One American News Network.
Coomer's lawsuit says that he has been targeted with "relentless defamation and ongoing threats," including death threats and harassment from members of the public who believe the unfounded conspiracy theories. After thrusting Coomer "into the national spotlight," the defendants are said to have "invaded his privacy, threatened his security, and fundamentally defamed his reputation across this country."
"The widespread dissemination of false conspiracy theories about the 2020 presidential election has had devastating consequences both for me personally and for many of the thousands of American election workers and officials, both Republican and Democratic, who put aside their political beliefs to run free, fair, and transparent elections," Coomer said in a statement. "Elections are not about politics; they are about accurately tabulating legally cast votes."
After facing legal threats for repeatedly featuring unsubstantiated claims about Dominion and Smartmatic, an unrelated voting software company, Fox News and Newsmax both issued on-air fact checks that acknowledged the claims were not based in reality. Coomer is an employee of Dominion, but the company was not involved in his lawsuit against the networks and others.
Although Trump and his allies have continued to claim that massive fraud was a factor without any providing any credible or tangible evidence, Biden won the election fairly decisively. The president-elect won the Electoral College by a vote of 306 to 232, the same margin won by Trump in 2016. Biden had 7 million more votes than the outgoing president nationally, over 81.2 million, winning the most votes of any presidential candidate in U.S. history.