Domino's Carry-Out Tip Offer Sparks Conversation on Driver Pay, Fine Print
A new carry-out offer from Domino's has shined a light on delivery services in an age where companies continue to adapt due to the pandemic and economic conditions.
While most of the pandemic presented pizza chains like Domino's with strong business results, most notably due to an influx of delivery orders that kept them afloat, things have changed in recent months.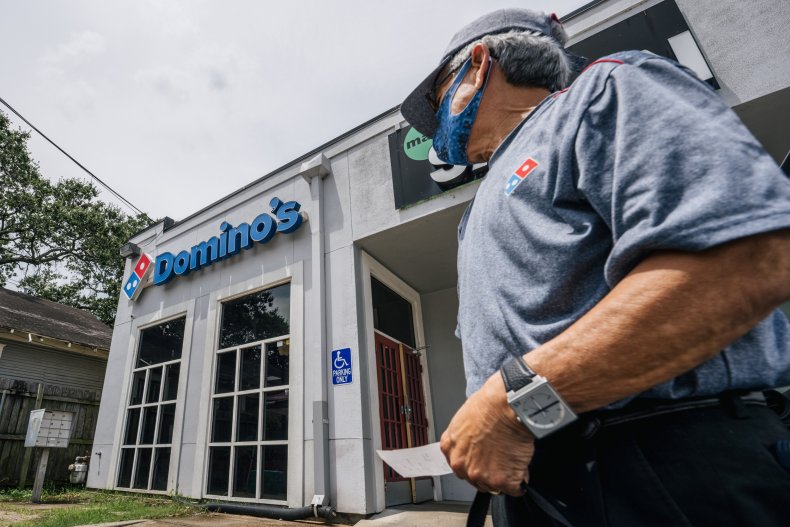 Domino's has experienced a shortage of delivery drivers in what the company's CEO, Richard Allison, has previously described as a "staffing challenge," per Business Insider.
The new advertisement, which has been heavily publicized by the pizza maker via TV and online, involves customers making an order online or through the company's app. They are then sent an email with a promo code for the $3 discount, which they redeem on their next order.
There is the fine print, however. Orders must be made online and be worth $5 or more. Tips must be "claimed" when prompted following an online or mobile order, and they have to be redeemed by Sunday of the same week the order was placed.
Orders placed on Sunday must be claimed the same day, according to the company.
The promotion is said to expire on May 22 of this year.
"It takes skill to get pizza from a Domino's store to your door," said Art D'Elia, Domino's executive president and chief marketing officer, at the onset of the promotion. "As a reward, Domino's is giving a $3 tip to online carryout customers who take the time and energy out of their day to act as their own delivery drivers. After all, we think they deserve it."
Jenny Fouracre-Petko, a spokesperson for the company, told Newsweek that the promotion is still in its infancy and that as a publicly-traded company, Domino's is unable to comment on trends during a quarter that has yet to be reported.
"While Domino's is known for delivery we have been growing a strong carry-out business for many years," she told Newsweek. "During the pandemic, we saw declines in carry-out orders, as customers pivoted to more delivery.
"With customers more open to carry-out options, and with stores working through some staffing shortages, we thought it was a good time to incentivize carry-out customers to order digitally and reward them for delivering pizza...to themselves. So the promotion has less to do with issues around drivers and more to do with encouraging carry-out."
Just recently, competitors like Papa John's have reportedly contacted patrons requesting patience as it "navigates restaurant operations during this unprecedented time." They, too, have been forced to reduce location hours and close some stores temporarily.
Such is the case at one Papa John's franchise location in West Virginia, WVNS reported, whose operator said that they are doing their best but lack the manpower.
A shortage of drivers has become a trend outside of just pizza chains or national companies. There are fewer numbers of truck drivers across the U.S. and Canada, so much so that even teenagers are being encouraged to participate in pilot programs to get on the rigs themselves.
Domino's is unique in that it hires its own delivery drivers, rather than third-party service providers like DoorDash or Grubhub. It has openly acknowledged that in commercials, where franchisees and restaurateurs allege that such third-party companies "take a huge chunk of our bottom line."
One commercial explains how Domino's franchisees purchased $100,000 in gift cards from local restaurants and hand-delivered the gift cards to customers along with their Domino's food orders. It predated the new customer carry-out offer that currently exists.
Not everyone is sold on this concept.
Dan Price, CEO of Gravity Payments and an outspoken advocate for workers, recently tweeted that Domino's concept "is a hell of a way of saying, 'Domino's refuses to pay its drivers the wage required to get workers, and thinks you'll just do the job for a sub-minimum wage.'"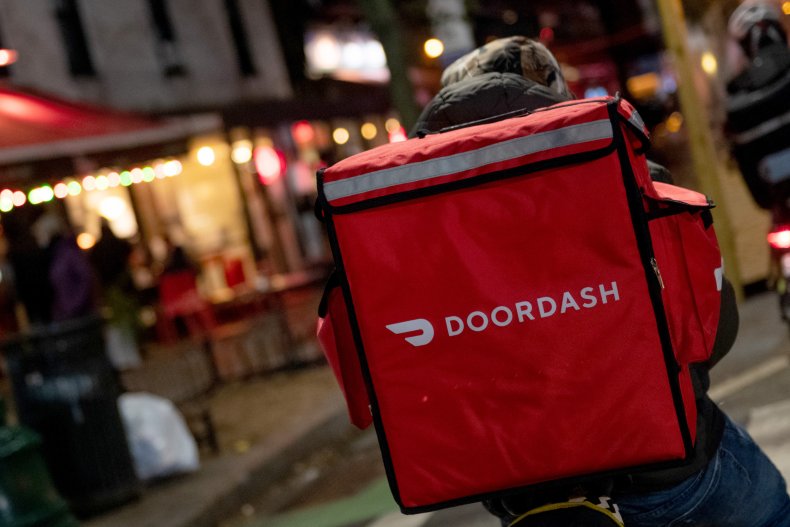 Abby Homer, a spokesperson for DoorDash, told Newsweek that DoorDash has never previously worked in partnership with Domino's.
She said that in the third quarter of 2021, over 3 million DoorDashers earned over $2.8 billion on the platform – including an increase of 9 percent in per-hour earnings when compared to the third quarter of 2020, and over a 30-percent increase compared to the third quarter of 2019.
The company hit its sixth straight quarter of profits, including in areas such as total orders, revenue and DashPass members. Orders were also at an all-time high.
That includes nearly tripling the number of DoorDashers since pre-pandemic days, with about one-third of them living in rural communities.
Fourth-quarter earnings are expected to be unveiled next week.
"[The pandemic] pulled forward many of the non-restaurant categories and launches we had on our roadmap," Homer said. "There are more moments that, as consumers, we use DoorDash––and as a business, we are seeing really strong traction across these categories, including grocery, convenience, retail, alcohol, flowers, etc."
She added that in the same timeframe as Domino's $100,000 gift card promotion, DoorDash gave away over $4 million in DoorDash gift cards via its community credits program.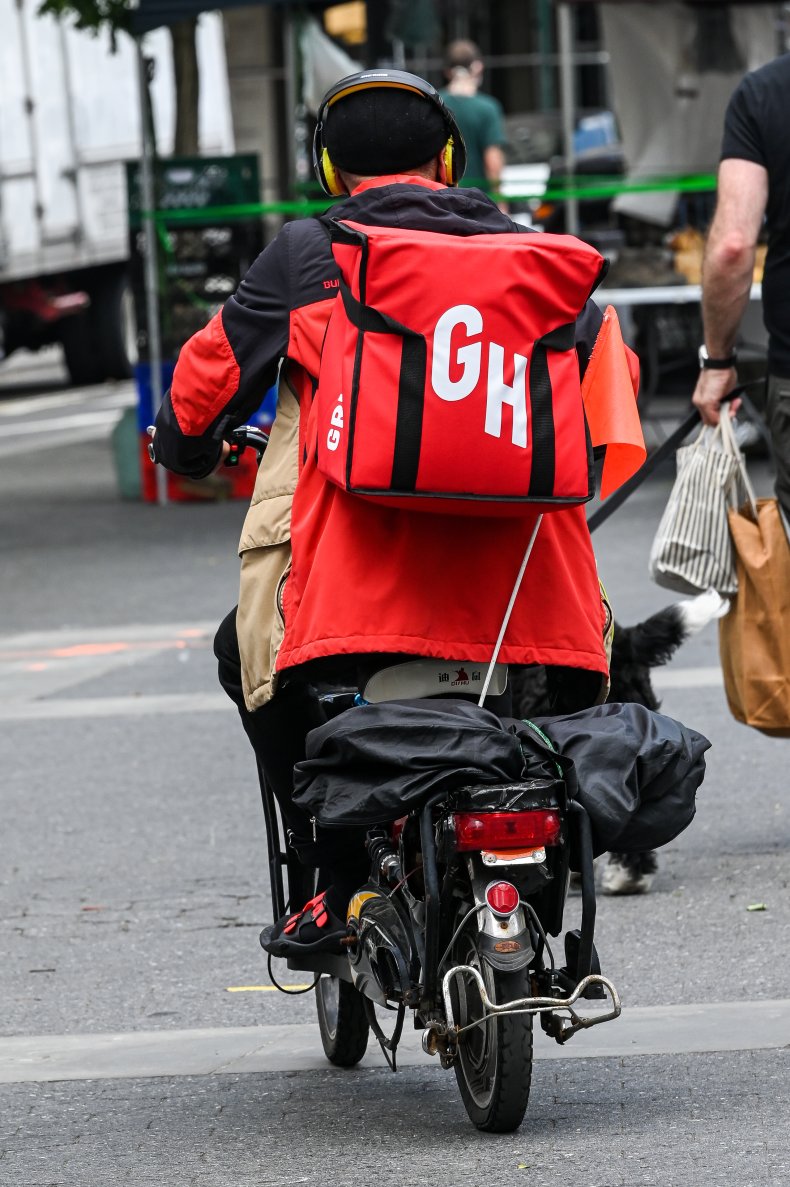 Dave Tovar, Grubhub's senior vice president of communications and government relations, told Newsweek that some Domino's franchisees utilize Grubhub's services for their independent locations.
He added that Domino's carryout campaign is "clearly a signal that they're having staffing challenges" and openly offered to partner with the pizza chain for deliveries.
Grubhub has added "hundreds of thousands of drivers" over the last couple of years, Tovar added, alluding to guaranteed pricing, order accuracy and an expansion of restaurants as reasons for "significant growth" throughout the pandemic.
"But even before then we were growing very rapidly and continuing to grow today," he said. "The Domino's franchisees who are on the Grubhub platform are on there because they recognize we can have them grow and see it as an opportunity to expand their footprint, drive sales."
While Domino's publicized its purchase of $100,000 in gift cards, Tovar said Grubhub gave over $15 million in the last year alone to independent restaurants to help them survive the pandemic, saying: "$100,000 is hardly going to make a dent."