Internet Rallies Round Domino's Worker, 72, Filmed Suffering Painful Fall
An elderly Domino's delivery driver is looking forward to a well-earned retirement after a video of her suffering a fall while dropping off food sparked a fundraising campaign that has generated over $200,000 and counting.
Lacey Klein, a mother of five and an EMT with the Central Berkeley Fire and EMS in Summerville, South Carolina, set up a GoFundMe page for 72-year-old Barbara Gillespie after the septuagenarian slipped while delivering pasta and salad to Klein's home.
The fall was captured on a security camera on the house's door. Lacey and her husband, Kevin, a paramedic and firefighter, were quick to come to Gillespie's aid, but the incident did not sit well with the couple.
"Watching her fall on our camera playback was horrific, and we were so sad for her that she wasn't retired at her age but instead was delivering food," Lacey Klein told Newsweek.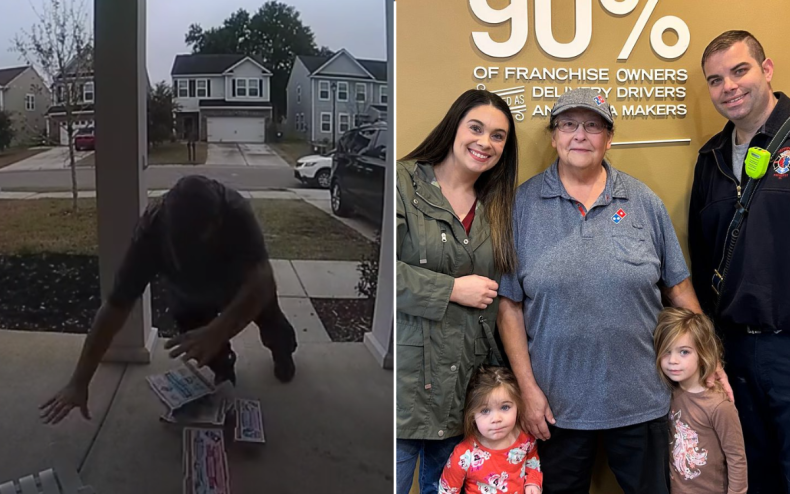 "We both lost our fathers to cancer in the last few years, and they had both worked until shortly before passing away," she continued. "It makes me heartbroken to see anyone elderly having to work to keep up with the economy and pay bills when they should be retired and enjoying their lives."
Gillespie has worked at Dominos for the past five and a half years and is among the growing number of elderly workers in the U.S. labor force. By 2030, people 75 and older will make up 96.5 percent of the nation's workforce, according to the Bureau of Labor Statistics.
While some people enjoy working during their retirement years, for many older Americans staying employed is a necessity at a time of economic uncertainty. The 2022 U.S. Census Bureau's Survey of Income and Program Participation found that 49 percent of U.S. adults aged 55 to 66 had no personal retirement savings.
After Gillespie's fall, Klein and Kevin came up with a plan to try to help her out.
She uploaded footage of the incident to TikTok and set up the GoFundMe "just minutes" later, figuring the clip might garner some sympathy and donations for the injured worker that would serve as "a tip to help her with anything she may need."
"I thought, Even if only a couple people donate, maybe she could take a couple days off to recover and relax," she said.
The video soon went viral. It's already been watched over 12 million times, with viewers taking to the comments section to express sympathy and frustration at Gillespie's situation.
"The elderly shouldn't have to work like this," one wrote. Another said: "I feel so bad when people her age have to work so hard. Breaks my heart. We need better care for our elders."
Klein said the video's popularity likely comes from many on social media watching it and thinking that "this could be my grandmother, my mother."
"I think we can all agree that our elderly are struggling with the changing economy and low Social Security benefits that are not keeping up," she said.
But while the response to the clip itself was huge, it was nothing compared with what happened on the GoFundMe page.
In just a few days, $226,038 was raised. It's a life-changing sum of money and should ensure that Gillespie is well looked after.
"We are so excited for Barbara to be able to retire and cannot even express enough how thankful we are to every single person that has donated and sent well-wishes," Klein said.
She continued: "We are so beyond relieved to know that Barbara can now relax. She can spend all the time she wants with her kids, grandkids, great-grandkids and not have to worry about being able to do it."
Gillespie told Newsweek she was stunned when Klein first told her how much had been raised.
"I thought I was dreaming. I still feel like it's a dream," she said.
While Gillespie is planning to use the money for her "retirement fund" she was keen to stress that she has enjoyed her time at Domino's.
"I love working for Dominos," she said. "My boss Kerry Heymann has always been very caring, and my supervisor Christianne Walter is the best. My general manager Paul Reid has also been great and I will always love and remember them. They have been so kind and friendly."
Despite this, she is full of appreciation for the efforts of Klein in turning a difficult episode into something incredible. "It's nice to know that there are people in this world who care," Gillespie concluded.
Newsweek has contacted Domino's for comment.
Correction, 2/08/23, 03:21 ET: This story was updated with comment from Barbara Gillespie.