Don Lemon Blasts Activists Who Followed Kyrsten Sinema Into Bathroom: 'Harassment'
CNN's Don Lemon called out the activists who followed Arizona Sen. Kyrsten Sinema into a bathroom, calling it "harassment."
Living United for Change in Arizona, also known as LUCHA, posted video of the encounter with Sinema on Twitter on Sunday, where it went viral.
The video showed members confronting Sinema outside a classroom at Arizona State University, where she is a lecturer, and calling on her to support President Joe Biden's $3.5 trillion infrastructure proposal. They continued to film her inside a restroom.
In a segment on his show Monday night, Lemon showed the clip before calling out the activists.
"They succeeded in getting attention. They did. But what kind?" Lemon said. "When you violate someone's privacy, it blurs a line between activism and harassment. I'm not sure if it's even that blurry. It's harassment."
He continued: "Whatever point these protesters want to make, very few arguments, if any, have been won by yelling at someone in a bathroom. It also probably won't make the target more sympathetic to your cause."
Lemon added that while Sinema is a Democrat, he had made the same point when Fox News host Tucker Carlson was accosted in a fishing store. "It was going too far then, and it is going too far now," he said.
"The thing is, there are a lot of Americans who do want Sinema and [Sen. Joe] Manchin to support Biden's agenda. And there are so many great ways to protest and prove your point. But this, this ain't it."
Sinema said the activists had unlawfully entered the suburban Phoenix campus building and recorded her and her students.
"In the 19 years I have been teaching at ASU, I have been committed to creating a safe and intellectually challenging environment for my students," Sinema said in a statement on Monday. "Yesterday, that environment was breached. My students were unfairly and unlawfully victimized. This is wholly inappropriate."
LUCHA said its members had been forced to confront Sinema at ASU because she has not been accessible.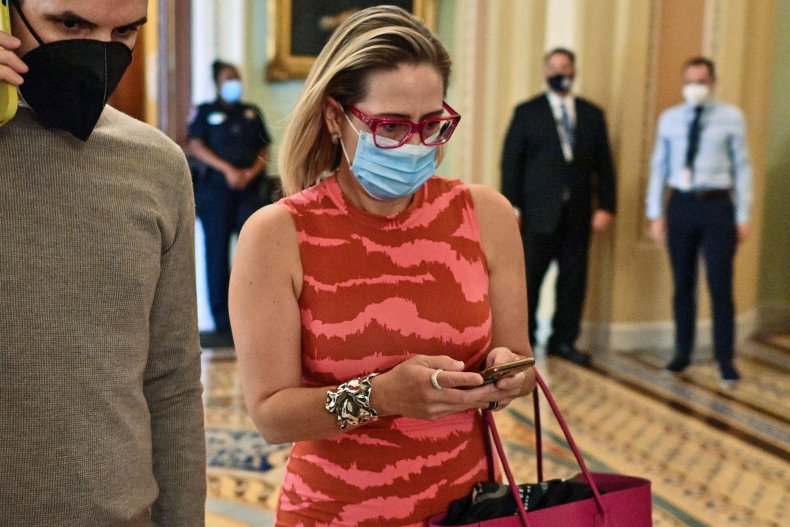 "Sinema's constituents have not been granted access to her office, they have been ignored, dismissed, and antagonized," the group said in a statement on Monday.
In her statement, Sinema said she has met with the group several times since she was elected to the Senate.
LUCHA's statement did not address criticism of the tactics of the protest but called on Sinema to stop blocking the Build Back Better Act.
"This is Sinema's moment to do the right thing and stop blocking the Build Back Better Act," it said. "We - her constituents - need a pathway to citizenship, access to healthcare and lower drug prices, better-paying jobs, education funding, and the ability to keep our families safe. Senator Sinema must listen to constituents and support a Build Back Better agenda."
Biden was asked about the incident, as well as another incident where protesters ambushed Manchin outside his houseboat, on Monday.
"I don't think they're appropriate tactics, but it happens to everybody from the—the only people it doesn't happen to are people who have Secret Service standing around them," Biden told reporters. "So, it's—it's part of the process."
White House Press Secretary Jen Psaki later emphasized that the president supports people's fundamental right to protest, but lines were crossed in Sinema's case.
"What happened this weekend was that her classroom, her students, and the safe and intellectually stimulating environment she's worked to create during the years of teaching at ASU was breached," Psaki said. "That's inappropriate and unacceptable."