Don Lemon Runs Clock To Show How Long Derek Chauvin Knelt On George Floyd's Neck
Minutes into his opening statement during the trial of Derek Chauvin, prosecutor Jerry Blackwell spoke about the widely seen bystander video that shows the former Minneapolis police officer with a knee pinned to George Floyd's neck.
Part of that video was played to jurors after Blackwell told them to remember 9 minutes and 29 seconds—the amount of time that Chauvin, who is white, had kneeled on the Black man's neck in Minneapolis on May 25 last year.
On his CNN show on Monday night, Don Lemon noted that the initial report that Chauvin had knelt on Floyd's neck for 8 minutes and 46 seconds was "stunning"—but now prosecutors have said it was actually much longer.
To show viewers just how "excruciatingly long" 9 minutes and 29 seconds is, Lemon ran a clock for that amount of time as he discussed the first day of Chauvin's trial.
"Can I have a few minutes of your time?" Lemon asked viewers in his show's opening segment. "Can I have a few minutes of your undivided attention here?"
He continued: "I am going to run a clock on the screen for 9 minutes and 29 seconds. It's an excruciatingly long time. Much longer than you think. And it goes on and on and on, so I'm going to go on with the show. I just want you to think about the time if someone's knee is on your neck and they're stopping you from breathing."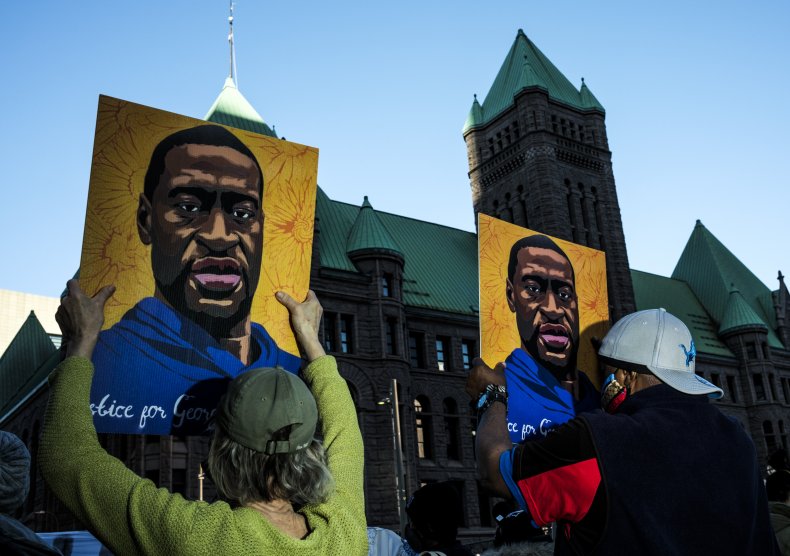 But Lemon then said that the "horrific number" doesn't begin to tell the story of what happened to Floyd. It "doesn't begin to tell you how he struggled to get air in his lungs, how he told officers more than 20 times, I can't breathe, I can't breathe, I can't breathe, I can't breathe," Lemon said.
"How he cried out in pain, begged for his mother, how the crowd pleaded with police to stop, calling out how long are you going to hold him down? While Derek Chauvin just kept his knee on his neck. 9 minutes and 29 seconds. All this happening on a Minneapolis street, in broad daylight and and it was caught on camera."
Lemon then played a portion of the bystander video, saying it was "really difficult to watch" but "just a small part" of what happened to Floyd after he was arrested for allegedly using a counterfeit bill at a convenience store.
"That's how much time that was," Lemon said when 9 minutes and 29 seconds was up, before asking viewers to imagine what it would be like if they or their loved ones were on the ground "for that long, already subdued by police."
Chauvin, 45, is charged with second-degree unintentional murder, third-degree murder and second-degree manslaughter. His trial is expected to last four weeks.
Three other former officers charged in Floyd's death will be tried in the summer.