C-SPAN Caller Threatens To Shoot CNN's Don Lemon, Brian Stelter For Allegedly Calling Trump Supporters 'Racists'
CNN hosts Don Lemon and Brian Stelter were the target of a death threat heard on-air Friday during a live C-SPAN program about Trump and his supporters' dislike for news media.
The caller identified himself to the "Washington Journal" host as "Don" from State College, Pennsylvania, and a supporter of Trump's criticism of news media outlets. The brief comment made during the live broadcast falsely claimed the CNN hosts labeled all supporters of President Donald Trump as "racists." Stelter later flatly denied he'd made the accusation against supporters of the president, but he did note Fox News' Sean Hannity recently airing a years-old clip of Stelter discussing "racial anxiety" over Trump's election.
"Good morning, it all started when Trump got elected," the caller told C-SPAN host Greta Wodele Brawner, with slightly slurred speech. "Brian Stelter and Don Lemon from CNN called Trump supporters 'all racists.' "They don't even know us. They don't even know these Americans out here and they are calling us racists because we voted for Trump? Come on. Give me a break," the caller said. "They started the war. I see them, I'm going to shoot them. Bye."
Lemon, who anchors CNN Newsroom, was the target of his own criticism from Trump over an interview he did with NBA star Lebron James Friday. Trump tweeted Saturday morning that James was interviewed by "the dumbest man on television, Don Lemon," before insulting James' own intelligence. Trump flew to Ohio later that night after making the remark about the Akron, Ohio, native who left the Cleveland Cavaliers for the Los Angeles Lakers earlier this summer.
Stelter told viewers during his "Reliable Sources" program on CNN that he was not seeking sympathy by playing the threatening clip. Instead, he said he wanted to shed light on more serious threats against other journalists and his coworkers at the cable news network. Last week, CNN's Jim Acosta was verbally accosted by Trump supporters during a rally in Tampa, Florida.
"Threats against reporters on the rise. We decided to broadcast one of those threats on today's @ReliableSources, so everyone can hear it for themselves," Stelter tweeted Sunday morning.
Trump has directed several tweets against news media outlets in recent days, doubling down on his oft-repeated phrases of "Fake News" and labeling news outlets the "Enemy of the People."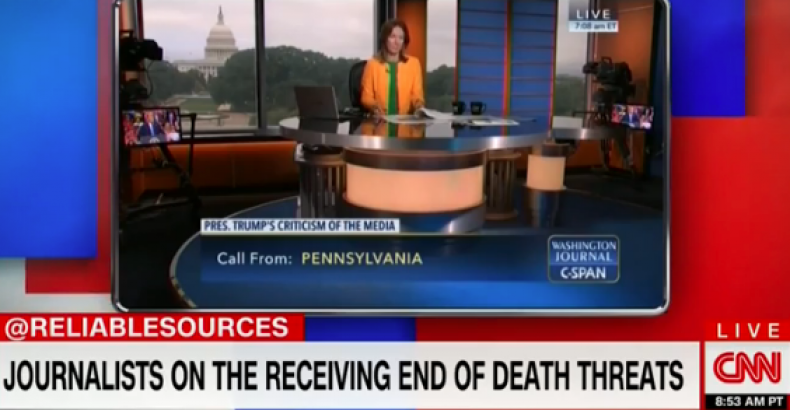 Just hours after the C-SPAN call threatening to shoot CNN's Lemon and Stelter amid the caller's alleged race "war," Trump tweeted that news outlets "purposely cause great division & distrust. They can also cause War! They are very dangerous & sick!"
A Pew Research Center study published in June revealed a growing distrust in news media outlets, with 68 percent of overall Americans saying they're "worn out" by the country's 24-hour news cycle. Just 17 percent of Americans said they think national news organizations are doing well at keeping the public informed of the country's most important stories.