Trump's Translator Looks Perplexed by His Comments on Syria: 'They've Got...A Lot of Sand That They Can Play With'
President Donald Trump's Wednesday press conference with Italian President Sergio Mattarella produced many talking points, his erratic foreign policy and antagonistic diplomacy on full display while defending his decision to withdraw U.S. troops from northeastern Syria.
Though journalists and aides may have been reacting off-camera, Trump's translator was caught on film showing her apparent shock and confusion when the president suggested the land contested by multiple powers in Syria consisted of "lots of sand."
A clip of the translator's reaction quickly went viral, with many users sympathizing with her shock at Trump's words.
Trump has been forced to defend his withdrawal of U.S. forces from northeastern Syria, leaving America's Syrian Democratic Forces allies—led by the Kurdish People's Protection Units, or YPG—open to a Turkish assault.
Trump is accused of abandoning the Kurds, who bore the brunt of the fighting against Islamic State militants and cleared eastern Syria of their "caliphate."
Facing annihilation from the Turks and their proxies, the Kurds instead turned to dictator President Bashar al-Assad and his Russian and Iranian allies for protection, handing over control of several key cities in the region in exchange for protection.
Trump's Syria misadventure has been a stunning victory for America's adversaries, and a disaster for its allies. But the president has been characteristically unapologetic.
He initially denied giving Turkish President Recep Tayyip Erdogan the green light for the operation and imposed sanctions on Ankara, calling for an end to the invasion.
But at the same time, Trump has denied the strategic value of America's Syrian deployment and questioned the U.S.'s responsibility to the Kurds. And on Wednesday, he displayed apparent contempt for those fighting in northeastern Syria.
Asked about the U.S. ceding influence to Russia in Syria, the president replied, "Syria may have some help with Russia, and that's fine...They've got a lot of sand over there. So, there's a lot of sand that they can play with...Let them fight their own wars."
When Trump told reporters, "They've got a lot of sand over there," the translator sat behind his right shoulder suddenly glanced up towards the president. A bemused look on her face, she held the gaze for a moment and then looked back down to her work.
Twitter users were quick to pick up on the reaction. Security analyst Marcel Dirsus wrote, "I don't think I've ever seen anything more relatable than this translator's reaction to Trump's nonsense."
Oliver Willis, a senior writer at the progressive Shareblue news site, noted that the woman "making faces" behind the president was his translator, required to make sense of his "embarrassing, disgusting display."
Alexander Nazaryan, a national correspondent for Yahoo News described the translator as "bewildered," while comedian Brock Wilbur noted, "After Trump gets done saying something she has to repeat it and she's not having a great time with this."
Producer Andrew Kimmel simply wrote, "The Italian translator for Trump is all of us."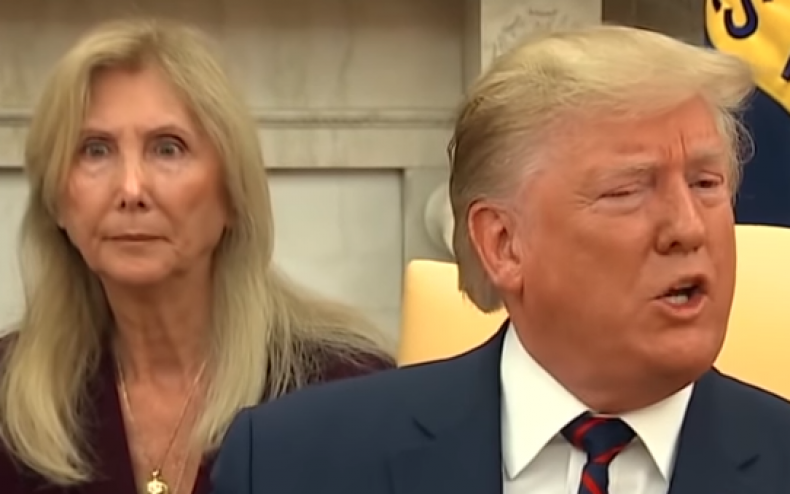 Trump's appearance with Mattarella provided plenty of ammunition for his critics. Also Wednesday, Trump came under fire for the contents of a letter he sent to Erdogan.
In the letter, the president urged his counterpart not to "be a tough guy" and to reconsider the action in northeastern Syria. "You don't want to be responsible for slaughtering thousands of people, and I don't want to be responsible for destroying the Turkish economy—and I will," the letter threatened.
Trump continued, "History will look upon you favorably if you get this done the right and humane way. It will look upon you forever as the devil if good things don't happen. Don't be a tough guy. Don't be a fool!"
The message was widely condemned as unprofessional, juvenile and embarrassing. According to the BBC, Erdogan "thoroughly rejected" the letter and threw it in the trash.