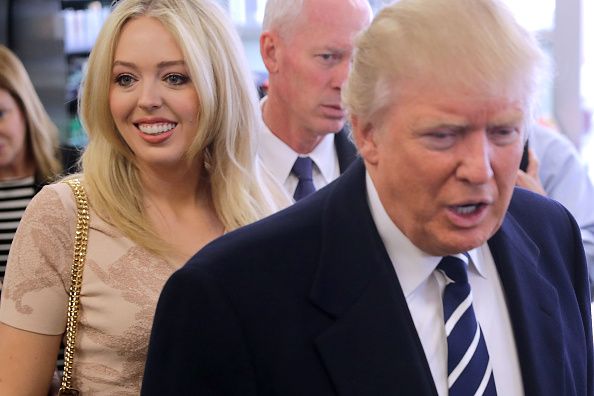 It looks like President Donald Trump did not wish the youngest daughter of the Trump family a happy birthday.
Tiffany Trump turned 24 years old on Friday, but the commander-in-chief and the rest of the family did not send best wishes to the birthday girl on social media, despite their regular use of Twitter to share moments from their public and private lives. The Georgetown University law student is the president's only child from his marriage from Marla Maples, his second wife. It's unclear how close she is to sister Ivanka Trump, daughter of Ivana Trump, the president's first wife, or her stepmother, Melania Trump, the president's third wife, but Tiffany Trump did wish her father a happy birthday with an Instagram picture in June.
While it's possible the president wished his daughter a happy birthday in a more personal announcement, he has sent birthday messages to other family members, as well as government entities, on Twitter since moving into the White House. Ivanka, Melania, and Donald Trump Jr. all got birthday wishes via Twitter from the president. Even the U.S Coast Guard, Navy, Air Force and Army received shout-outs from Donald Trump on their birthdays.
Most recently, the president has been bragging about his new executive order on healthcare. Early Saturday morning, Trump took to Twitter to blame Democrats for Obamacare and the rise of health insurance stocks.
"Health Insurance stocks, which have gone through the roof during the ObamaCare years, plunged yesterday after I ended their Dems windfall!" the president tweeted.
He then followed with up with how great the new executive order on healthcare will be for Americans, claiming it would benefit millions of people in the U.S.
"Very proud of my Executive Order which will allow greatly expanded access and far lower costs for HealthCare. Millions of people benefit!" the president tweeted. The order could end up taking away healthcare insurance from millions of sick people by rolling back some of Obamacare's protections and actually raise premiums for the healthy Americans.