Trump Has Spent At Least 40 Hours Tweeting Since Becoming President: Report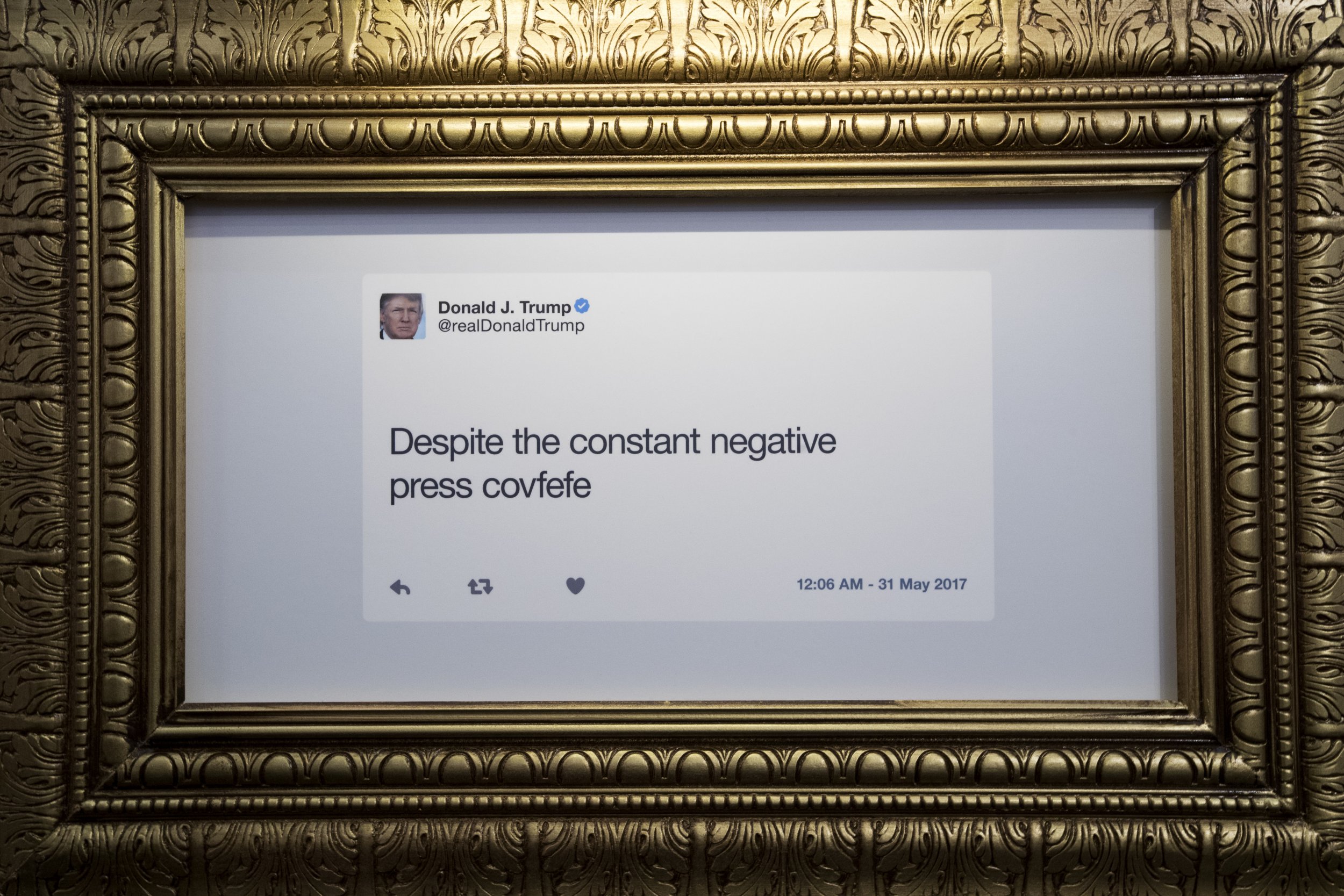 President Donald Trump has spent an estimated 40 hours tweeting in his first year in office.
In comparison, one could drive across the entire country in less time or binge-watch every episode of Stranger Things almost three times over.
"If he spent only one minute on each post, that would be nearly 40 hours—a solid work week for most Americans—spent just on tweets. On average, it amounts to seven posts a day," reported the Boston Globe, which analyzed the president's time spent tweeting.
Trump acknowledged that his rhetoric and Twitter habit was not presidential during the campaign, repeatedly vowing to change once he made it to the Oval Office. "I'm gonna be so presidential that you people will be so bored," he told a crowd of supporters at a rally in Harrisburg, Penn., in August 2016.
But since taking office, he appears to have adjusted his terms.
"My use of social media is not Presidential - it's MODERN DAY PRESIDENTIAL. Make America Great Again!" he tweeted in July 2017.
The Globe found that many of Trump's more incendiary tweets were posted during pre-dawn hours, before the West Wing was occupied by its full staff. He posted one-third of all his tweets between 5 a.m. and 8 a.m., according to the report.
Trump, perhaps Fox News' most famous viewer, tweeted at the show Fox and Friends almost 100 times, far exceeding any other news outlet. He mentioned the New York Times more than 30 times, often preceded by the insult "failing."
He tweeted "fake news," sometimes in all caps, 159 times, making it his most used phrase, the Globe reported. It made more appearances than "tax cuts," which he posted at least 97 times, and a reference to "jobs," which he tweeted at least 92 times.
The Columbia Journalism Review posted an analysis of Trump tweets that found he had tweeted 990 negative posts about the media since June 16, 2015, when he announced his candidacy for president.
Since his inauguration on January 20, Trump has mentioned his democratic rival Hillary Clinton in tweets at least 48 times, using the "Crooked Hillary" moniker half the time. He's referred to his predecessor President Barack Obama or Obamacare at least 126 times.
Trump has tweeted about Democrats in general more than Republicans, though he's used more positive words in tweets aimed at his side of the aisle than about Democrats.
The president's tweets aren't limited to his domestic concerns. Trump tweeted about Russia 96 times, North Korea 59 times and China 46 times. (Trump tweeted "Make America Great Again" 97 times, just edging out Russia-inspired tweets.)
The 71-year old's most popular tweet targeted North Korean dictator Kim Jong-Un. "Why would Kim Jong-un insult me by calling me 'old,' when I would NEVER call him 'short and fat?' Oh well, I try so hard to be his friend - and maybe someday that will happen!"
That tweet got nearly 620,000 likes, more than 270,000 retweets and more than 300,000 comments. Most of his tweets garner 20,000 to 200,000 likes and 4,000 to 50,000 retweets.
Trump and Kim have waged a war of words within the past 11 months. In September, the dictator called Trump "a mentally deranged U.S. dotard"—with dotard meaning "a person, especially an old person, exhibiting a decline in mental faculties; a weak-minded or foolish old person," according to Merriam-Webster. Trump has tweeted about Kim several times, referring to him as "Rocket Man" or "Little Rocket Man."
Trump's Twitter use also has increased over his first year. He's tweeted 70 percent more in the second half of the year than he did in the first six months, according to the Globe.
RELATED: TRUMP RETWEETED SNUFF FILM, POSSIBLY VIOLATING TWITTER'S RULES, BUT HE PROBABLY WON'T GET BANNED
Trump's tweets have sometimes veered from controversial to possibly violating Twitter's rules.
In November, Trump retweeted three anti-Muslim videos that were originally posted by a British white supremacist, one of which purported to be a snuff video. The post appears to violate Twitter's rules and the original poster's account was later suspended. Trump's account, however, remains active and his activity has not cost him his blue check mark marking him as a "verified" user.
Despite his prolific use of Twitter, none of his posts made Twitter's top 10 most retweeted tweets of 2017 list. Obama had three tweets on the list.