President Donald Trump made good on earlier threats and released video footage of his 60 Minutes interview with Leslie Stahl. The interview was scheduled to air on the news program on Sunday, but after an allegedly particularly combative filming experience, the nearly 38-minute interview was shared on the president's Facebook on Thursday.
"Look at the bias, hatred and rudeness on behalf of 60 Minutes and CBS. Tonight's anchor, Kristen Welker, is far worse! #MAGA," Trump captioned the video.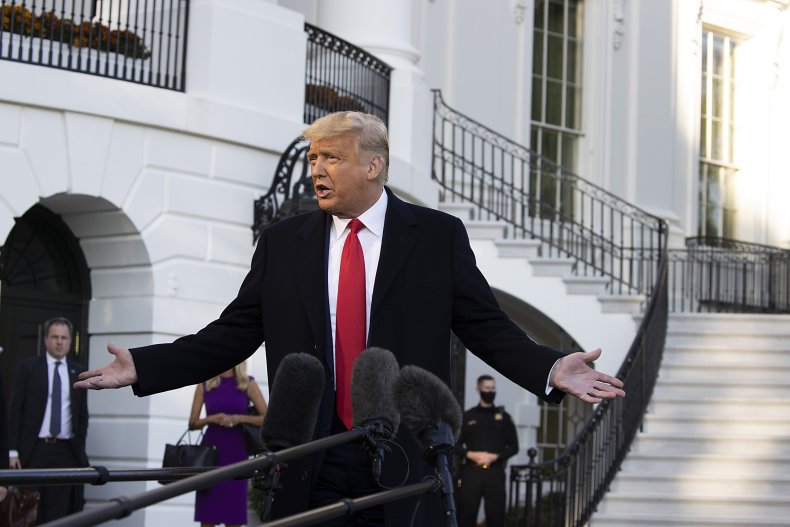 Trump is scheduled to appear in his second and final debate against his Democratic foe, former Vice President Joe Biden. NBC News correspondent Welker, who typically covers the White House, is slated to moderate.
It didn't take long for people on social media to begin weighing on Trump's latest controversy with CBS and the unedited interview. There were those who supported Trump and praised his handling of the interview while criticizing Stahl for her poor treatment of the president.
"No living human believes Leslie Stahl would ever treat Biden the way she treated President Trump in that 60 Minutes sit-down," Fox News host Laura Ingraham wrote on Twitter.
Fox News contributor Sara A. Carter agreed, tweeting, "#Trump exposes media bias tells '60 Minutes' Leslie Stahl 'You're protecting' #Biden. The interview was fiery and Trump didn't back down, despite Stahl's condescending attitude with the President as he attempted to answer her questions."
Megyn Kelly challenged claims that Trump had abruptly "stormed out" of the interview—"Oh please," she wrote—while Greg Gutfeld, host of Fox News' Greg Gutfeld Show suggested that people were able to see exactly how the interview went before CBS aired their edited package.
"Just watched the trump 60 Minutes segment. First, we should be grateful we get to see this stuff, unedited, and before its manufactured. second, anyone saying he 'stormed out' are getting high off the cork. He leaves the way every boss leaves: you get no say in the matter," Gutfeld tweeted.
On the contrary, liberals and Democrats thought that Trump's behavior during the interview wasn't that of a boss, but of someone who was "untethered from reality," according to activist and The List: A Week-by-Week Reckoning of Trump's First Year author Amy Siskind.
George Takei thought Trump was"completely unhinged," while several others thought he appeared to be a "total train wreck."
"Trump releasing the raw footage of the @60Minutes interview makes Stahl and 60 Minutes look good, makes Trump looks bad, and lets CBS present the edited version without claims that they're hiding something. And since the audience for that show skews older, what could go wrong?" Tom Nichols, author and Project Lincoln senior advisor wrote.
In the days leading up to the interview's air date, Trump ridiculed Stahl and CBS on Twitter and revealed that he cut his interview short due to Stahl's "biased" line of questioning.
"I am pleased to inform you that, for the sake of accuracy in reporting, I am considering posting my interview with Lesley Stahl of 60 Minutes, PRIOR TO AIRTIME! This will be done so that everybody can get a glimpse of what a FAKE and BIASED interview is all about..Everyone should compare this terrible Electoral Intrusion with the recent interviews of Sleepy Joe Biden!" he tweeted on Tuesday.