Donald Trump Says Adam Schiff Is 'Deranged Human Being' At NATO Summit Meeting
President Donald Trump called Adam Schiff a "maniac" and a "deranged human being" at a NATO meeting Tuesday as Democrats prepared to publish an impeachment report.
The commander in chief accused the House Intelligence Committee chairman of "having a complex" and being a "very sick man" at a meeting with Canadian Prime Minister Justin Trudeau during the 70th anniversary NATO summit in England on Tuesday.
He also falsely accused Schiff of making up a conversation between himself and Ukrainian President Volodymyr Zelenskiy, suggesting the Democrat would "be thrown in a jail" were it not for Congressional privileges.
The president's comments came on the same day the Democratic-controlled House Intelligence Committee published a report outlining evidence gathered in the impeachment process against Trump thus far.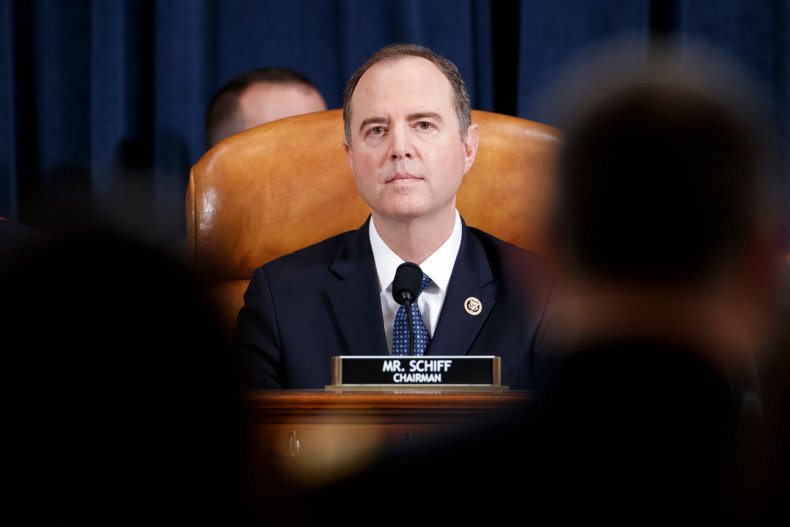 In their 300-page report, Democrats accused the president of putting "personal political benefit" ahead of America's interests and engaging in "an unprecedented campaign of obstruction of this impeachment inquiry."
Speaking to journalists at his meeting with Justin Trudeau yesterday, President Trump complained about "witch hunt" impeachment inquiry hearings that were "very unfair."
"They get three constitutional lawyers... and we get one," the president said, referring to an upcoming hearing. "Now nobody has to know anything about constitutional law, but they get three and we get one. That's not sounding too good."
At an impeachment hearing due to be held by the Democratic-controlled House Judiciary Committee Wednesday, the panel will hear from four constitutional lawyers, three of whom were selected by Democrats and one who was picked by Republicans.
The first Trump inquiry session to be held in front of lawmakers on the Judiciary Committee was made possible after the House Intelligence Committee voted on Tuesday to approve its report on impeachment evidence and send it forward.
Asked to speak about the panel's chairman Adam Schiff yesterday, President Trump said: "I think he's a maniac. I think Adam Schiff is a deranged human being. I think he grew up with a complex for lots of reasons that are obvious. I think he's a very sick man."
He went on to falsely accuse the House Intelligence Committee chairman of "making up" his conversation Ukrainian President Volodymyr Zelenskiy and claimed "a lot of people" didn't read a transcript of the call released by the White House.
"This guy is sick," Trump told reporters. "He made up the conversation. He lied. If he didn't do that in the halls of Congress, he'd be thrown in a jail. But he did it in the halls of Congress and he's given immunity."
Newsweek has contacted Adam Schiff's office for a response by did not receive comment by time of publication.
The commander-in-chief then repeated past claims that his call with Zelenskiy was "perfect" and said Republicans had "never been stronger" despite the possibility of an impeachment trial in the Senate growing yesterday.
In a rant against Democrats, Trump went on to say that he hoped that in "the long-distance future" a Democratic president faced impeachment from a Republican-controlled House "because somebody picked an orange out of a refrigerator, and you don't like it, so let's go and impeach him."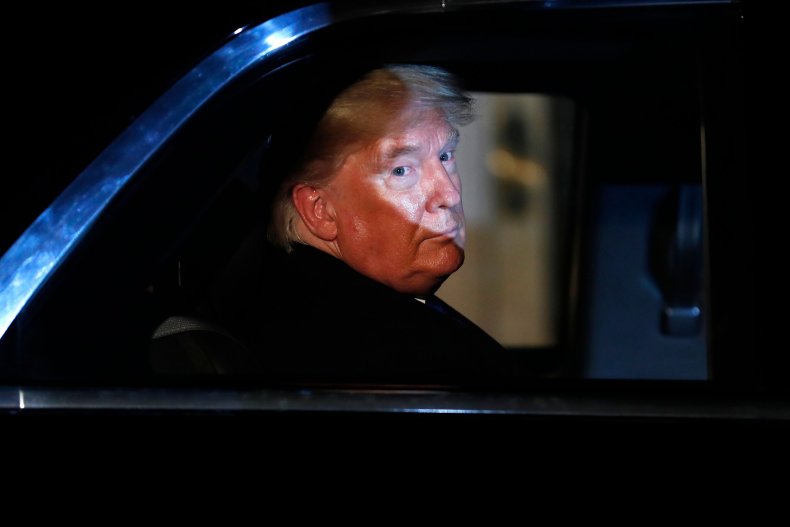 The ongoing impeachment inquiry against President Trump does not center on him picking an orange out of a refrigerator, but is instead focused on allegations that he withheld military aid from Ukraine in an effort to push the country toward announcing investigations into his political rivals.
In their report outlining impeachment evidence, House Intelligence Committee Democrats claimed that the inquiry had "uncovered a months-long effort by President Trump to use the powers of his office to solicit foreign interference on his behalf in the 2020 election."
But a rebuttal report released by House Republicans on Monday denied the existence of any quid pro quo and said Trump's actions regarding Ukraine were "valid."
The first Trump impeachment inquiry hearing before the House Judiciary Committee is scheduled to be broadcast from Washington D.C. at 10:00 a.m. ET Wednesday.