Donald Trump Calls Adam Schiff 'Little Pencil Neck' Again, Mocks Idea Of Calling Him About Soleimani Strike
President Donald Trump hit out at Congressman Adam Schiff during a rally Thursday night, calling the California Rep. a "pencil neck" after the House of Representatives voted to curb the president's ability to take military action.
The commander-in-chief mocked the idea of having to call the California Democrat ahead of the drone stike that killed Iranian general Qassem Soleimani, and told supporters at a rally in Toledo, Ohio that the House Intelligence Committee chairman bought "the smallest shirt collar you can get."
He also took aim at Nancy Pelosi, telling his crowd at the Huntington Center that the House Speaker was "not operating with a full deck."
President Trump's attacks on the top House Democrats came after the chamber voted in favor of a resolution limiting his ability to take military action against Iran without congressional approval.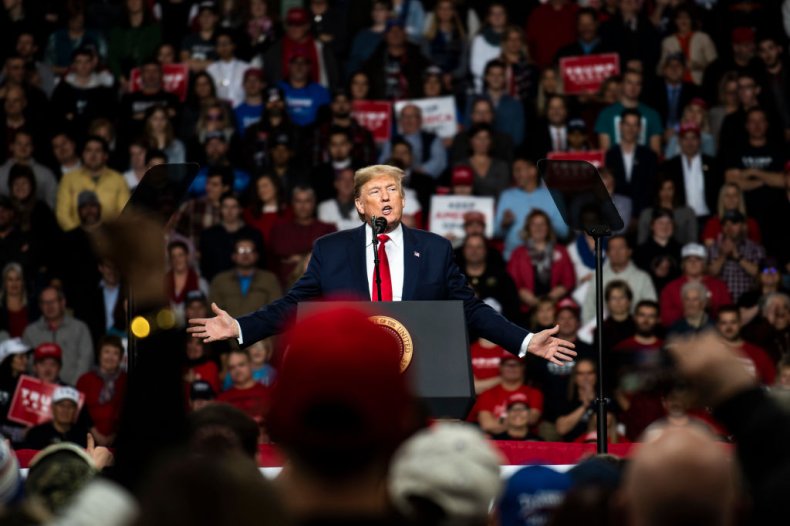 The War Powers resolution was passed in a final vote of 224-194 on Thursday, with three Republicans voting in favor of the proposals and eight Democrats going against it.
"We got a call, we heard where he was, we knew the way he was getting there, and we had to make a decision," Trump told his supporters in Toledo. "We didn't have time to call up Nancy, who is not operating with a full deck."
The president went on to attack California Rep. Schiff, calling him "crooked" and mocked the idea of informing him about the strike on Soleimani.
Imitating a phone call with the House Intelligence Committee chairman, he said: "Adam, how you doing? We have the world's number one terrorist. Killed thousands and thousands of people. We'd like to set up a meeting so we can discuss his execution, would you be willing to meet?"
Pretending to be Rep. Schiff, he replied: "Well I won't be able to make it this week."
"Well you know he's traveling fast," Trump continued. "We got him lined up Adam, you little pencil neck."
After cheering from his supporters had died down, Trump mockingly said the Democrat buys "the smallest shirt collar you can get, and it's loose."
"We've got to be faster Adam, we got him lined up," the president said, returning to his imaginary phone call. "We've got to take this guy out. We're not going to have to another shot at him maybe ever again.
"But I can't make it now because I'm trying to impeach Trump," he said, finishing the pretend exchange.
Newsweek has contacted the offices of Speaker Pelosi and Rep. Schiff for comment, and will update this article with any responses.