A 'Political Tool' or 'Reasserting' Congress' Authority? Lawmakers Try to Curb Trump's War Powers
The U.S. House on Thursday passed a War Powers Resolution in an effort to curb President Donald Trump's ability to take unilateral military action against Iran without authorization by Congress.
The final vote of 224-194 was mostly along party-lines, with three Republicans voting yes and eight Democrats voting no. Language referencing Trump, his top officials and the Iranian general who was killed by the U.S. last week, Qasem Soleimani, was stripped from the measure thanks to an amendment from Rep. Matt Gaetz (R-FL), which prompted most moderate Democrats and some Republicans to support the resolution.
But does the legislation have the authority to limit the president's powers to thrust the United States into all-out war, as Democrats contend?
"By passing this resolution, we are effectively saying, 'Mr. President, if you go to war with Iran in defiance of what we've said, you are completely alone,'" Rep. Tom Malinowski (D-NJ), a Foreign Affairs Committee member, told Newsweek. "You bear the responsibility alone."
Or, is it a powerless political ploy by Democrats to use the heightened tensions with Iran as an opportunity to again rebuke Trump, as Republicans have suggested?
"I take this vote by the Democrats to just be a political tool to attack the president," Rep. Guy Reschenthaler (R-PA), also a Foreign Affairs member, told Newsweek. "In doing this, they're standing with their far-left radical base and standing with Iran, which remember a week ago, literally was attacking our U.S. Embassy in Baghdad, which I served literally right across the street from."
In a series of tweets, Trump characterized it as "PRESIDENTIAL HARASSMENT!" and "Democrat fraud."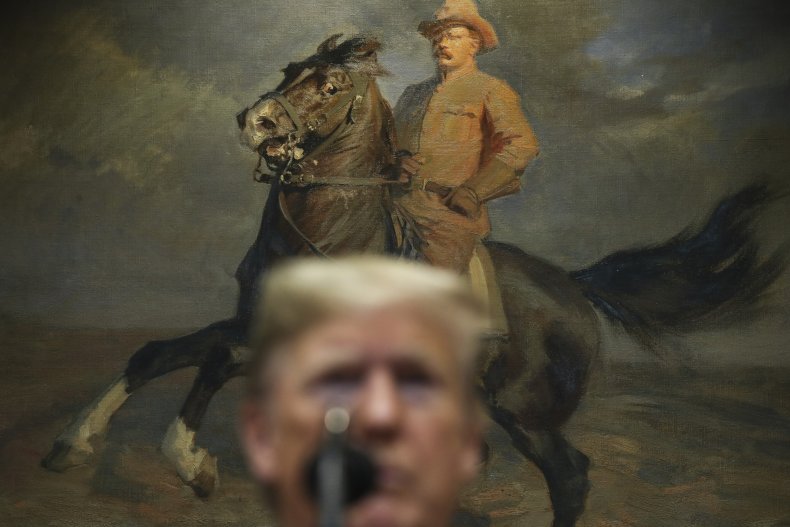 However, the question over what sort of legal binding the measure holds is not as clear-cut as lawmakers on both sides of the aisle might hope. What was originally supposed to be a joint resolution, which is privileged and would also require a vote in the GOP-controlled Senate, morphed into a concurrent resolution.
House Democrats' decision to move forward with a concurrent resolution was two-fold: to deny Trump the ability to veto the legislation since it does not require his signature and Congress lacks a veto-proof majority; and to avoid a procedural process during votes that's known as a "motion to recommit." Republicans have used the motion while in the minority to try and divide Democrats and defeat certain bills.
"We're taking this path because it does not require the signature of the president of the United States," House Speaker Nancy Pelosi (D-CA) told reporters. "This is a statement of the Congress of the United States, and I will not have that statement be diminished by whether the president will veto it or not."
The War Powers Act states that minus a declaration of war or "specific statutory authorization," a president must withdraw American forces from hostilities abroad "if the Congress so directs by concurrent resolution."
Republicans have touted Democrats' efforts as a "complete show vote," as House Minority Leader Kevin McCarthy (R-CA) put it, because concurrent resolutions "do not have the force of law." Additionally, the Trump administration claims it had statutory authorization to kill Soleimani under the 2002 Iraq Authorization for Use of Military Force (AUMF) and the president's constitutional powers. A Supreme Court ruling from the 1980s knocked down an attempt by Congress to essentially use a concurrent resolution as a "legislative veto" by circumventing the president.
Emerging from a classified briefing Wednesday with top administration officials over the death of Soleimani, Democrats accused Trump of lacking both a long-term de-escalation plan with Iran and evidence to back the claims Soleimani was an imminent threat to Americans abroad. Republicans—minus at least two senators—were content with the administration's explanation and walked away confident in Trump's ability to avoid further conflict with Iran.
Democrats have conceded that Trump is likely to ignore their initiative, even if it musters enough support to pass the Republican Senate. In the upper chamber, the two GOP members most frustrated with the administration's briefing—Sens. Rand Paul of Kentucky and Mike Lee of Utah—have said they'll back a privileged joint resolution by Sen. Tim Kaine (D-VA) that could be voted on as early as next week.
Next week, the House could consider two additional measures offered by more liberal Democrats. One would repeal the AUMF and is led by Rep. Pramila Jayapal (D-WA), co-chair of the Progressive Caucus. The second would prohibit Trump from using funds for any military action against Iran unless approved by Congress and is led by Rep. Ro Khanna (D-CA).
"If [Trump] chooses to say I'm not going to [follow the War Powers Resolution], which is my 150 percent guess of what he will do, it once again says to the people in the United States, 'I'm not respecting the constitution and the balance of powers,'" Jayapal told Newsweek.
The resolution was sponsored by Rep. Elissa Slotkin (D-MI), a freshman, moderate member and a former CIA analyst.
"If our loved ones are going to be sent to fight in any protracted war, the president owes the American public a conversation," Slotkin said on the House floor ahead of the vote. "The resolution we'll be voting on today allows us to start that debate as our founders intended."
In the end, Republicans Francis Rooney and Gaetz of Florida, and Thomas Massie of Kentucky voted for the resolution. Democrats Anthony Brindisi and Max Rose of New York, Joe Cunningham of South Carolina, Kendra Horn of Oklahoma, Josh Gottheimer of New Jersey, Elaine Luria of Virginia, Ben McAdams of Utah and Stephanie Murphy of Florida voted no.