Donald Trump Admits He Is No Feminist, Insists He Is for "Everyone"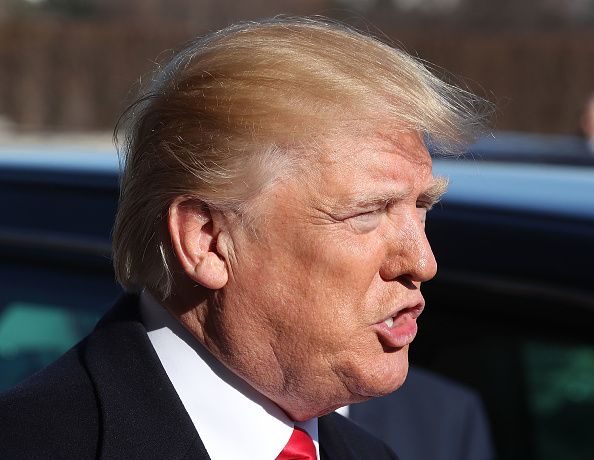 President Donald Trump has dismissed the idea he would call himself a feminist, telling British journalist Piers Morgan, "I'm for everyone."
The full interview is set to air on Sunday night. Morgan has teased the airing of the interview with quotes by the president. Morgan first met Trump when taking part in The Apprentice in 2008, and has maintained a connection with him ever since.
Related: A teenage girl's murder has sparked a feminist trend on Russian social media
One of Morgan's questions centered around the new conversation about gender inequality and sexual harassment in the U.K., U.S. and across the world, embodied in the #MeToo and #TimesUp movements. Trump is himself accused of sexual misconduct and according to Morgan's post on Twitter, the president acknowledges that a feminist is not quite how he sees himself.
"No, I wouldn't say I'm a feminist. I mean, I think that would be, maybe, going too far," Trump said, according to Morgan. "I'm for women, I'm for men, I'm for everyone."
Morgan posted the comments on social media days after Malala Yousafzai, the youngest winner of the Nobel Peace Prize, issued a message about women's rights to Trump.
"I just get so disappointed to see that people are in these high positions when they talk about women in unequal terms and do not accept them as equals," Yousafzai told an audience at the World Economic Forum in Davos.
Asked about Trump's record on women's rights and persisting harassment allegations, which the president has denied, Yousafzai said that "it is just shocking for a second to believe that this is actually happening... I hope that women stand up and speak out against it."
Trump also said he was not aware if he was invited to the upcoming royal wedding in May and in other comments, said he would have been tougher in Brexit negotiations that British Prime Minister Theresa May. The president did offer to eventually apologize for retweeting British far-right group Britain First if someone told him "they're horrible people, horrible, racist people."