Donald Trump Aims to End 'Confusion' Over FBI Photo of Top Secret Documents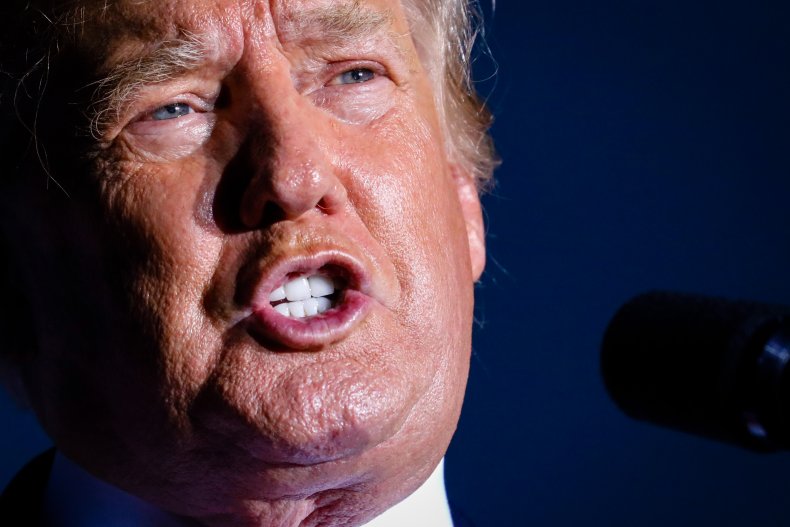 Former President Donald Trump says that he wants to clear up "confusion" about a photo showing top secret documents at Mar-a-Lago that were later confiscated by the FBI.
A Department of Justice (DOJ) court filing released Tuesday included a photo of multiple documents, including some marked "secret" or "top secret," laid out across the floor of the former president's South Florida home. The documents were recovered during an FBI raid on August 8, which was conducted as part of an investigation into the possibility that Trump keeping the documents was in violation of multiple federal laws, including the Espionage Act.
Trump, in a Truth Social post on Wednesday, did not dispute that the documents had been in his possession. Instead, the former president expressed concerns that the FBI was "deceiving" the public by making it seem as though he had personally thrown the documents "sloppily" on the floor. He also claimed that the FBI "broke into" Mar-a-Lago, a claim he has made multiple times, despite the agents executing a valid search warrant signed by a federal judge.
"There seems to be confusion as to the 'picture' where documents were sloppily thrown on the floor and then released photographically for the world to see, as if that's what the FBI found when they broke into my home," Trump wrote. "Wrong! They took them out of cartons and spread them around on the carpet, making it look like a big 'find' for them."
"They dropped them, not me - Very deceiving," he added. "And remember, we could have NO representative, including lawyers, present during the Raid. They were told to wait outside."
In a Truth Social post earlier in the day, Trump wrote that the FBI "threw documents haphazardly all over the floor (perhaps pretending it was me that did it!)" and then proceeded to take "pictures of them for the public to see."
Trump also claimed that he "declassified" the documents before leaving office in January 2021. Experts have suggested that Trump's declassification claim is questionable because declassification protocols may not have been followed, while the classified status of the documents may also be irrelevant to the federal laws in question.
Former National Security Agency official George Croner, writing in the blog Just Security this week, argued that declassifying materials "through haphazard, ad hoc verbal instructions, even from a president, is anathema to this Intelligence Community environment and introduces unnecessary chaos that carries entirely unacceptable risks."
Experts have also suggested that Trump may have incriminated himself on Wednesday by admitting to keeping the documents and instead focusing on how the photo was staged.
"I think I may've been the first government lawyer to use Donald Trump's social media rants against him in a court filing," tweeted lawyer Tristan Snell, who formerly served as an assistant attorney general for New York state. "Soon someone will be the first government lawyer to use Donald Trump's social media rants against him in a criminal indictment."
Newsweek has reached out to the FBI and DOJ for comment.