Donald Trump Allies Tout Joe Biden's Border Crisis as Proof They Were Right
Former President Donald Trump's allies have pointed to the border crisis under President Joe Biden as proof that the immigration policies of the last administration were the right course of action, and should not have been rolled back.
Several ex-Trump administration officials and Capitol Hill supporters said Biden inherited a stable situation at the U.S.' southwestern border, but "screwed it all up" during his first two month's in office.
According to the latest Customs and Border Protection data, officers patrolling the U.S.' southwestern border found more than 100,400 people attempting entry into the U.S. in February alone.
Around 30,000 unaccompanied children have been among those encountered at the border since the start of the year. CNN has reported that more than 5,000 children are in CBP custody. The graphic below, provided by Statista, shows the number of unaccompanied children and individuals in family units detained at the Southwest border.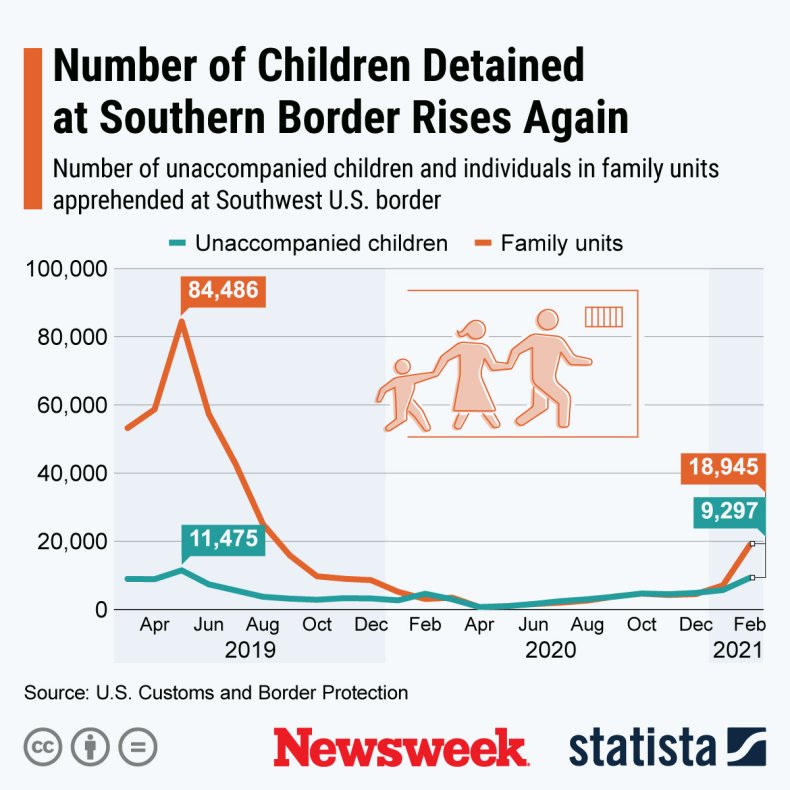 Speaking to Fox News on Sunday night, former Trump White House press secretary Kayleigh McEnany said: "It was his administration after all that warned the incoming Biden administration that this would happen should they roll back the policies.
"And what did they do? They did the diametric opposite of what they were warned about. They pulled back all of the policies and now they have a crisis."
Former U.S. Ambassador to the U.N. Nikki Haley also weighed in on the border crisis on Friday to defend the legacy of her old boss.
"Biden blames Trump for the border crisis that he himself created, and now, he's asking Mexico to help him keep migrants out," she tweeted. "Guess whose idea that was in the first place? That's right, Trump's."
Rep. Matt Gaetz (R-FL), a leading Trump ally on Capitol Hill, pinned the border crisis on Biden's decision to revoke his predecessor's immigration policies. "This is Biden's crisis," he tweeted last week.
Posting on social media on Thursday, Rep. Dan Crenshaw (R-TX) said: "It's as if we had a solution to this already and then some guy came in and totally screwed it all up."
Releasing a statement on Sunday evening, former President Trump also defended his record on immigration, arguing that Biden had turned a "national triumph" and "smooth-running system" into a disaster.
Trump defended his record on immigration and the border after Homeland Security Secretary Alejandro Mayorkas lashed out at the system he inherited from his predecessors, and claimed Biden was trying to rebuild an "orderly" system.
"Please remember something, that President Trump dismantled the orderly, humane and efficient way of allowing children to make their claims under United States law in their home countries," he told NBC News' Meet the Press on Sunday.
Newsweek has contacted former President Trump's team for further comment.