Alejandro Mayorkas Defends Rebuilding 'Orderly' Immigration Processes Trump 'Dismantled'
Secretary of Homeland Security Alejandro Mayorkas defended President Joe Biden's administration's efforts to "orderly" rebuild the nation's immigration process, arguing that former President Donald Trump had "dismantled" the system.
The Biden administration has received mounting criticism—primarily from Republicans, but also from some Democrats—for its response to a surge in Latin American migrants coming to the southern border. Although the administration has resisted describing the situation as a "crisis," Biden last weekend deployed the Federal Emergency Management Agency (FEMA) to help address the growing number of unaccompanied minors crossing the border.
"We have a short-term plan, a medium-term plan, and a long-term plan, and the president and I have spoken to this repeatedly. Please remember something, that [former] President [Donald] Trump dismantled the orderly, humane and efficient way of allowing children to make their claims under United States law in their home countries," Mayorkas said during a Sunday morning interview with NBC News' Meet the Press.
"He dismantled the Central American Minors program, so we are rebuilding those orderly and safe processes as quickly as possible," the Cabinet secretary further explained.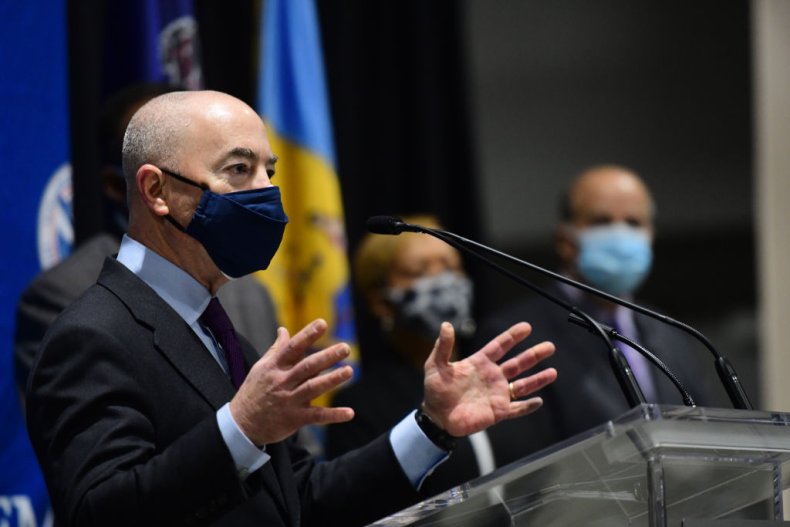 Mayorkas also pushed back against criticism of the Biden administration's messaging to migrants.
"Our message has been straightforward and simple. And it's true. The border is closed. We are expelling families. We are expelling single adults. And we've made a decision that we will not expel young, vulnerable children," he said.
"I think we are executing on our plans. And quite frankly, when we are finished doing so, the American public will look back on this and say we secured our border and we upheld our values and our principles as a nation."
Trump's administration received national and international condemnation for its controversial immigration policies. In particular, the former administration's decision to separate migrant children from their parents or guardians received widespread backlash. Hundred of those children remain separated from their families to this day.
Nearly 100,000 migrants were detained in February, approaching the more than 100,000 migrants that were detained for several months in mid-2019 under Trump. Routine surges of migrants have been the norm for decades, as Democratic and Republican administrations have struggled to respond to the situation. But GOP lawmakers have jumped on the recent surge to criticize Biden, arguing that his changes in policies have led to the current situation.
Senate Minority Leader Mitch McConnell, a Kentucky Republican, criticized Democrats and the president for declining to describe the surge as a "crisis" in a Thursday speech from the Senate floor.
"So either this is the first time FEMA has been deployed just to admire a situation that is going smoothly, or the administration is not being straight with the American people," McConnell said.
Meanwhile, progressives have also raised concerns about the conditions in which unaccompanied migrant minors are being detained. Although these children should be transferred to family members or other caretakers in the U.S. within 72 hours, there have reportedly been delays due to the high number crossing the border.
Newsweek reached out to the White House for comment, but did not immediately receive a response.