Vicente Gonzalez, Texas Democratic Representative, Calls Biden's Immigration Plans 'Catastrophic'
Democratic Representative Vicente Gonzalez continued to air concerns about President Joe Biden's plan to reform U.S. immigration policies on Monday, describing the effects of a proposed bill as "catastrophic" while it faces an expected uphill battle in Congress.
Gonzalez, who took office in 2017 as the representative of Texas' 15th District, initially pushed back against the proposal ahead of its formal introduction in February. At the time, he called it "a recipe for disaster" in comments to Politico.
Addressing on Monday morning the new plan's intention to reverse some of the stringent immigration restrictions imposed by Donald Trump's administration, Gonzalez again suggested that portions of proposal, and the federal dialogue surrounding it, could have consequences for his southern Texas region.
"My concern in the recent weeks, in my district, [is] migrants who made it across the border, who even passed the line of MPPs—who were 5,000 folks that have been waiting for two years across the border. [They] made it across the Rio Grande Valley, were processed and released," Gonzalez said during a CNN interview.
The congressman claimed these actions might encourage an influx of people who will make the same journey in hopes of gaining U.S. entry.
"I can assure you, it won't be long before we have tens of thousands of people showing up to our border, and it'll be catastrophic for our country, for my region, for my district," he continued. "In the middle of a pandemic, in an area where we've lost over 3,000 people in my small congressional district...I think we need to have a better plan in place."
The Migrant Protection Protocols, or MPP, was a program established by the Trump administration at the end of 2018. It ordered some individuals who arrived at the southwestern border seeking asylum to remain in Mexico as they awaited court proceedings in the U.S. The Department of Homeland Security ended the MPP program following Biden's inauguration and announced that it would begin to process pending cases on February 19.
Gonzalez proposed that U.S. embassies process asylum applications, while applicants reside outside of the country, in an additional statement sent to Newsweek on Monday. He emphasized that accelerated entry through the southern border puts pressure on communities located in its vicinity, such as his own.
"Border communities do not have the resources and should not be expected to take-in and care for migrants and asylum seekers in the middle of a pandemic," he said. "By processing asylum applications at our embassies abroad, we can ensure migrants are treated in a fair, humane, and compassionate way and are not forced to make a harrowing and costly journey. I look forward to working with the Biden administration to create this infrastructure and alleviate the strains currently being placed on border communities and faith-based programs."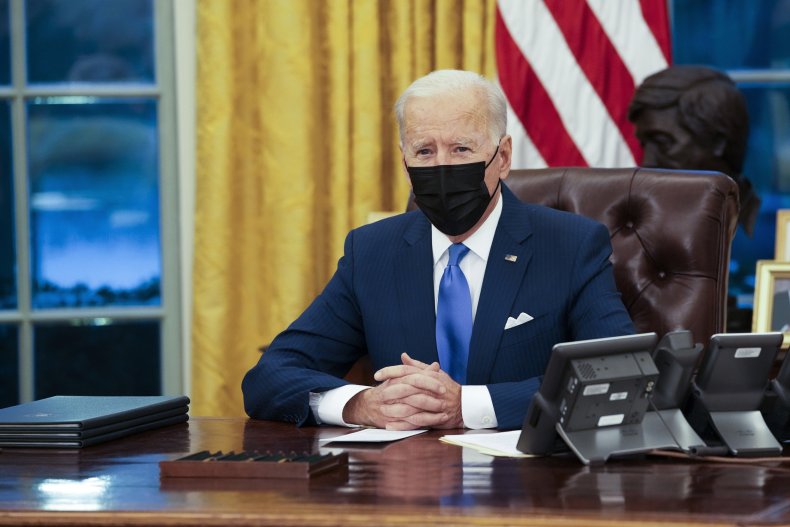 Biden administration officials aimed to halt some deportations at the southern border with a directive enacted after the president's inauguration. It ordered an immediate 100-day moratorium while plans to introduce and potentially pass a more comprehensive set of reforms were being finalized. However, Texas Attorney General Ken Paxton filed a lawsuit that initially paused Biden's moratorium temporarily. A federal judge's ruling last week implemented a preliminary injunction that now blocks the suspension indefinitely.
U.S. Immigration and Customs Enforcement does not release data tracking deportations, so it is not clear how many have taken place since the start of Biden's presidency. Immigration advocacy group United We Dream suggested that over 26,200 people were deported between January 20 and February 16.
Update (3/1/2021, 7:21 p.m.): This story has been updated to include Gonzalez's statement to Newsweek.