Swing Voters, Who Helped Elect Biden, Say He's Not Doing Enough to Curb Illegal Immigration
Focus groups of swing voters, who were key to helping elect President Joe Biden, show that they are concerned that the new administration is not doing enough to address the surge in migrants coming to the southern U.S. border with Mexico.
Axios carried out two focus groups sessions with Engagious/Schlesinger. These were held on March 16 and included 12 men and women from several competitive swing states across the country. The participants all voted for former President Donald Trump in 2016 and then decided to back Biden in 2020.
"I think [Biden's] not being firm enough, to say, 'Hey, people. It's not that we're against immigration, but... if you send your kids or you try to come here, we literally have nowhere to house you,'" Kimberly M., a teacher from Arizona, said during one of the sessions.
Rob K. from Minnesota argued that the new administration's immigration policies are "no different" from those of the prior administration. He said: "They're still putting these kids literally in cages."
Connie B. from Michigan raised concerns about the Biden administration's messaging, which White House officials have admitted has been difficult to get right. "I'm not sure that the countries that are sending their children up here are getting the message," she said.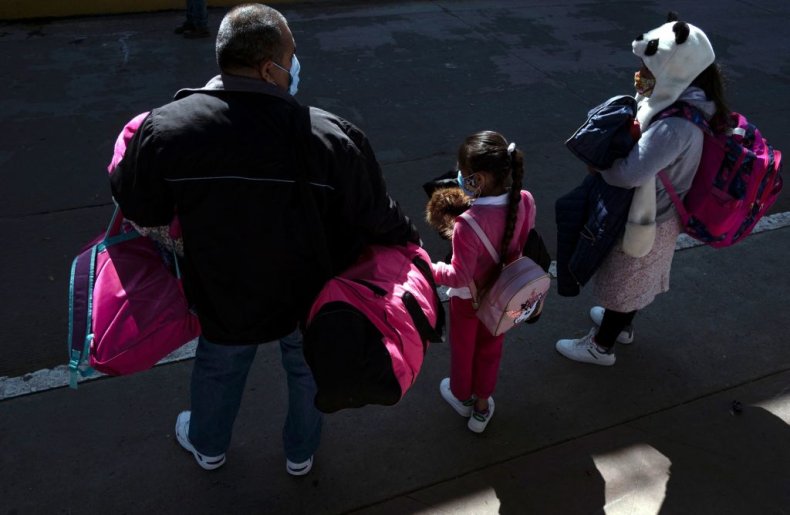 The White House has faced substantial criticism from Republicans, who have argued that Biden created a "crisis" by reversing and changing many of Trump's hardline immigration policies.
Progressive Democrats have also raised concerns about the conditions in which unaccompanied minors are being held at the border. The children are kept in temporary detention facilities until they can be united with family members or placed with caretakers within the country.
Meanwhile, the surge in migrants—particularly of unaccompanied children—has reached record levels.
"We are on pace to encounter more individuals on the southwest border than we have in the last 20 years. We are expelling most single adults and families. We are not expelling unaccompanied children," Secretary of Homeland Security Alejandro Mayorkas said in a Wednesday statement addressing the unfolding situation.
The administration has repeatedly urged asylum seekers not to come to the border right now. However, they've also suggested they can come at a later time, which Republicans and some Democrats have argued is a confusing message. The White House aims to reform the current immigration system to more smoothly process asylum applicants, but administration officials say this will take time.
White House Press Secretary Jen Psaki told reporters on Monday that the Biden administration is dealing with a "dismantled and unprepared system" due to Trump's policies.
"It's going to take some time, but we are very clear-eyed about what the problems are and very focused on putting forward solutions," she said.
Newsweek reached out to the White House for comment, but did not immediately receive a response.