Immigration Attorney Confronts Fox's Jeanine Pirro Over 'Facts' on Border Crossings
A prominent immigration attorney called out popular Fox News opinion host Jeanine Pirro during her show, pointing out that she was not sharing accurate information with her viewers.
David Leopold, a nationally recognized immigration lawyer who served as a transition adviser to President Joe Biden, appeared on Pirro's program Justice With Judge Jeanine on Saturday evening to discuss the unfolding immigration situation at the southern border. Since Biden came to office, the U.S. has seen another surge in Latin American migrants—as it has routinely in recent years. Republicans have jumped on the increase in immigrants and asylum seekers to attack the new Democratic administration.
Pirro, a former judge and prominent conservative defender of former President Donald Trump, opened the segment by saying Biden "began dismantling President Trump's border policies on day one of his administration," suggesting this was the reason behind the recent surge in new migrants.
"And now a record number of illegals are flooding into this country," the Fox News host said.
At the outset of the interview, Leopold pointed out that despite the "cruelty" of the Trump administration, migrants are "still coming" to the border. The former president's immigration policies were nationally and internationally condemned, particularly the highly controversial family separation policy which took away migrant children from their parents or guardians. Hundreds of those children still remain separated from their parents to this day.
"Why are they still coming? They're coming because this is not a Biden issue. This is something that's been going on in ebbs and flows for decades. And in fact, if you want to talk about a surge at the border—or a crisis..." Leopold said before being cut off by Pirro, as she took issue with his assessment.
"David, what's ebbs and flows?" she asked.
"Take a look at 2019. You know everybody's screaming tonight about a surge at the border, but in 2019 there was 150,000 people that came in, much more than what we have today under Joe Biden," Leopold explained.
Pirro then interjected, claiming he was "wrong on the facts." She said "the 100,000 in February this year is the highest number in 15 years. Alright, that is a fact."
She then pivoted and put a picture from 2014 of detained migrant children sleeping behind fencing. She said that kids were being caged under former President Barack Obama, despite the fact that they were discussing Trump's and Biden's immigration policies.
"And your numbers are wrong, too," she insisted.
Leopold responded, saying: "Jeanine, just because you say my numbers are wrong doesn't mean they're wrong."
"No, no they're facts!" Pirro replied.
In reality, Pirro's "facts" were incorrect. While nearly 100,000 migrants were reportedly detained at the border in February, that is not the highest number in 15 years. As Leopold pointed out, nearly 150,000 were detained in May 2019 under Trump, according to Customs and Border Protection (CBP) statistics. In fact, 2019 saw four months where the number of detained migrants surged above 100,000.
"They're not facts, Jeanine. Very few things I hear in this show tonight have been facts," Leopold said. "You said tonight that the borders open. That's not true."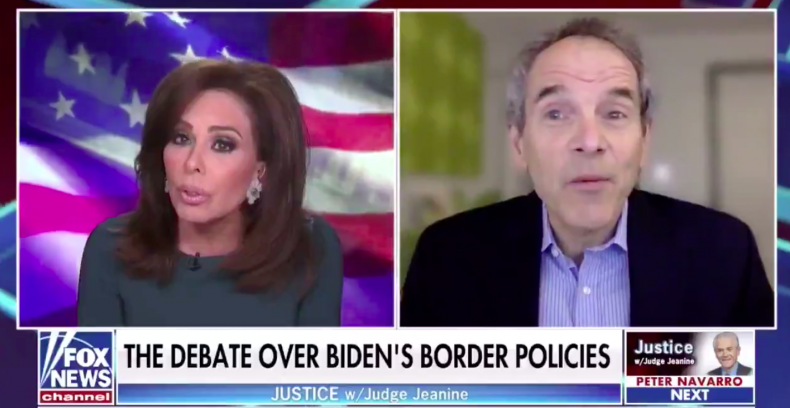 Despite what Pirro and Republican critics of the Biden administration claim, the border is not open. Migrants are being detained and expelled from the country as they were under the former administration, with the exception of unaccompanied minors. These children are being detained until they can be transferred to family members or other guardians within the country. Although this should happen within 72 hours, there have reportedly been delays due to the high number of unaccompanied minors coming to the border.
"We are expelling most single adults and families. We are not expelling unaccompanied children," Secretary of Homeland Security Alejandro Mayorkas said in a statement last week. The Biden administration has deployed the Federal Emergency Management Agency (FEMA) to the border to help address the growing number of unaccompanied children.
In a Sunday interview with NBC News' Meet the Press, Mayorkas reiterated the administration's message to migrants.
"Our message has been straightforward. The border is closed. We are expelling families. We are expelling single adults. And we've made a decision that we will not expel young, vulnerable children," he said.
Newsweek reached out to Leopold for further comment.
Correction March 22, 2021 at 8:33 a.m. ET: This article previously referred to Customs and Border Protection (CBP) incorrectly as Customs and Border Patrol.