Donald Trump-Angela Merkel Photo Illustrates Everything You Need to Know About Their Relationship
President Donald Trump met with world leaders on Wednesday to commemorate the 75th anniversary of D-Day, when Allied forces landed in Normandy in 1944 to invade Nazi-occupied France.
German Chancellor Angela Merkel was among the leaders attending the commemoration event, and her less than ideal relationship with the U.S. president was on full display. In a photo of a one-on-one meeting between the two leaders, Merkel is facing away from Trump as he speaks to someone on his left.
The meeting reportedly only lasted ten minutes before Trump left for Ireland. The two did not speak publicly with reporters present.
The two leaders have had a tense relationship since Trump was inaugurated two years ago. Last week, Merkel gave a graduation commencement speech at Harvard University that was widely interpreted as a rebuke of Trump.
"More than ever our actions have to be multilateral rather than unilateral," Merkel said, that seemed to be pointed criticism of Trump's "America First" approach to foreign policy. "Don't disguise lies as truth, and truth as lies… Tear down walls of ignorance and narrow-mindedness," she continued.
Merkel did not visit Washington or the White House during her visit to the U.S. after recently identifying the U.S. as one of Europe's rivals, similar to China and Russia.
The two leaders clashed during a G-7 meeting in Canada last year, during which Trump allegedly threw Starburst candies at Merkel. He also refused to sign a joint communiqué that Merkel had brokered.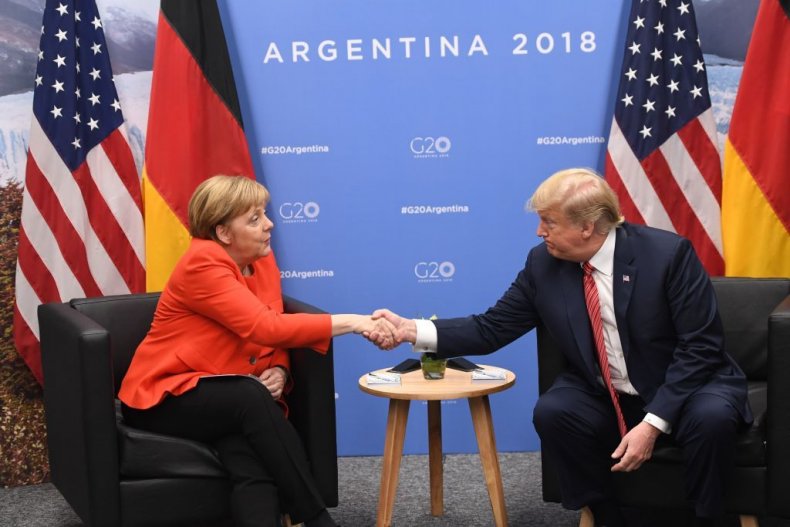 Trump has also criticized Merkel for not increasing Germany's defense spending, and he has rebuked Germany's decision to move forward with a controversial pipeline project that would see more Russian gas flowing into Germany, saying the project will make Germany captive to Russia.
The fraught relationship between the two leaders is reflected in the outlook of many Germans. Germans largely think their country's relationship with the U.S. is floundering, but Americans continue to believe that the relationship is going well, according to a recent survey by the Pew Research Center.
"In the U.S., seven-in-ten say that relations with Germany are good, a sentiment that has not changed much in the past year. Germans, on the other hand, are much more negative: 73% say that relations with the U.S. are bad, a 17-percentage-point increase since 2017," the Pew Research Center's findings from earlier this year read.
"Nearly three-quarters of Germans are also convinced that a foreign policy path independent from the U.S. is preferable to the two countries remaining as close as they have been in the past."