Donald Trump Claims 'Very Good Relationship' With Angela Merkel Hours After Calling Germany 'Captive of Russia'
President Donald Trump claimed he and German Chancellor Angela Merkel have a "very, very good relationship" Wednesday while attending the annual NATO summit, despite having claimed just hours earlier that "Germany is a captive of Russia."
Related: Watch: Angela Merkel Looks Unamused as Trump Brags About Saving Money on Jerusalem Embassy Building
Trump cast his kinship with Merkel—which past statements suggest is rather strained—in a positive light during a joint press conference with her outside of the formal NATO talks in Belgium.
"We have a very, very good relationship with the chancellor. We have a tremendous relationship with Germany," Trump said, turning to her. "You've had tremendous success and I congratulate you. Tremendous success."
"And I believe that our trade will increase and a lot of other things will increase, but we'll see how that happens over the next few months," he continued.
Merkel then said, according to a German translator, that she was "very pleased to have this opportunity to have this exchange of views" on trade and economic development, among other topics. Merkel's characterization of the relations was slightly less rosy than Trump's.
"It's very important to have those exchanges together because, after all we are partners," she said. "We are good partners and we wish to cooperate in the future."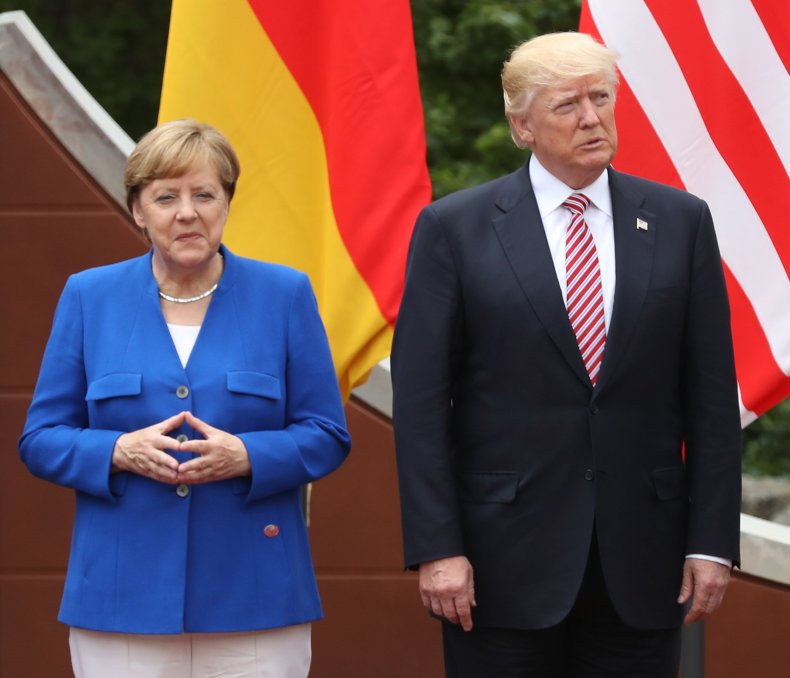 But in a meeting with NATO Secretary General Jens Stoltenberg early Wednesday, Trump bashed Germany and its oil and gas pipeline deal with Russia.
"It's very sad when Germany makes a massive oil and gas deal with Russia, where you're supposed to be guarding against Russia, and Germany goes out and pays billions and billions of dollars a year to Russia," Trump said.
"If you look at it, Germany is a captive of Russia because they supply," he continued. "They got rid of their coal plants. They got rid of their nuclear. They're getting so much of the oil and gas from Russia. I think it's something that NATO has to look at. I think it's very inappropriate."
Trump has had a less than friendly relationship with Merkel since the start of his presidency. When she visited him shortly after he took office, he told her, "Angela, you owe me $1 trillion," in reference to the gap between what Germany agreed to contribute toward its own defense under NATO and what it actually spent in 14 years.
Among the demands Trump has taken to the summit is that U.S. allies meet their financial commitment toward defense under NATO. Trump on Wednesday asked that the countries not only pay 2 percent of their gross domestic product as agreed, but increase their contribution to 4 percent, according to The Washington Post.
"President Trump wants to see our allies share more of the burden and at a very minimum meet their already stated obligations," White House Press Secretary Sarah Huckabee Sanders said in a statement.