Trump, Who Grabs Women by the 'Pussy,' Didn't Like Scaramucci's Cursing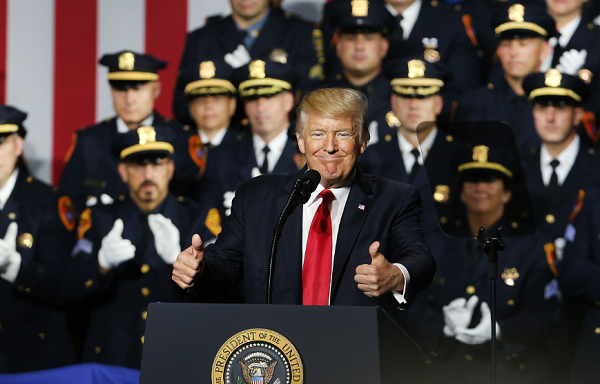 After serving as the White House communications director for just 10 days, Anthony Scaramucci, aka "the Mooch," has been relieved of his position. Although a report by The New York Times said Scaramucci was forced out following the advice of the newest Chief of Staff John Kelly, Scaramucci's potty mouth may have also played a role in President Donald Trump's decision to give him the boot on Monday.
While addressing White House correspondents on Monday, Deputy Press Secretary Sarah Huckabee-Sanders said the president "certainly felt" that Scaramucci had made some "inappropriate" comments while on a phone call with a reporter from The New Yorker, which was released on Wednesday.
During the call, which Scaramucci did not request to be off the record, the former hedge fund magnate made a number of lewd comments about people in Trump's administration, including the former chief of staff, Reince Priebus, whom Scaramucci called "a fucking paranoid schizophrenic, a paranoiac," and Chief Strategist Steve Bannon, of whom Scaramucci had this to say: "I'm not Steve Bannon, I'm not trying to suck my own cock.… I'm not trying to build my own brand off the fucking strength of the president. I'm here to serve the country."
He also said that all he wanted to do was "fucking kill all the leakers and I want to get the president's agenda on track so we can succeed for the American people."
According to Huckabee-Sanders, Trump "certainly felt that Anthony's comments were inappropriate for a person in that position."
While Scaramucci's scathing comments certainly caused a stir in Washington and on social media following the article's release on Wednesday, the president's stance on the inappropriateness of Scaramucci's remarks given his position in the White House may be the most puzzling. After all, Trump, who once told former Access Hollywood host that he likes to "grab 'em by the pussy" in reference to women, has a long-standing history of making inappropriate comments.
Just on Friday, Trump nearly suggested police officers use aggressive force when handling suspects while speaking with a number of law enforcement officers during a speech in Long Island.
"When you guys put somebody in the car and you're protecting their head, you know, the way you put their hand over?" Trump said, demonstrating how officers shield a person's head as they enter a police vehicle. "Like, don't hit their head, and they just killed somebody—don't hit their head," Trump continued. "I said, you can take the hand away, OK?"
After giving the French first lady Brigitte Macron a creepy look-over after meeting her for the first time during Bastille Day celebrations in Paris earlier this month, he said to French President Emmanuel Macron's wife: "You're in such good shape. She's in such good physical shape. Beautiful."
Just a few weeks before that unsettling comment, the president had Twitter buzzing when he attacked Morning Joe co-host Mika Brzezinski in a tirade of tweets in June, calling the MSNBC host "low I.Q. Crazy Mika" and said that he once saw her at a social event "bleeding badly from a face-lift."
Check out the reactions to Trump's "inappropriate" Scaramucci comment below: