Donald Trump Is the 'Antichrist' and Is 'Going To Hell,' Immigrant From Caravan Says
A Central American migrant has blasted President Donald Trump in angry comments to CNN's Bill Weir at the border between Mexico and Guatemala.
"Donald Trump is the antichrist," the unidentified man can bee seen saying in Spanish during a CNN report aired this weekend on the immigrant caravan that has traveled to the Mexican border from Honduras. "If he doesn't repent, he's going to hell," the man adds.
Thousands of Central American migrants have joined a caravan that originally formed more than a week ago in Honduras. Trump has repeatedly threatened Central American leaders with complete aid cuts if the group's progress is not stopped. On Thursday, the president also called on Mexican authorities to stop the caravan's progress once it reached Mexico's southern border.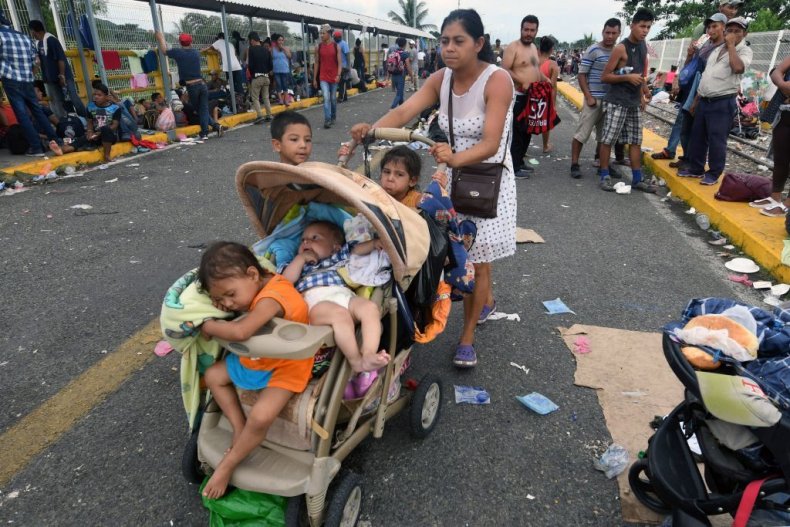 Mexico stationed hundreds of additional federal agents along the border to block the group from passing. But the Associated Press (AP) reported on Sunday that some 2,000 of the migrants had managed to swim or boat across a river separating Guatemala and Mexico, entering the country illegally and vowing to continue toward the U.S.
Another man speaking to CNN pushed back against Trump's repeated claims that the migrant caravan is filled with criminals.
"Our message is, we are not criminals," he told Weir, speaking in fluent English.
Weir then pointed out that Trump would almost certainly use the images of thousands of migrants clashing with Mexican border police to fuel his attacks.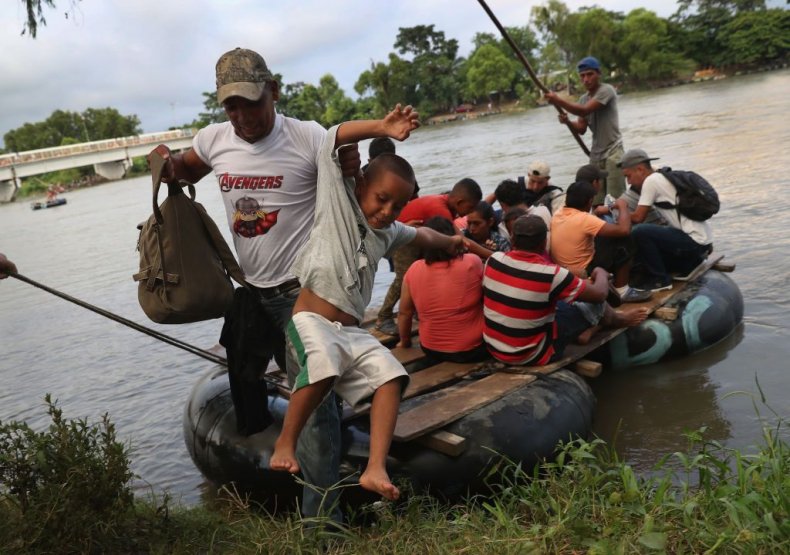 "This is politics. we respect — you know, he's the president, he's the President of the United States," the man responded. "With all due respect, we are not criminals."
Last week, Trump warned that he would send the military to shut down the U.S. border if Mexican authorities were unable to halt the arrival of migrants. "I must, in the strongest of terms, ask Mexico to stop this onslaught - and if unable to do so I will call up the U.S. Military and CLOSE OUR SOUTHERN BORDER!" the president wrote on Twitter.
"The assault on our country at our Southern Border, including the Criminal elements and DRUGS pouring in, is far more important to me, as President, than Trade or the USMCA," Trump said in a follow-up tweet. "Hopefully Mexico will stop this onslaught at their Northern Border."
Those joining the caravan are fleeing economic instability and social insecurity. Crime rates, particularly in Honduras and El Salvador, are among the highest in the world. Trump has often cited the Salvadoran gang MS-13's violent acts in the U.S. as justification for his hardline border policies, part of a pattern of rhetoric which he uses to animate his supporters, who often profess a visceral hatred for immigrants and a desire to see them suffer.
Sairy Bueso, a 24-year old Honduran mother of two, spoke to the AP after making it across the river and entering Mexico, explaining that she was making the difficult journey in hopes of a better future for her children.
"There are risks that we must take for the good of our children," she said.