Donald Trump Threatens Military Action, Border Shutdown to Stop 'Onslaught' of Migrant Caravan
President Donald Trump threatened on Thursday to send the military to "close" the southern border if Mexico did not stop a caravan of thousands of Central American migrants traveling toward the United States.
Throughout the week, the Trump administration issued warnings to Central American leaders over the group, which has grown to 4,000. Washington has said that all aid to Guatemala, Honduras and El Salvador would be cut off if the immigrants were not stopped.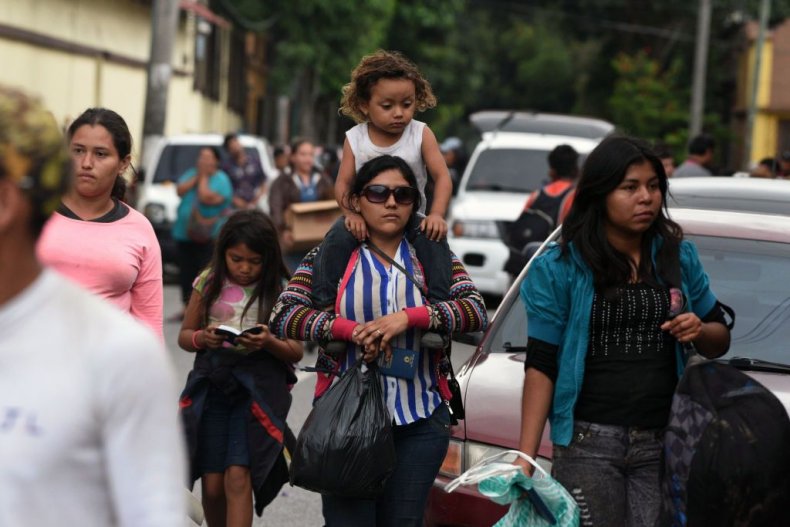 Reiterating the threats of cutting aid, Trump also issued a warning to the Mexican government on Thursday morning. "I must, in the strongest of terms, ask Mexico to stop this onslaught - and if unable to do so I will call up the U.S. Military and CLOSE OUR SOUTHERN BORDER!" the president wrote on Twitter.
"The assault on our country at our Southern Border, including the Criminal elements and DRUGS pouring in, is far more important to me, as President, than Trade or the USMCA," Trump said in a follow-up tweet. "Hopefully Mexico will stop this onslaught at their Northern Border."
Trump also attacked Democrats for what he said was their support of policies that allowed immigrants easier access to the U.S., while also criticizing Central American leaders for not addressing the problem. "[Central American] leaders are doing little to stop this large flow of people, INCLUDING MANY CRIMINALS," he wrote.
The caravan of migrants departed from Honduras last week and has ballooned in size from a few hundred to several thousand. Upon arrival at the Guatemalan border on Monday, officials temporarily held up the caravan, but inevitably allowed the group to proceed. Hondurans are not required to obtain visas to enter Guatemala.
Mexico, which requires Hondurans, Guatemalans and Salvadorans to obtain visas before arrival, has said it would not allow any immigrants to pass through its border without proper documentation. The Mexican government has also stationed 500 additional police along its border with Guatemala in anticipation of the caravan's arrival, according to U.S. government documents reported by NBC News.
Those joining the caravan, which has split into two large groups, are fleeing economic instability and social insecurity. Crime rates, particularly in Honduras and El Salvador, are among the highest in the world. Trump has often cited the Salvadoran gang MS-13's violent acts in the U.S. as justification for his hardline border policies. It is not clear if any of the immigrants joining the caravan are part of criminal organizations or gangs, but analysts believe most are simply hoping to escape poverty and violence.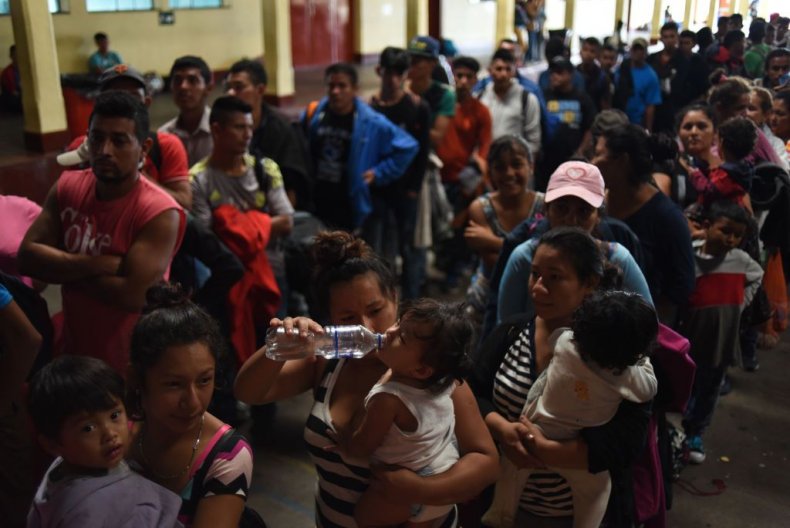 Trump's hardline immigration policies drew significant controversy this summer when images of thousands of detained migrant children separated from their parents were shared by national and international media. While the president has consistently insisted on building a multibillion-dollar wall along the southern U.S. border, the proposal has failed to move forward in Congress, with most experts arguing it would be exorbitantly costly and ineffective.
Earlier this month, Trump and the president-elect of Mexico, Andrés Manuel López Obrador, who takes office in December, spoke by phone to discuss a $30 billion development plan aimed at curbing immigration from Central America and Mexico to the U.S. Following the call, Trump tweeted: "Great call, we will work well together," suggesting he supported the idea.
If the plan moves forward, it would be a significant increase from the current level of aid the U.S. provides to Central America. Since 2014, Washington has committed only $2.6 billion for Honduras, Guatemala and El Salvador, according to The Associated Press. But with Trump threatening to cut all aid to Central America, a new development plan appears uncertain.