Will Trump Build His Wall? New Mexican President Said Trump Agrees Economic Growth Can Halt Undocumented Immigration
Mexico's president-elect Andrés Manuel López Obrador has said that President Donald Trump voiced support for a multi-billion dollar economic development plan to curb undocumented immigration.
López Obrador, who will take office on December 1, and Trump had a phone conversation on Wednesday after the U.S., Canada and Mexico came to terms on a new trade agreement this week to replace NAFTA. In addition to the trade deal, the Mexican leader said that they had discussed "a next step" to increase investment between Canada, the U.S. and Mexico that would address "the migration phenomenon," Reuters reported.
"He looks favorably on it," López Obrador, a leftist politician who formerly served as the mayor of Mexico City, told reporters. According to the incoming Mexican head of state, the "general development plan" will require some $30 billion in combined investment. It remains unclear how that amount will be divided between countries, as well as the public and private sectors.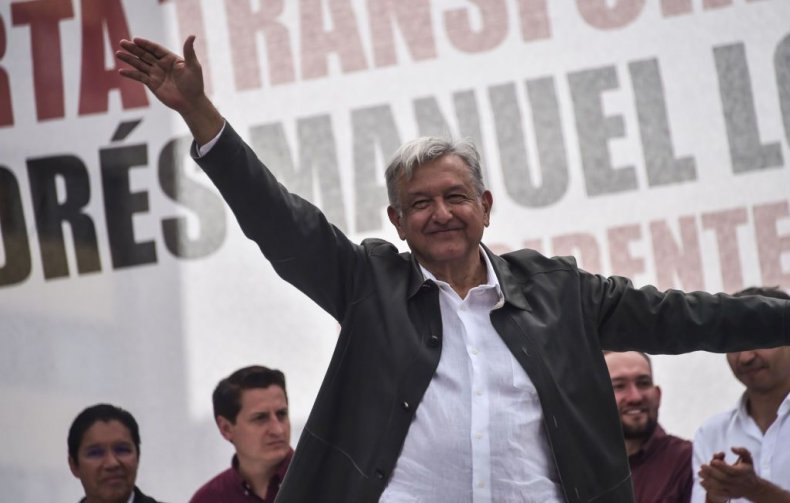 Hailing the conversation positively, Trump tweeted: "Just spoke to President-Elect Andres Manuel Lopez Obrador of Mexico. Great call, we will work well together!"
Representatives from the president-elect's new government will travel to Washington in the next few days to discuss next steps and formalize relations ahead of the Mexican government's transition.
During his campaign, López Obrador voiced his desire to make a deal with Trump regarding development. Central American migrants crossing into Mexico and then into the U.S. have caused significant tensions between Mexico City and Washington, with Trump pledging to build a wall along the southern border.
Although the wall has yet to materialize, Trump reiterated his desire to build the structure last month, pointing fingers at Congress for not approving the required funding. Mexico's current government has pushed back against the proposed plan, but Lopez Obrador has appeared cautious when discussing the issue.
Prior to his election, however, López Obrador suggested that the enormous amount of money required to construct the border wall (which estimates have suggested would be about $70 billion and $150 million per year to maintain) could be much better spent on development projects that would dissuade Central Americans and Mexicans from immigrating.
Whether or not the wall moves forward remains to be seen. Until now, Trump and the Mexican president-elect have appeared to start off their relationship on good terms.
After López Obrador's victory this summer, Trump shared positive sentiments saying he looked "very much forward to working with him. There is much to be done that will benefit both the United States and Mexico!" He later referred to the new Mexican leader as "a terrific person."