A caravan of about 2,000 Central American migrants, primarily from Honduras, have continued to head toward the southern border of the U.S., despite threats made by President Donald Trump this week.
Currently, the group is making its way through Guatemala and it is unclear whether it will be allowed to enter Mexico, according to the Associated Press. The Mexican government has reiterated that only those traveling with required visas will be allowed to enter its border, but it is unclear if the migrants have the required approval.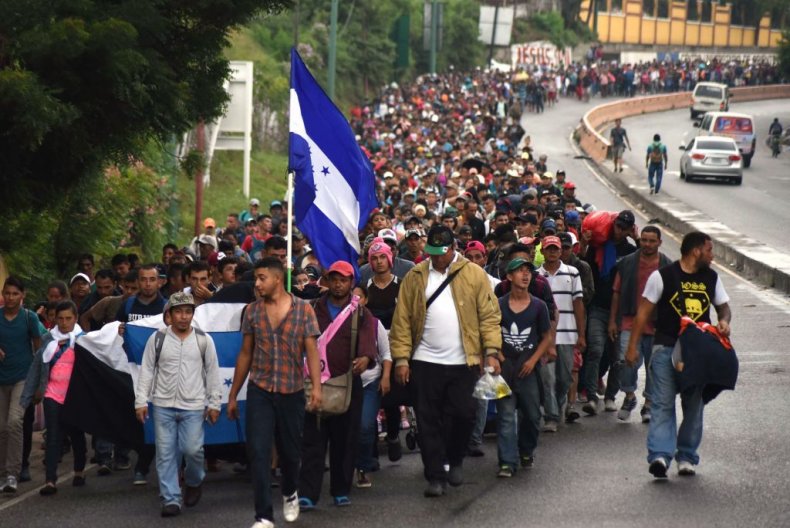 The group has been covering up to 30 miles in a day, rising early to continue their journey. As of Wednesday, the group was passing near Chiquimula, Guatemala, still several days on foot to the Mexican border, Fox News reported. Even if some of the migrants are allowed to enter Mexico, it would likely take many more days to travel the distance to the border with the U.S.
Those joining the caravan are fleeing economic instability and social insecurity. Although the crime rate in Honduras has reportedly been declining, it continues to have one of the highest homicide rates in the world.
The caravan left Honduras last week and is no longer within the jurisdiction of Tegucigalpa, but Trump threatened the Central American nation on Monday via Twitter, saying the U.S. would cut all aid to the country if it did not stop the migrants' progress. He later followed up that threat, warning Guatemala and El Salvador as well that "all payments made to them will STOP (END)" if they "allow their citizens, or others, to journey through their borders and up to the United States."
While nations typically cannot block citizens from leaving their borders, unless they have committed some crime or are under investigation, neighboring nations could prevent foreign migrants from traveling through their territory. Guatemala initially held up the Honduran caravan on Monday, but eventually allowed them to enter. Hondurans are not required to obtain a visa to enter Guatemala.
The migrant caravan is still weeks from the U.S. border and will likely face difficulty passing into Mexico. Notwithstanding, Vice President Mike Pence also warned the President of Honduras Juan Orlando Hernández that the caravan must be stopped. "No more aid if caravan is not stopped," Pence wrote on Twitter. "[I] told him U.S. will not tolerate this blatant disregard for our border & sovereignty," he added.
As Vox pointed out, it's unclear how the Honduran government could actually stop the caravan now that it has left its territory, barring a military invasion from Guatemala. Such a scenario is not seen as a realistic possibility or likely possibility.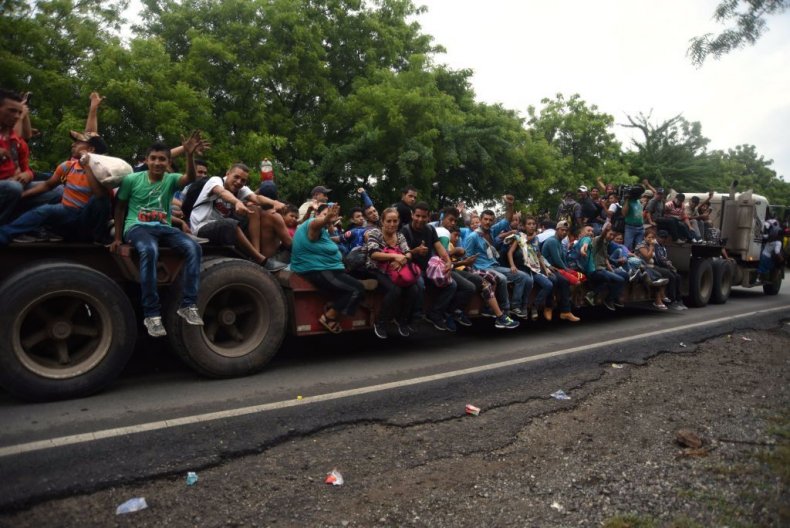 Trump has taken a hardline stance against immigration since he assumed power. His policies drew significant controversy this summer when images of thousands of detained migrant children separated from their parents were shared by national and international media. While the president has consistently insisted on building a multibillion-dollar wall along the southern U.S. border, the proposal has failed to move forward in Congress, with most experts arguing it would be exorbitantly costly and ineffective.
Earlier this month, Trump and the president-elect of Mexico, Andrés Manuel López Obrador, who will take office in December, spoke by phone to discuss a $30 billion development plan aimed at curbing immigration from Central America and Mexico to the U.S. Following the call, Trump tweeted: "Great call, we will work well together," suggesting he was supportive of the idea.
If the plan moves forward, it would be a significant increase from the current level of aid the U.S. provides to Central America. Since 2014, Washington has committed about $2.6 billion for Honduras, Guatemala and El Salvador, according to the Associated Press. In 2019, just $65.7 million in aid has been earmarked for Honduras, intended to be used for democracy building, human rights, economic and social development, as well as security.