'Zero Tolerance': Hundreds of Immigrant Children Remain Separated, Some Under Age of 5, Thanks to Trump Policy
Nearly three months after the court-ordered deadline to reunite thousands of migrant children separated from their parents as a consequence of the Trump administration's "zero tolerance" policy, hundreds of children remain within the federal government's care.
A new court filing by the administration on Monday showed that 244 children are still not reunited with their parents, some of whom are under 5. Of those still separated, 175 children have already had their parents deported.
Only 66 children plan to be reunified or discharged from the government's care. Of those 66 children, 18 will be reunited with their families in their home countries, 13 will be reunited with family in the U.S., and parents of 32 children have not yet been able to tell the government whether they wish to be reunited or not. One child cannot be reunified because the parent is in custody while the parents of two children are under review for "red flags for safety and wellbeing."
Deported parents of 125 kids have said they do not want to be reunified, and 26 cannot be reunited because the parent is unfit or presents a danger to the child. The parents of 27 children who remain in the United States and have not been deported said they do not wish to be reunified, according to the government's court filing.
The administration was first ordered to reunify by July 26 the 2,551 migrant children separated from families who illegally crossed the U.S.-Mexico border.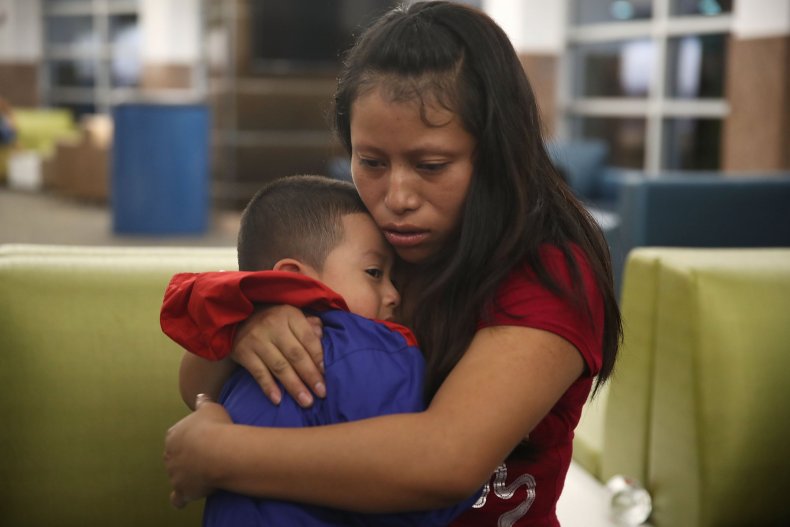 In the wake of the government's failed reunification process and a recent damning internal government watchdog report, Democrats have renewed their calls for Department of Homeland Security (DHS) Secretary Kirstjen Nielsen to resign. In addition, four Democrats who sit on the House Committee on Homeland Security told Newsweek earlier this month that if their party regains control of the House after the midterms, they plan to conduct a congressional investigation into Nielsen and the administration's handling of family separations.
The report, published last month, concluded that government officials—including Nielsen and Attorney General Jeff Sessions—and agencies were unprepared to handle the detention of thousands of migrant children. It also found that the Trump administration and DHS failed to properly track the migrant children while in their custody, resulting in dozens of families that have yet to be reunited months later.
The administration's self-imposed family separation crisis began after Sessions announced in April that the government would begin more aggressively prosecuting those who illegally crossed the border, including separating parents who crossed with minors. Aside from extraordinary circumstances, families that illegally crossed the border before Trump's zero tolerance policy, and during past administrations, were either kept together in detention facilities or were released while they awaited an immigration hearing.
Although Trump signed an executive order weeks later that halted the separation policy, the administration is now reportedly considering new plans that would reinstitute some form of family separation policy, according to several unnamed administration officials who spoke to The Washington Post.
One of those plans includes what's called a "binary choice." After asylum-seeking families are detained for 20 days, parents could then choose between two options: remain united as a family until their case proceeds legally, which could take months or even years, or allow their children to be taken and cared for at a government shelter, where relatives or guardians would have the chance to obtain custody.
Following that report, the president told reporters at the White House on Saturday that he and his advisers were "looking at a lot of different things having to do with illegal immigration."
"I will say this: If they feel there will be separation, they don't come," Trump said.