Donald Trump's Approval Rating Has Never Averaged Above 50 Percent During 18 Months as President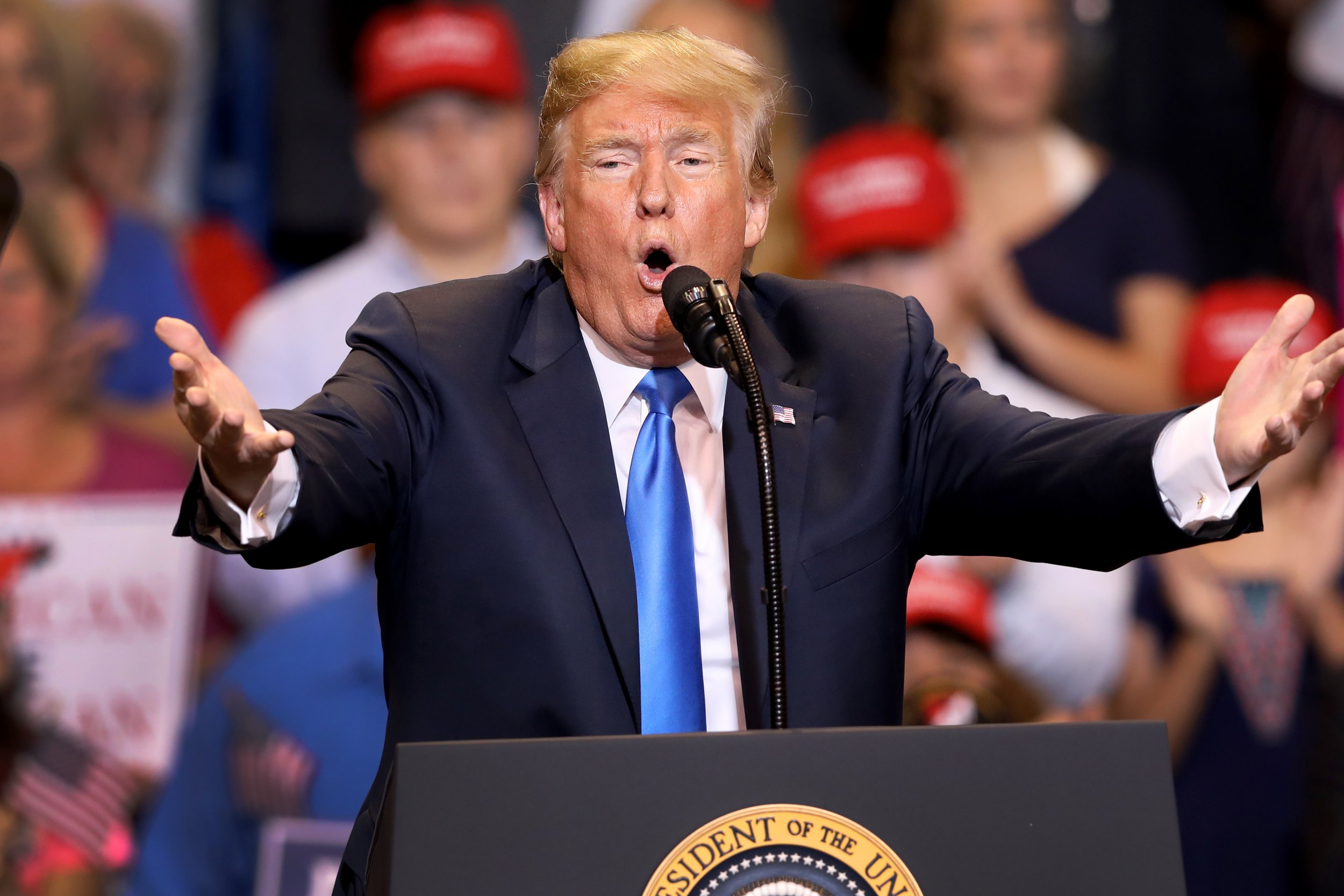 President Donald Trump this week celebrated, with the help of his own graphic, garnering the approval of 50 percent of the United States, as indicated by a new poll in which 49 percent of respondents disapproved of his performance. It may appear a slightly underwhelming achievement to highlight but approval ratings have offered Trump precious little to tout since he arrived in the White House.
Indeed, in his now18 months in office, Trump has yet to average an approval rating above 50 percent.
The poll Trump shared Thursday was from Rasmussen Reports, which was given only a C+ accuracy rating by FiveThirtyEight and was found to have a 1.5 point mean-reverted bias toward Republicans. Rasmussen has consistently reported higher approval ratings for Trump than any other major polling company.
Even still, by Friday, Trump's rating with Rasmussen had slipped back to a plurality of voters disapproving of his performance.
The Real Clear Politics average for Trump's approval rating painted an even bleaker picture on Friday. Its average of polls gave Trump an approval rating of 43 percent, with 53 percent disapproving.
Yet that actually represents one of Trump's better approval ratings across an average of polls. Never has he crossed the 50 percent threshold, the closest he came being just two weeks into his presidency in February 2017 when he reached 46 percent. What's more, only once has a plurality of voters approved of Trump's job performance and that was only by the smallest of margins, 0.1 percent, after his very first week in office.
In contrast, his average approval rating has dropped as low as 37 percent in December 2017, when his net approval rating was 21 points in the negative.
The numbers do not hold up well when stacked up against those achieved by the man with which Trump repeatedly compares himself—former President Barack Obama. At the same stage of Obama's presidency, his Real Clear Politics average approval rating was 45 percent with 50 percent disapproving.
Those figures represented one of the low points of Obama's time in the Oval Office, following the signing into law of Obamacare and ahead of the 2010 midterm elections when the Democrats suffered bruising defeats. Similar losses have been predicted by many for Republicans in November, with GOP control of the House of Representatives, and perhaps even the Senate, under threat.
Obama, though, enjoyed an average approval rating above 50 percent through his first eight months in office and a positive net approval rating for his first 17 months as president. He also finished his two terms with a 57.2 approval rating.