Donald Trump's Approval Rating Gets No Immediate Boost From Mueller Report Despite President's Victory Lap
The report from special counsel Robert Mueller has been turned in—and a summary from Attorney General William Barr has been made public—which has prompted President Donald Trump to take a victory lap. But a new poll this week has shown that despite Trump's jubilant mood, his popularity with voters hasn't increased much.
A survey from Morning Consult/Politico found Trump's net approval rating was still struggling at -13, even with the Mueller probe coming to a close. The poll, conducted March 25 through March 26, pegged Trump's approval rating at 42 percent and his disapproval at 55 percent. Morning Consult/Politico noted those results were "virtually identical" to the survey it had conducted the week before.
The new polling suggested that Trump is just about as well-liked as he was before Mueller handed in his report and Barr released his summary. There was a stark divide along party lines.
"As the Mueller report conclusion reverberates broadly, our polling suggests that the release of the summary findings has had little impact on President Trump's favorability," Tyler Sinclair, Morning Consult's vice president, said in Politico's write-up of the poll. "Notably, 44 percent of voters—including 73 percent of Democrats and 42 percent of independents—have a less favorable impression of the president following Attorney General William Barr's summary of the Mueller report. This compares with 39 percent—including 79 percent of Republicans—who have a more favorable view."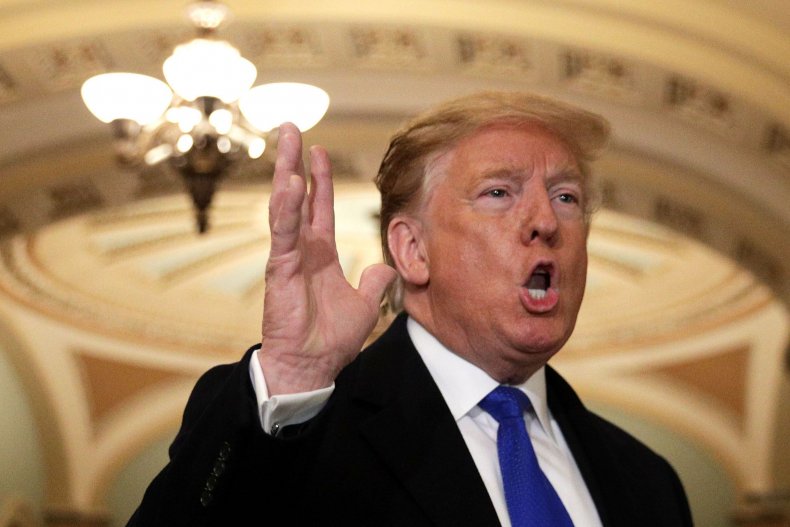 The poll from Morning Consult/Politico surveyed 1,978 registered voters from March 25 through March 26. It had a margin of error of plus or minus two percentage points.
While the survey might not show Trump has become more popular, he has celebrated the Mueller report and Barr summary. The attorney general wrote that Mueller did not find collusion from Trump and his associates. But Barr also wrote that, on the subject of obstruction of justice, the "Special Counsel states that 'while this report does not conclude that the President committed a crime, it also does not exonerate him.'"
Trump, however, has called it a victory. "No Collusion, No Obstruction, Complete and Total EXONERATION. KEEP AMERICA GREAT!" he has tweeted, for instance.