As Donald Trump's Approval Rating Flounders, Possible Next President Mike Pence's Is Soaring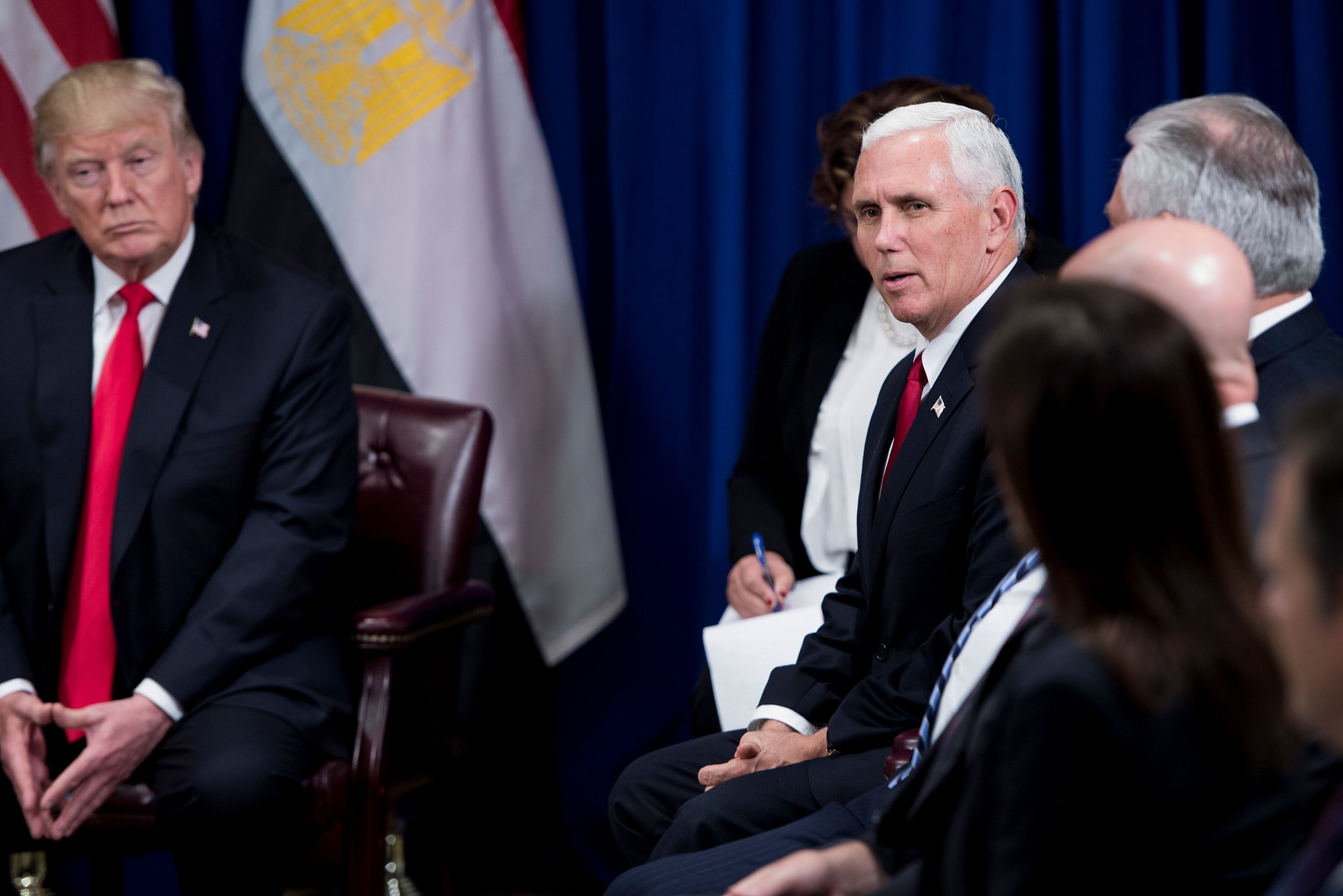 While President Donald Trump has watched disapprovingly as his approval rating has wallowed in the depths since the day he took up residence in the White House, at least one member of his team has witnessed the kind of bump in favorability about which the president dreams.
Related: Mike Pence preparing 2020 election run against 'weak' Trump? Vice president's team denies explosive claim
Vice President Mike Pence has seen the number of voters who view him favorably jump to 47 percent, as found by a Politico/Morning Consult poll conducted over the past weekend. It means a strong plurality now view him in a positive light, with 37 percent having an unfavorable opinion. That compares with thumbs-up/-down ratings of 43 percent and 40 percent just two weeks ago.
Pence's rating looks even more impressive given that he is the only member of the Trump administration to feature in the survey who emerges with a plurality of voters viewing him favorably. Attorney General Jeff Sessions, for example, has a favorable-unfavorable rating of 27 percent to 39 percent.
Pence's rating is also considerably better than that of the man who appointed him. Forty-five percent of the 1,992 voters surveyed responded that they had a favorable opinion of the president, compared to 49 percent who said they viewed him negatively.
Since the pair emerged victorious last November, Pence has not been thrust into the spotlight nearly as much as Trump. Yet the former Indiana governor has seen his prospects of taking the top job in the country discussed far more frequently and seriously than the vast majority of his predecessors.
Speculation over whether Trump would complete even one full term has swirled since before he even took office. Whispers and, in some cases, cries for impeachment amid investigations into possible collusion with Russia, have been accompanied by predictions that the 71-year-old will simply walk away from the job.
At times, it has appeared as if Pence has been hedging his bets, supporting the president while creating enough distance from his more controversial utterings in order to forge his own path should things go south for Trump.
Matters came to a head in August when a New York Times report claimed that Pence was among multiple Republicans laying the ground for a "shadow campaign" for president in 2020. The assertion, though, was swiftly and vehemently denied by Pence's team.
Pence has often acted as something of a mediator between the outspoken Trump and Republican leaders on Capitol Hill. It was similarly reported by NBC News Wednesday that he intervened when Secretary of State Rex Tillerson railed against the president in July, allegedly calling him a "moron" and threatening to quit. The story was strongly denied by Trump and prompted a hastily called appearance by Tillerson to affirm his commitment to the president.
In a break from Pence's usual stance, it was reported by Politico Wednesday that the vice president's chief of staff had launched an attack against Republican congressional leaders at a closed-door donor event, calling for a "purge" of those who fail to back the president's agenda.