Donald Trump's Approval Rating Hit All-Time Monthly Low in January, Popularity Slumping in Key 2020 States: Poll
President Donald Trump's monthly approval rating hit a new all-time low in January, according to a poll released on Thursday.
Forty percent of voters approved of Trump in the Morning Consult survey, a record-low for the poll. A record-high—55 percent—disapproved as well, which meant the president's net approval rating was also at an all-time low.
Morning Consult measured Trump's approval rating in each state, relying on data culled from 156,104 surveys conducted from January 1 through January 31. State by state, the White House unlikely found much to celebrate. A majority of voters in 12 states approved of the job Trump has done. But a majority of voters disapproved in 27 states.
And in key states for presidential elections—such as Pennsylvania, Ohio and Michigan—a majority of voters disapproved. Trump was struggling in southern battleground states as well. Disapproval of Trump outweighed approval in Georgia (48 percent to 47 percent), Texas (48 percent to 47 percent), Florida (50 percent to 46 percent) and North Carolina (50 percent to 46 percent).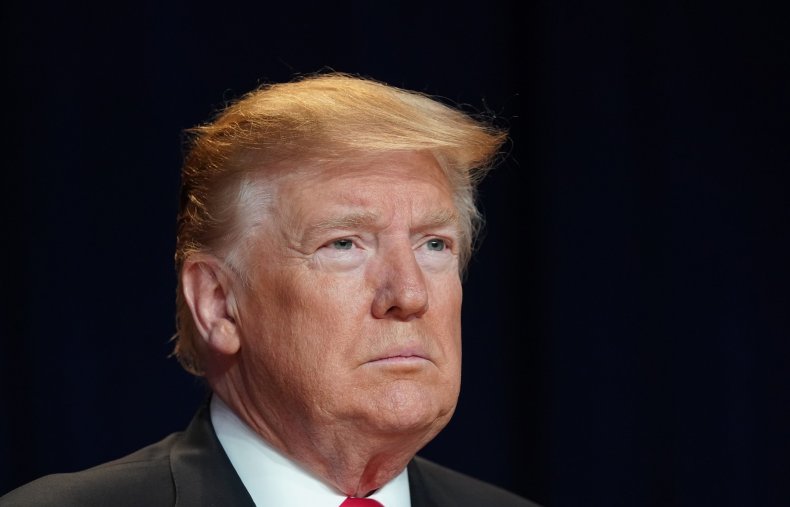 Most polls indicated that Trump had a rough January. The president's demand for funding for his long-promised border wall sparked the longest-ever government shutdown in history, and it further weighed down his already struggling popularity. Even Maroon 5—the Super Bowl halftime performer much of the country wasn't thrilled about—polled higher than Trump.
Taking a broader view beyond January to Trump's entire presidency, things aren't exactly looking up for the president. While he is still popular in states like Wyoming and West Virginia, the Morning Consult Trump Tracker shows that the president's net approval rating has fallen at least 10 percentage points in every single state from when he first took office in January 2017.
The FiveThirtyEight tracker—which aggregates public polls and adjusts for each survey's quality, recency, sample size and partisan lean—pegged Trump's approval rating at 40.1 percent on Thursday morning. That's not great, but also a fair bit off from Trump's lowest-ever measurement on the tracker, which was 36.4 percent in December 2017.