Donald Trump's Average Approval Rating Dips Below Major Threshold as Shutdown Swoon Continues
President Donald Trump's approval rating has taken a beating amid the longest-ever U.S. government shutdown, which has dragged on for more than a month.
On FiveThirtyEight's daily tracker, for instance, Trump's average approval rating had dipped below 40 percent on Wednesday. The tracker—which aggregates public polls, while accounting for each survey's quality, recency, sample size and partisan lean—pegged Trump's approval at just 39.6 percent, while his disapproval had risen to 55.7 percent.
"Had seemed like Trump's approval rating had maybe started to stabilize after his speech this weekend," FiveThirtyEight Editor-in-Chief Nate Silver tweeted on Wednesday. "But it's still getting worse in our tracking."
The president's popularity has, indeed, fallen during the shutdown, with FiveThirtyEight's tracker finding his approval rating hovered around 42 percent a month ago.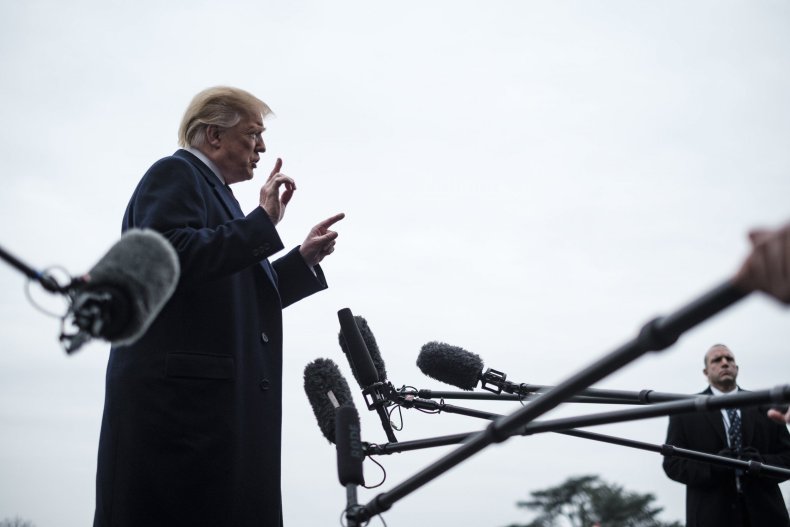 Fast-forward to this week and a survey from Public Policy Polling—a Democratic firm that also does public polls—found Trump's approval rating stood at just 40 percent. The same poll, meanwhile, found that 46 percent of voters supported impeaching Trump and that every likely Democratic presidential candidate was currently outpacing the president.
"It really doesn't matter which Democratic hopeful you test against him right now," Dean Debnam, president of Public Policy Polling, said in a statement. "Voters prefer any of them over Trump at halftime of his Presidency."
The shutdown was sparked over a month ago when Trump refused to sign a stop-gap spending bill, demanding funding for his long-promised border wall. Polling has shown Trump is losing the shutdown across nearly all fronts and that voters, by and large, blame him and his fellow Republicans for the shutdown that has left some 800,000 federal workers without paychecks.
It's unclear if the ramifications on Trump's popularity will be long-lasting, but the effects of the shutdown have certainly been widespread. About one in five Americans have been personally affected by the shutdown, a recent poll showed, while nearly half of U.S. adults knew someone who had been affected.