President Donald Trump's approval rating has gone up since the impeachment process began, and most Americans still don't want the Senate to convict him, a new poll has found.
The latest Gallup survey on the mood of the nation found 44 percent of U.S. adults approved of the commander-in-chief's performance going into the Senate impeachment trial, which is set to begin in earnest on Tuesday.
His approval rating is five points higher than it was when the same Gallup poll was conducted between October 1 and 13 last year, shortly following House Speaker Nancy Pelosi's decision to launch the impeachment inquiry.
President Trump's net disapproval rating has taken a steeper fall in the same time frame, down nine points from a -18 approval rating in October, according to Gallup polling data.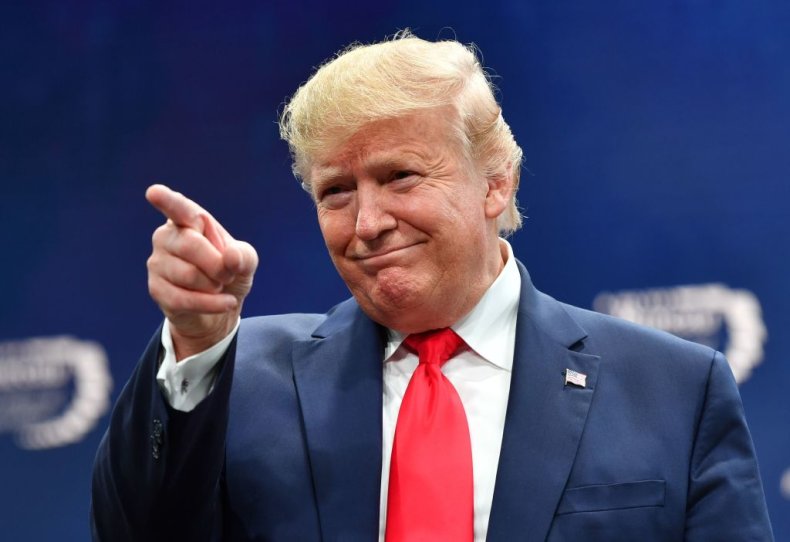 When pollsters asked 1,014 Americans between January 2 and 15 of this year whether they wanted the Senate to convict the commander-in-chief, a slim majority of 51 percent said they opposed conviction and removal from office.
By comparison, 46 percent of polled U.S. adults backed his conviction and removal from office in the build up to the delayed House vote on sending articles of impeachment to the upper chamber. A further 3 percent said they had no opinion on the matter.
The fresh polling numbers on whether or not the commander-in-chief should be convicted are exactly the same as Gallup's final poll before the Democratic-led House voted to impeach President Trump on December 18, under charges of abuse of power and obstruction of Congress.
Speaking to Newsweek about the result, Gallup senior editor Jeff Jones said: "If party leaders are decrying the impeachment as a 'hoax' or 'witch hunt' people who identify with Republicans are more likely to dismiss the charges as not being serious than to take them into account and begin to question their support for Trump.
"But we should be careful not to overstate the bounce Trump has gotten from impeachment, it is only happening at the margins among Republicans (and Republican-leaning independents) as most were likely already on board with him.
"It is also possible his ratings could be up because of other reasons beyond impeachment, including the economy or trade."
Gallup said its telephone poll of 1,014 Americans had a four percentage point margin of error.
Its survey results published today follow a House vote to send both articles of impeachment to the Senate, which officially began the president's trial on Thursday as lawmakers were sworn in as jurors.
Over the weekend, both House Democrats and President Trump's team set out legal briefs on their impeachment cases.
In a lengthy 111 page document, the House's seven impeachment managers set out the charges of abuse of power and obstruction of Congress along with supporting evidence, arguing that it " overwhelmingly establishes that he is guilty" on both counts.
But the White House's legal counsel released a seven page rebuttal of the impeachment case, saying the charges leveled against the president were "constitutionally invalid" and describing the Democratic pursuit of impeachment as a "partisan and reckless obsession."
The third impeachment trial in American history will begin in earnest on Tuesday, when it the approval of trial rules us expected to commence.
Updated 01/21/19 at 06:05 a.m. ET to include comment from Gallup senior editor Jeff Jones.