Donald Trump Is Attacking FBI Director Christopher Wray for Not Supporting 'Conspiracy Theories' Says Ex White House Ethics Boss
A former White House ethics chief has accused President Donald Trump of attacking FBI Director Christopher Wray for not supporting "conspiracy theories" about the intelligence agency's investigation into Trump campaign officials.
Walter Shaub, an ex-director of the Office for Government Ethics, suggested "history books" would note the president's split with the FBI boss following his decision to fire former director James Comey.
He also tweeted "congratulations" to former Russian Ambassador the United States Sergey Kislyak, mockingly suggesting he would become the next FBI director.
"The history books will note that he fired not only an FBI Director but also an Attorney General for allowing an investigation of his campaign," Shaub tweeted. "Now he's attacking another FBI Director for not being supporting of conspiracy theories about that investigation."
The former ethics chief's comments came after Trump dubbed the FBI "badly broken" and said the incumbent director Wray would "never be able to fix" the agency. The commander-in-chief's remarks followed a television interview with Wray on Monday in which he said Inspector General Michael Horowitz's report found no evidence of political bias influencing the opening of the Russia probe.
The report released yesterday looked into the FBI's decision to open an investigation of Trump campaign officials amid suspected Russian meddling in the 2016 election, and found no evidence of "political bias or improper motivation" behind the opening of the probe.
But it did criticize the FBI's methods of obtaining a FISA (Foreign Intelligence Surveillance Act) warrant against Trump campaign adviser Carter Page, saying there were "17 significant errors or omissions in the Carter Page FISA applications."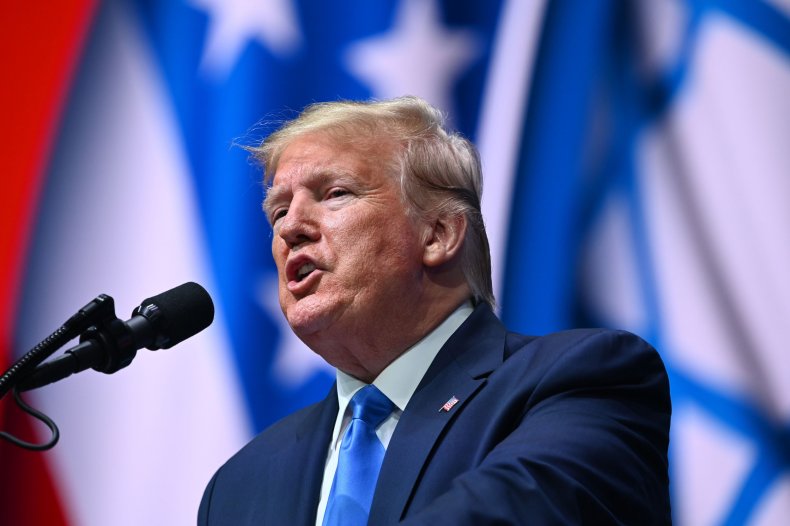 After the report's release, the FBI director told ABC News that an important takeaway from the report was that "the inspector general did not find political bias or improper motivations impacting the opening of the investigation" or the use of FISA surveillance powers.
But Wray also claimed in an FBI press release that he had "ordered more than 40 corrective steps" in line with the report's recommendations and accepted "the need for thoughtful, meaningful remedial action."
Criticizing the FBI director this morning, President Trump tweeted: "I don't know what report current Director of the FBI Christopher Wray was reading, but it sure wasn't the one given to me.
"With that kind of attitude, he will never be able to fix the FBI, which is badly broken despite having some of the greatest men & women working there!"
Newsweek has contacted the White House for further comment and information on Wray's future at the FBI, but had not received a response by time of publication.
The FBI told Newsweek it had no comment on President Trump's statement.
President Trump's post triggered a drove of speculation and comment on Twitter, with "FBI Director" ranked ninth on the platform's U.S. trending topics list at the time of writing.
CNN anchor Jake Tapper tweeted that "adherence to facts" was causing Wray to get "in trouble with the boss," while USA Today contributor Windsor Mann said the president's "use of the word 'current' is a warning, both to Wray and to us."
University College London political scientist Brian Klaas tweeted: "This is how disinformation works. The president invents conspiracy theories which are amplified by Fox News & Republicans trying to get on Fox News.
"Then, a neutral report debunks the conspiracy theories, but they all just lie and pretend it vindicates them instead. Rinse, repeat."
Others wondered whether President Trump was preparing to fire the sitting FBI director.
"Not to read too much into the Trump tweet, but it seems conspicuous that he called Wray the 'current' FBI director?" Washington Post reporter Aaron Blake tweeted. "We all know he would never fire an FBI director, though."
"Congratulations to Acting FBI Director Mick Mulvaney," The Fletcher School professor Daniel Drezner tweeted.
Responding to President Trump's criticism of Wray, Lawfare executive editor Susan Hennessey tweeted: "Reminder that, while Trump demolishes norms and pays no price, Congress explicitly set a ten-year term for the FBI Director in order to avoid this kind of political pressure."