Donald Trump Backs Permanent U.S. Military Presence in Syria Because He Doesn't Trust Russia's Influence There, Reports Claims
President Donald Trump, who campaigned on pulling U.S. troops out of Syria, has expressed his intention to extend the U.S. military presence in the country indefinitely, in order to push out Iranian proxy forces, according to reports. The decision was announced as top leaders from Russia, Iran and Turkey meet in Iran to discuss the future of Damascus.
State Department officials told The Washington Post that the decision was made because Trump is uncertain about whether Russia is truly willing to push Iran out of Syria. The U.S. and Israel have been trying to enlist Russia's aid to sideline Iran, and reports suggested that Moscow had agreed to have Iranian proxy forces moved away from the border separating Syria and Israel.
During a recent trip to Israel, national security adviser John Bolton had said that Russia would be happy to see Iran moved out of Syria. Nevertheless, Russian President Vladimir Putin has not confirmed this position publicly and instead is working with Iran to coordinate events on the ground. Putin traveled with Russian Foreign Minister Sergei Lavrov and Defense Minister Sergei Shoigu to Iran for the discussions.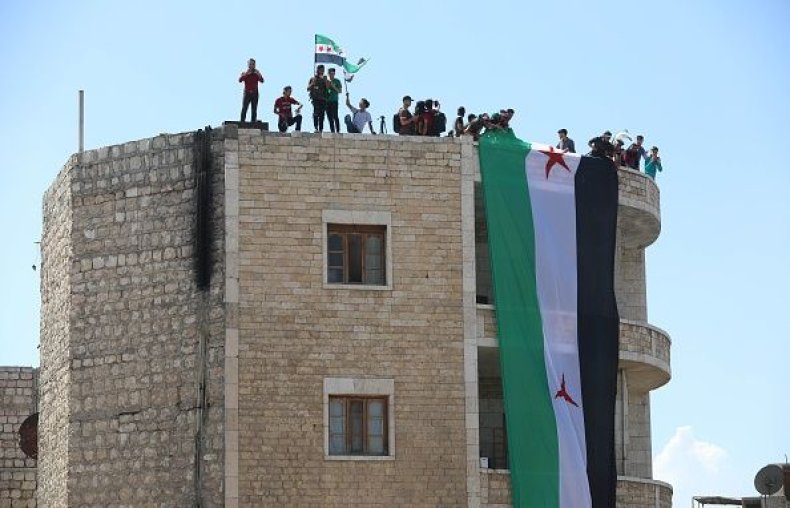 On Monday, Trump tweeted that Russia and Iran are making grave mistakes iwith regard to their Syria policy and are close to precipitating a humanitarian disaster in the rebel-held province Idlib. Reports have suggested that Syrian President Bashar al-Assad, who is supported by Russia, will likely launch a major offensive against the country in forthcoming weeks.
"President Bashar al-Assad of Syria must not recklessly attack Idlib Province. The Russians and Iranians would be making a grave humanitarian mistake to take part in this potential human tragedy. Hundreds of thousands of people could be killed. Don't let that happen!" Trump tweeted.
Turkish President Recep Tayyip Erdogan, however, is against the offensive because it would send millions of refugees into Turkey. Some experts have said around 1 million new refugees could enter Turkey if fighting begins in Idlib. Meanwhile, Iranian President Hassan Rouhani has argued that the fighting in Syria must continue until the Islamic State is driven out and all extremists are defeated.
The decision to remain in Syria until Iran leaves is a major departure from previous U.S. policy that focused almost entirely on defeating the Islamic State. Secretary of State Mike Pompeo, however, recently named Iran's withdrawal from Syria as one of his key demands of Tehran to facilitate a renegotiation of the Iran nuclear deal, which the U.S. abandoned in May.
There are currently a little over 2,000 U.S. troops in Syria.