Former President Donald Trump ripped his once-beloved Fox News for "putting on the terrible Nancy Mace of South Carolina at every opportunity," as the battle between Mace and Katie Arrington for the state's First Congressional District in the U.S. House is reaching a boiling point.
The primary, set for June 14, seems like it will test the value of Trump's endorsement in a red state and also show how internal divisions between the ex-president's detractors and supporters in the Republican Party might impact the 2022 midterms. Recent opinion polling put Mace well ahead.
In the statement, Trump added, "Fox Board Member (too bad! Paul Ryan is pushing her so hard it's ridiculous. She's nasty, disloyal, and bad for the Republican Party. Her opponent, Katie Arrington, is wonderful and will do a much better job for both South Carolina and the Republican Party. Katie Arrington has my Complete and Total Endorsement!"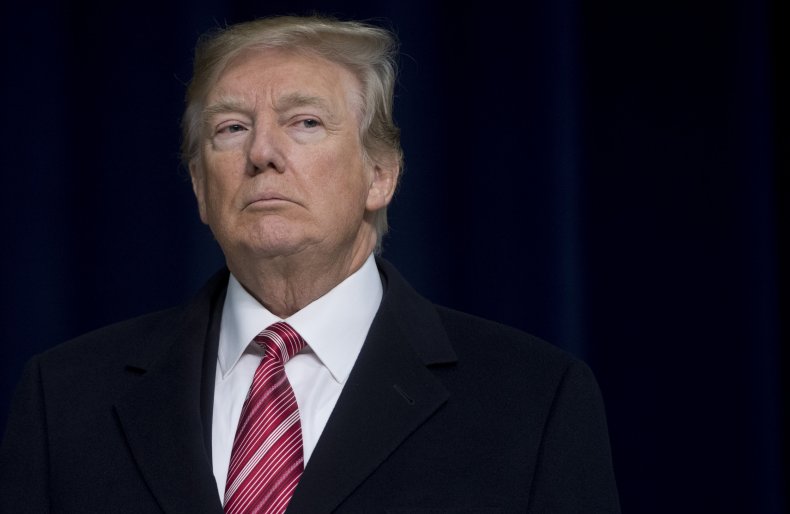 Trump actually endorsed Mace during her 2020 campaign for the seat, but only after she emerged as the victorious candidate from the Republican primary. Mace pledged to be a "new voice for the Republican Party," but Trump's current opposition to her likely has to do with her repeated comments against him following the January 6, 2021, siege on the U.S. Capitol.
After the riot, Mace signed a letter stating Trump's "words and actions" contributed to the destruction. She told CNN that Trump's role in inciting the riot had "wiped out" his entire legacy. She told South Carolina news outlet The State that she no longer believed in Trump and told Fox News that she didn't believe he has a future in the GOP.
Mace also voted to certify the results of the 2020 election, despite Trump's baseless claims that the election had been "stolen" from him by an unprecedented nationwide conspiracy of voter fraud. Mace also, however, voted to remove Republican Wyoming Representative Liz Cheney from her spot as the third-ranking House Republican for her repeated denunciation of Trump and his claims about the 2020 election.
In mid-November of last year, Trump issued a statement calling on "good and SMART America First Republican Patriots" to challenge Mace in the primary.
Once in Congress, Mace only voted in line with Trump's positions on policies about 33 percent of the time, according to the data journalism site FiveThirtyEight.
Even though Arrington is now Mace's key opponent, recent polling cited by The State showed that her endorsement from Trump may not have translated into voter support. The poll showed Mace getting 46 percent of respondents' support compared to just 31 percent for Arrington.
Arrington has made sure to target Mace's past opposition to Trump in her campaign messaging.
"[Mace] sold out President Trump. She sold out this district. She sold me out. I voted for her," Arrington said in a February 14 speech, according to The State. "And I sent her to Washington because she was going to be a pro-Trump conservative, because that's what we need."
Trump's endorsement of Arrington has put him at odds with his ex-ambassador to the United Nations and former South Carolina Governor Nikki Haley. Once considered a close Trump ally, Haley endorsed Mace on February 7, just two days before Trump backed Arrington.
Haley, like Mace, also distanced herself from Trump after the January 6 riot, stating in a 2021 Politico interview, "He went down a path he shouldn't have, and we shouldn't have followed him, and we shouldn't have listened to him. We can't let that ever happen again."
Last Saturday, Haley headlined a fundraiser for Mace that raised approximately $300,000. She held the event on the same night that Trump appeared in South Carolina to attend a rally supporting Arrington.
Perhaps eager to curry favor among pro-Trump Republicans, Mace filmed a video in late February of herself standing outside Trump Tower in New York City, mentioning that she was one of Trump's "earliest supporters" in 2015, The Washington Post reported.
"If you want to lose this seat once again in the midterm election cycle to Democrats, then my opponent is more than qualified to do just that," Mace said, noting that it was she who won the seat back for Republicans in 2020.
Trump's Thursday statement marks just his latest turn against the right-leaning Fox News network. After Election Night 2020, he blasted the network for calling the state of Arizona early in favor of his opponent now-President Joe Biden. In the following months, he encouraged viewers to watch the more right-leaning One American News Network or Newsmax media outlets instead of Fox News.
Newsweek contacted the offices of Trump and Mace for comment.