Trump Rally Without Nikki Haley Shows GOP Rifts in 2022 and 2024
Former President Donald Trump is headed to South Carolina for his latest rally on Saturday, but notably absent from the event will be his ex-ambassador to the United Nations and former South Carolina Governor Nikki Haley, who was once considered a close ally of his.
Trump will take the stage at the Florence Regional Airport at 7 p.m. in part to attack the state's GOP Representatives Tom Rice and Nancy Mace, and issue support for their opponents. However, the rally will mark a notable divide within the GOP, since Haley moved to endorse Mace early last month.
The former governor, who is also weighing a 2024 presidential bid, threw her support behind Mace on February 7, which was just two days before Trump announced he would emphatically back her primary challenger, Katie Arrington.
Her endorsement of Mace has largely been viewed as yet another example of a fraction within the GOP seeking to move itself away from Trump's influence. Since the January 6, 2021 attack on the U.S. Capitol, Haley has deliberately distanced herself from the former president at times.
"We need to acknowledge he let us down," she told Politico in an interview last year. "He went down a path he shouldn't have, and we shouldn't have followed him, and we shouldn't have listened to him. We can't let that ever happen again."
Trump, for his part, has made it a priority to support those who remain loyal to him in upcoming primary elections. His support for Arrington came after Mace heavily criticized the Capitol riots and stated that Trump's "entire legacy was wiped out."
"Katie Arrington is running against an absolutely terrible candidate, Congresswoman Nancy Mace, whose remarks and attitude have been devastating for her community, and not at all representative of the Republican Party to which she has been very disloyal," Trump said in his endorsement last month. "Katie Arrington, on the other hand, is liked and respected and a true Republican."
Mace later fired back by stating that she believes she'll easily win reelection without his support.
Ahead of Saturday's rally, Haley made it clear that she is not shying away from her support for Mace, and headlined a fundraiser for her that raised approximately $300,000.
"Jumping in the middle of this and holding a fundraiser when President Trump is coming down here? That isn't keeping your powder dry. That's loading up your gun," Katon Dawson, a former Republican Party chairman in South Carolina, told the New York Times on Friday.
Meanwhile, Trump released a statement Friday in preparation for his "big rally in South Carolina," and again slammed Mace for being "absolutely horrendous."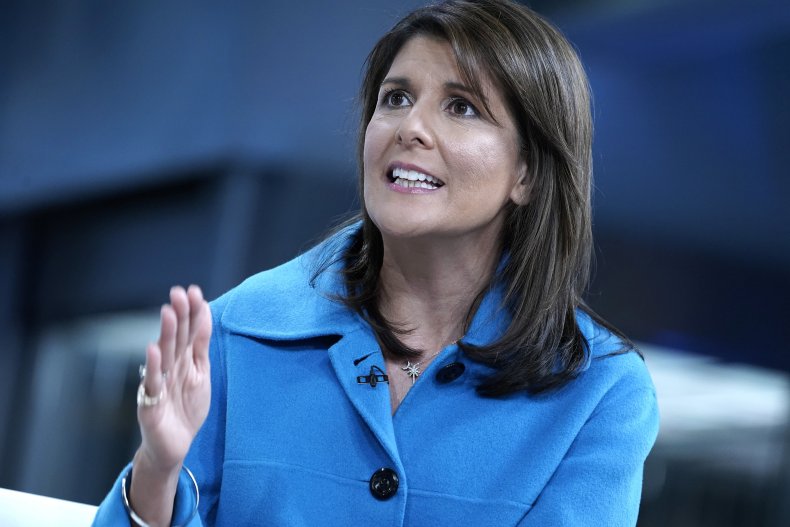 Haley, like Trump, has been slated as a potential presidential candidate in 2024. However, while she has previously been a vocal critic of Trump, she has never gone so far as to fully condemn or break ties with him, and has even suggested that she would not run against him for president.
Political experts have noted that she is likely always staying mindful of how the GOP views Trump.
"Nikki's very smart—it'd never occur to me that she doesn't know exactly what she's doing," South Carolina's treasurer, Curtis Loftis, told the Times. "If the political winds change for President Trump, she's prepared to be there, and this is part of that."