Republican Rep. Nancy Mace said this week that she believes she will win reelection for her seat in South Carolina despite the fact that Donald Trump is publicly supporting her opponent.
"I'm gonna win without him," Mace said in an interview with The State, which was published on Sunday morning, adding, that she is going to "spend every dime" and "break every record" in order to achieve her goal.
"This district is unique in South Carolina. We march to the beat of our own drum. We respect people that have an independent voice. We respect it when you don't tow the party line 100% of the time," she said.
Mace's fate in the upcoming primary election took a turn this month when Trump called her "terrible" and "very disloyal" and endorsed her primary opponent Katie Arrington. Her relationship with the former president soured last year after the January 6 insurrection at the U.S. Capitol when Mace became one of the few Republicans to condemn Trump for his actions leading up to the violent event.
In a series of interviews over the past year, Mace said that Trump's "entire legacy was wiped out" and that she no longer believed he had a future in the Republican Party. In response, Trump moved to quickly condemn her and focus his attention on Arrington, a candidate he deems to be more of a "true Republican."
"Katie Arrington is running against an absolutely terrible candidate, Congresswoman Nancy Mace, whose remarks and attitude have been devastating for her community, and not at all representative of the Republican Party to which she has been very disloyal," Trump said in a statement on February 9. "Katie Arrington, on the other hand, is liked and respected and a true Republican."
A day after the endorsement, Mace fired back by filming a video outside of Trump Tower in New York City and warning constituents that a vote for Arrington would be a sure way to lose her seat to the Democratic Party.
"If you want a Republican majority to thwart the radical far left DC Democrat agenda, then we've got to keep this seat in Republican hands, we've got to get a majority back. If you want to lose this seat once again in midterm election cycle to Democrats, then my opponent is more than qualified to do that," Mace said in the message.
Arrington later retorted by mocking Mace's video on Twitter and asking whether she had gotten "lost" on her way to "the Fox News studio" or if she was visiting New York City to "fundraise with the progressives."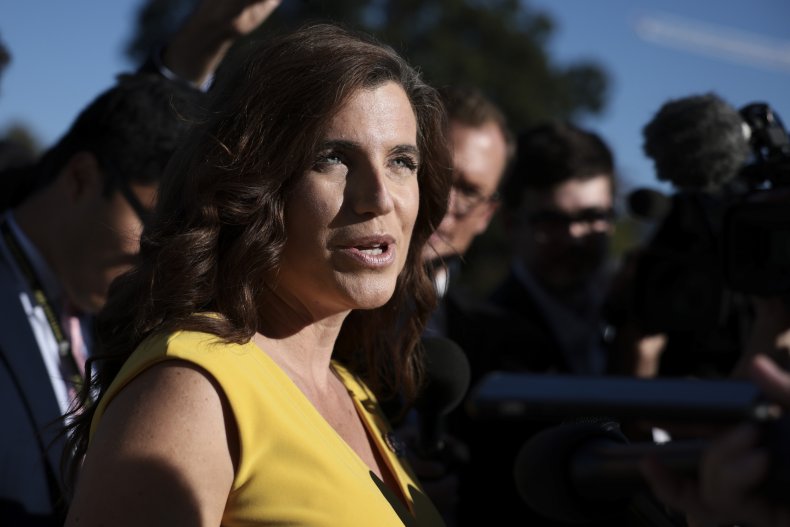 Recent polling from South Carolina suggests that Mace may be right in saying that she doesn't need Trump's support to keep her seat. A new survey of 400 likely GOP primary voters in her district showed Mace with a double-digit lead over her primary challengers, including Arrington, The State reported.
"I just don't think that Trump's endorsement is the be-all and end-all of the race," Kyle Kondik, a political analyst at the University of Virginia's Center for Politics, told the paper. "It's still a suburban kind of scene there. I'm sure that Trump is well-liked among the Republican electorate there, but there's probably Trumpier primary electorates around the country."
Trump has vowed to support candidates in several key states that have been "loyal" to him as Republicans aim to take back control of the House and Senate this November. According to a recent analysis by one betting aggregator, most candidates to have received his backing are poised to win their races.
"Control of Congress will likely come down to a few key races during the 2022 midterm elections and it looks like Donald Trump's endorsement will be a significant factor in securing Republican control," a spokesperson for US Bookies said. "Most Trump-endorsed candidates are odds-on favorites to win, with some of the only exceptions being gubernatorial candidates."