Donald Trump Beats Joe Biden in Key Swing States in 2024 Matchup, New Poll Shows
New polling shows Donald Trump beating President Joe Biden in five key swing states in a hypothetical 2024 matchup.
First reported by Politico, the surveys reveal the former president leading Biden in Arizona, Georgia, Michigan, Pennsylvania and Wisconsin—all states that went for Trump in 2016 but flipped for Biden in last year's race.
The polls were conducted by Fabrizio, Lee & Associates for Trump's Make America Great Again Committee.
The former president's biggest lead came in Michigan, as polling showed him defeating Biden by 12 points among likely voters. In Wisconsin, another Midwest state, Trump was ahead of Biden by 10 points.
The Republican's margins were tighter in Arizona, Georgia and Pennsylvania.
In Arizona—where Biden achieved his closest margin of victory last year with just 10,000 votes separating the two candidates—Trump led by 8 percentage points among likely voters in the next presidential cycle.
In Pennsylvania, Trump was up by 6 points and Georgia by 3 points. Last year, Trump was the first Republican candidate to lose the Peach State in nearly three decades.
The polls' findings come as Biden's own approval rating plummets. The latest Quinnipiac University survey showed the Democrat's job approval hit a new low, as just 36 percent of Americans think he's doing a good job in the White House compared to 53 percent of respondents who disapproved.
Most Americans also disliked his handling of key issues, including the coronavirus pandemic and the economy. Half of U.S. adults surveyed said they disapprove of Biden's response to COVID-19, while nearly 6 in 10 Americans disliked his handling of the economy.
Biden's low marks on those issues come as COVID-19 cases have risen in several states and inflation plagues the country.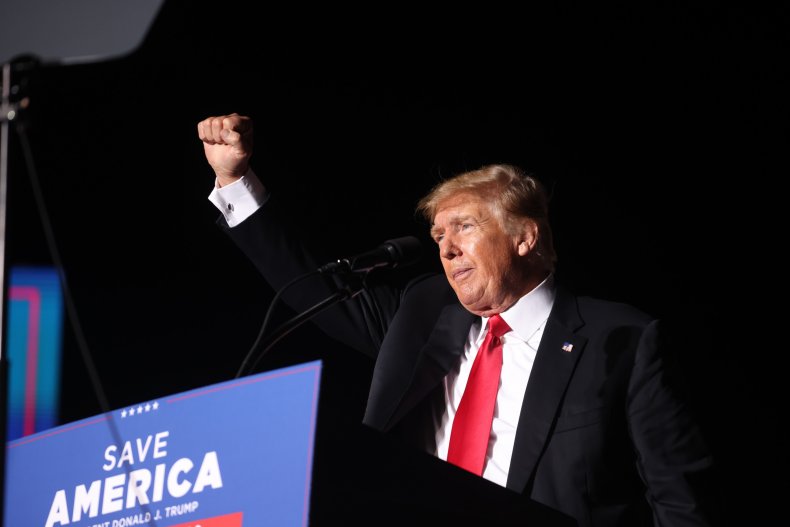 Biden said earlier this year he plans to run for a second term in 2024. By that time, he will be 81 years old. Having turned 79 on Saturday, Biden is the oldest commander-in-chief in U.S. history.
On Monday, reporters asked White House Press Secretary Jen Psaki to confirm if Biden was going to seek reelection and whether he informed his staff of that. She responded: "Yes, that's his intention."
Trump has been teasing a 2024 presidential run since leaving office but hasn't made an official announcement. In September, he told podcaster David Brody that only a "bad call from a doctor" could keep him away.
"That happens with people," he said. "Things happen through God. They happen, but I feel so good, and I hate what's happening to our country."
Fabrizio, Lee & Associates surveyed 600 likely voters in each state between November 11 and November 16. The polls have a margin of error of plus or minus 4 percentage points.