Donald Trump Touts Benefits of Trade Pact That Hasn't Even Been Agreed Yet
President Donald Trump posted to Twitter on Thursday to praise the positive impact of his United States-Mexico-Canada Agreement (USMCA) regarding trade, despite the fact that it hasn't been approved by Congress.
Sharing a link to a press release by Toyota about its plans to create hundreds of new manufacturing jobs in the U.S. while investing about $13 billion over five years, Trump hailed the news as being the result of his USMCA trade deal. "Congratulations @Toyota! BIG NEWS for U.S. Auto Workers! The USMCA is already fixing the broken NAFTA deal [sic]," Trump wrote on Twitter.
Although the news is positive for the U.S. economy, the USMCA deal has not yet gone into effect or even been approved by Congress. Leaders from Mexico, Canada and the U.S. signed a draft of the revised trade agreement, which was intended to replace the North American Free Trade Agreement (NAFTA), at the end of November 2018 on the sidelines of the G20 Summit in Argentina.
"Thank you for your close partnership throughout this process," Trump said at the signing ceremony. "This new agreement will ensure a future of prosperity and innovation for Mexico, Canada and the United States."
However, before the deal can go into effect from the U.S. side, it must be approved by Congress. Some representatives have voiced their objections to the international treaty, making its approval less than certain.
"We have serious concerns with the text of the USMCA in its current form," Democratic Representative Mark Pocan, co-chair of Congressional Progressive Caucus, said this week, Politico reported.
"It's no secret that any trade deal will need the support of the Progressive Caucus to pass the House—so we expect USTR [United States Trade Representative Robert] Lighthizer to work with us to make the necessary changes," the congressman added.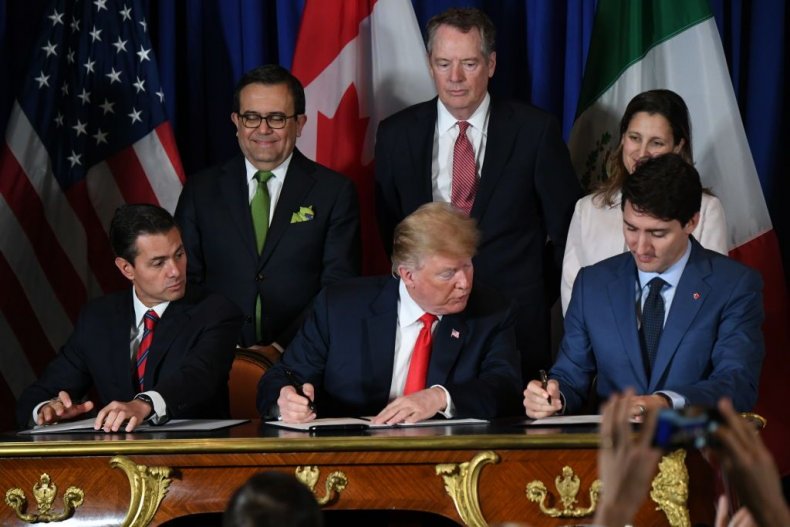 The deal has also faced opposition from progressive senators. In November, Democratic Senator Elizabeth Warren, who represents Massachusetts and is seeking her party's nomination to run against Trump in 2020, said she didn't see any real benefit for the U.S. in the agreement.
"Trump's deal won't stop the serious and ongoing harm NAFTA causes for American workers," she argued, CNBC reported. "It won't stop outsourcing, it won't raise wages, and it won't create jobs. It's NAFTA 2.0."
Some Republicans disliked the agreement as well. Senator Marco Rubio, who represents Florida, said he spoke to Lighthizer about his concerns before the signing. "It will allow Mexico to continue unfair practices that will literally put many Florida farmers out of business," he said, according to CNBC.