Donald Trump Says He Saved World From 'Big Fat War in Asia' by Talking to North Korea's Kim Jong Un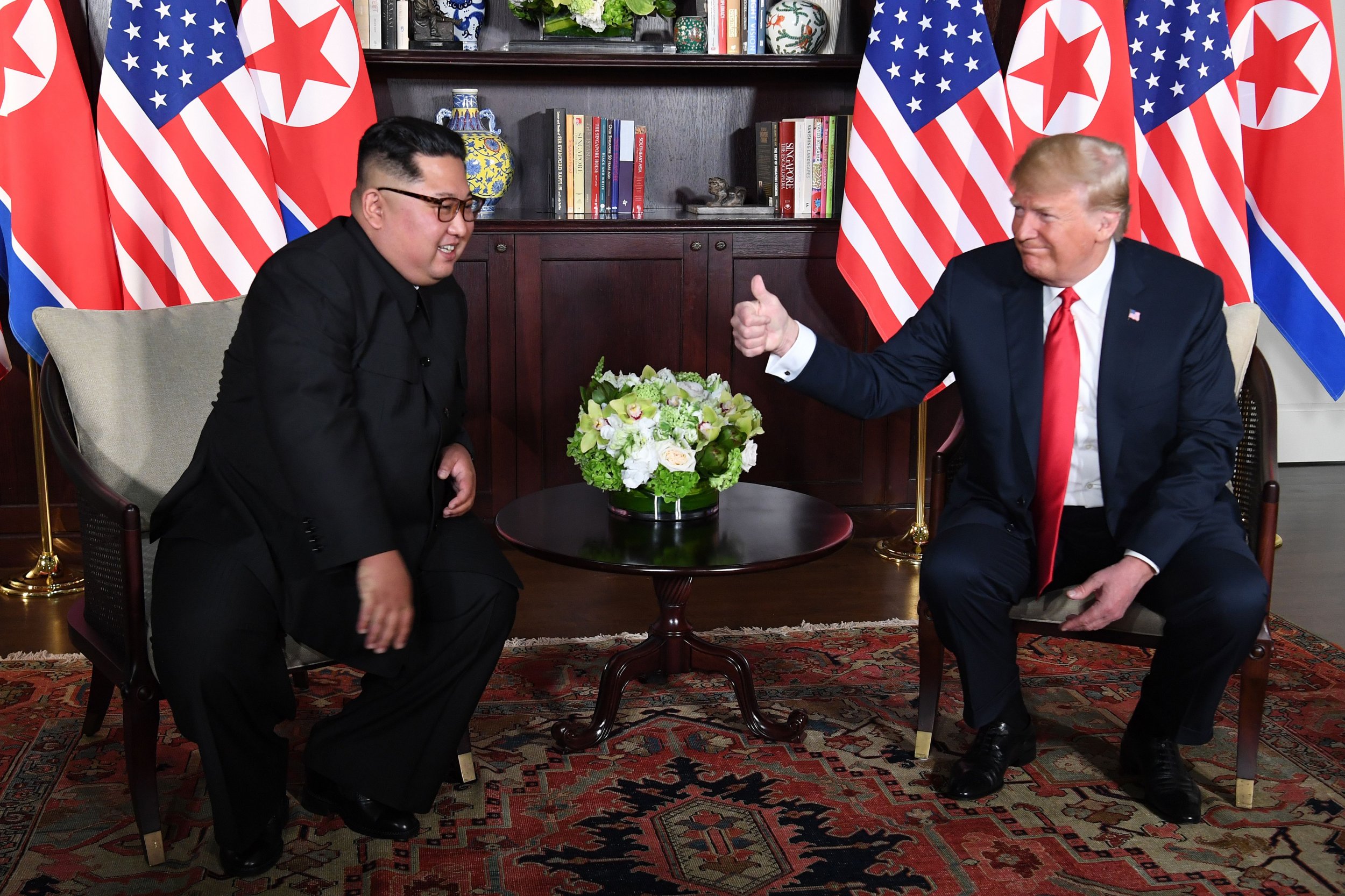 President Donald Trump said in a Cabinet meeting at the White House on Wednesday that a "big fat war in Asia" was narrowly avoided by the unprecedented U.S.-North Korea dialogue being pursued by his administration, The Washington Post reported. Trump and North Korean supreme leader Kim Jong Un sat down for the first direct meeting of its kind last June and have begun to forge a historic deal to disable North Korea's nuclear weapons in exchange for peace and sanctions relief.
One year since threatening nuclear war, Trump said Wednesday that he and Kim were getting along and planned a second summit in the near future, according to Reuters.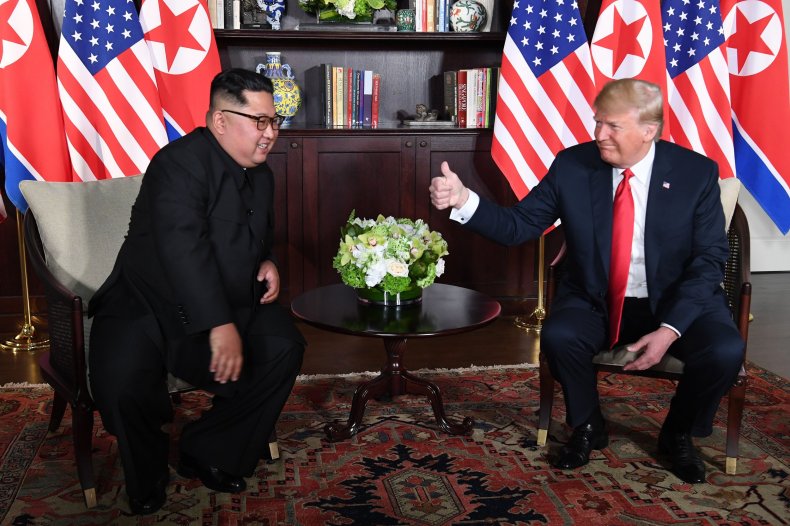 Trump has previously taken credit for preserving world peace through his North Korea policy. Days after meeting Kim in Singapore, Trump said that his predecessor, former President Barack Obama, "got nowhere with North Korea and would have had to go to war with many millions of people being killed."
Last month, Trump's outgoing ambassador to the United Nations, Nikki Haley, told The Atlantic that the U.S. had not prepared to strike North Korea pre-emptively, but that if Pyongyang "had launched something, if it had come near the U.S., the president totally would have."
Kim, however, has not tested a missile or nuclear weapon in more than a year, and officially announced a suspension of all such tests last April as part of the lead-up to his summit with Trump. The two men had escalated rhetoric against each other throughout 2017, but reversed course in 2018, when Kim dedicated his New Year's speech to seeking peace with the rival U.S.-backed South Korea.
Talks between North and South Korea have continued at a never-before-seen rate with three summits between the leaders and a fourth one planned for sometime soon in Seoul.
In this year's New Year's speech, Kim said "given that north and south committed themselves to advancing along the road of peace and prosperity, we maintain that the joint military exercises with foreign forces, which constitute the source of aggravating the situation on the Korean Peninsula, should no longer be permitted and the introduction of war equipment, including strategic assets from outside, should completely be suspended," according to the official Korean Central News Agency.
Kim reiterated his vow to stop testing nuclear weapons and missiles and work together with Trump but warned that "if the United States does not keep the promise it made in the eyes of the world" that North Korea "may be compelled to find a new way for defending the sovereignty of the country and the supreme interests of the state and for achieving peace and stability of the Korean Peninsula."
One day earlier, however, South Korean newspaper Chosun Ilbo cited a diplomatic source as saying that Kim had sent Trump a "conciliatory message" designed to pave the way for further talks between the two leaders.