Donald Trump: Bitcoin a 'Scam, ' But 'Competes Against the Dollar': 'Shrinkflation' Raises Retail Costs

CryptoCorner
Bitcoin and other major cryptocurrencies continued to fall Tuesday following critical comments by former President Donald Trump.
"Bitcoin, it just seems like a scam," Trump told Fox Business. "I don't like it because it's another currency competing against the dollar... I want the dollar to be the currency of the world. That's what I've always said."
But one analyst said Trump's comment makes no sense.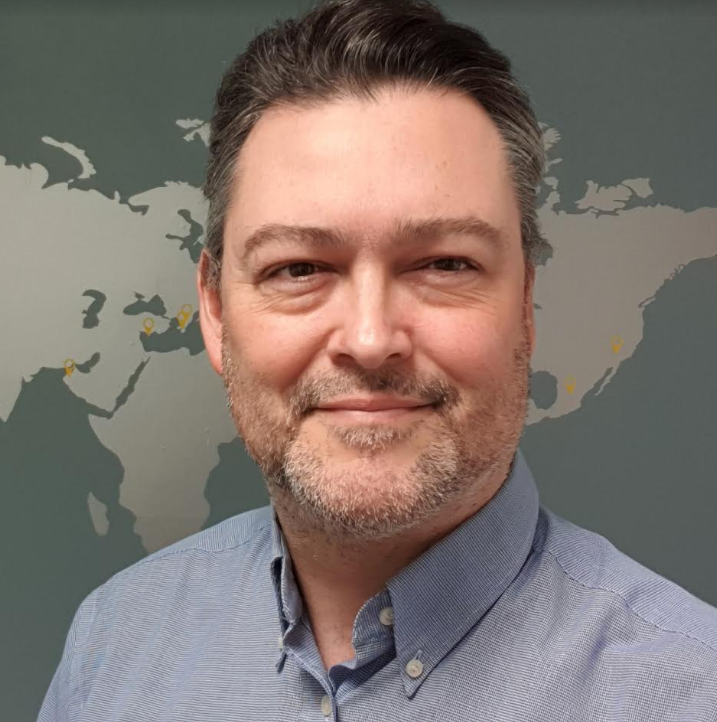 "In true Trump style, his words are contradictory, claiming that Bitcoin is both a 'scam' and yet it competes with the dollar," Jason Deane, Bitcoin analyst at Quantum Economics, in London, told Newsweek.
"In true Trump style, his words are contradictory, claiming that Bitcoin is both a 'scam' and yet it competes with the dollar," Jason Deane, Bitcoin analyst at Quantum Economics, in London, told Newsweek.
Nevertheless, Trump's comment and a flurry of negative and sometimes contradictory statements from Tesla CEO Elon Musk drove Bitcoin's price down.
Ruffer, an investment management company in the United Kingdom, recently sold its entire Bitcoin holdings valued at about $778 million and pocketed a hefty profit.
But Deane said the action underscores the difference between Bitcoin traders and investors.
"This neatly highlights the difference between companies who use Bitcoin as a reserve asset—and tend to hold—and those who are using it to generate funds for clients and use the volatility to trade," Deane said.
It's unclear how far Bitcoin's price could fall, but Deane said there appears to be "little support" below $29,500. A dip below that level "could create a rapid movement downwards and lead to a complete capitulation."
But not everyone would be hurt in such a downdraft.
"Long-term investors are likely to move quickly to secure additional Bitcoin for their portfolios, but new or short-term traders may find themselves on the wrong side of the trade," Deane said. "It should be clear, however, that Bitcoin's underlying fundamentals and long-term prospects remain, in our view, excellent."
Trading volume is lower than usual, suggesting continued uncertainty in the market's direction.
"In the short-term, recovery is difficult to call," Deane said. "It's more likely the market will limp along until a positive breakout either way occurs through trading activity or significant news forces the move."
But the crypto might get a boost from an unlikely source.
El Salvador announced plans to make Bitcoin legal tender along with the U.S. dollar. The El Salvadoran colon trades at about 8.75 to the dollar.
Edan Yago, co-founder of Sovryn, a protocol for decentralized finance, said Bitcoin is too volatile to be used as currency in day-to-day transactions, but the technology to create Bitcoin-backed stablecoins could enable the crypto to serve as currency for many people around the world.
A stablecoin seeks to offer price stability by providing the instant processing and security of cryptos with the more stable valuations of fiat currencies backed by assets.
"Seventy percent of people in El Salvador do not have bank accounts," Yago said in a statement emailed to Newsweek. "Thanks to Bitcoin they will never need them. El Salvador will leapfrog our increasingly corrupt monetary and financial systems and be among the first people to benefit from a more transparent, more secure system."

The president (of El Salvador) clearly sees Bitcoin volatility as less risky than their current macroeconomic situation," Luke Sully, CEO of Ledgermatic, a platform that allows companies to hold and use cryptocurrencies while complying with the law, told Newsweek. "It's a poke in the eye to the U.S., and the historic power of the greenback in its so-called 'backyard.'"
twitter.com
Luke Sully, CEO of Ledgermatic, a platform that allows companies to hold and use cryptocurrencies while complying with the law, said the decision could increase the flow of Bitcoin to El Salvador to reduce the capital gains tax bite, but the future course isn't clear.
"The decision also appears to be a direct reaction to the [U.S. Federal Reserve Bank's] aggressive increase in the U.S. dollar supply over the past 12 months, reducing the purchasing power of the greenback for a country still loosely tied to dollar," he said in a statement sent to Newsweek. "The president (of El Salvador) clearly sees Bitcoin volatility as less risky than their current macroeconomic situation. It's a poke in the eye to the U.S., and the historic power of the greenback in its so-called 'backyard.'"
Ulrik K. Lykke, executive director at crypto/digital assets hedge fund ARK36,said the decision by El Salvador's president Nayib Bukele raises basic questions about taxation and could boost investor interest in Bitcoin.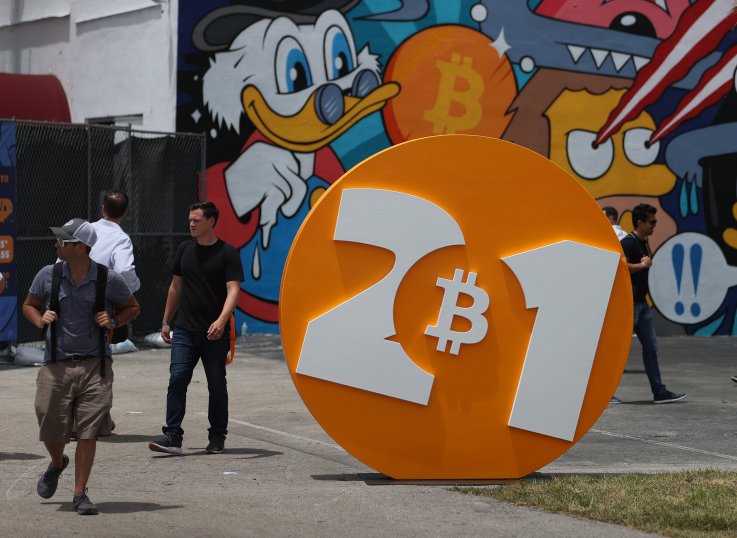 People enjoy themselves at the Bitcoin 2021 Convention, a crypto-currency conference held at the Mana Convention Center in Wynwood on June 04, 2021 in Miami, Florida.
Joe Raedle/Getty Images
"Financial regulators and tax authorities would have to re-define how to perceive Bitcoin given there's now a strong argument for classifying it as foreign currency," he said. "This, in turn, would likely translate into how profits from Bitcoin investments would be taxed. In some jurisdictions, for example, capital gains tax would no longer apply to profits made on a Bitcoin investment. Potentially, this development may encourage more investors to diversify their investment portfolios by adding Bitcoin."
But the crypto's future is unclear.
"Such a bold move made by a small nation raises the question of whether this is a one-off situation or a domino effect in the making," Lykke said.
El Salvador's action runs counter to action taken by other nations.
India may ban Bitcoin. China has cracked down, citing concerns about the large amount of electricity used in Bitcoin mining.
Meanwhile, the U.S. Justice Department announced that it had seized 63.7 Bitcoins valued at about $2.3 million allegedly received as ransom by hackers known as DarkSide after shutting down the Colonial Pipeline last month.
"Following the money remains one of the most basic, yet powerful tools we have," Deputy U.S. Attorney General Lisa O. Monaco said in a news release. "Ransom payments are the fuel that propels the digital extortion engine, and today's announcement demonstrates that the United States will use all available tools to make these attacks more costly and less profitable for criminal enterprises."
An affidavit filed with the federal court in San Francisco said the FBI obtained a private key to unlock the wallet where the Bitcoin had been stored and recovered most of the ransom.
Investigators didn't disclose how they obtained the key. The cryptocurrency moved through several wallets, and a portion of the ransom was sliced off in each move and hasn't yet been recovered.
Colonial Pipeline paid nearly $5 million in ransom to the hackers.
The days-long shutdown of the pipeline led to panic buying and sport shortages at East Coast gas stations, especially in the South.
DarkSide appears to be based in Russia. President Joe Biden plans to discuss ransomware attacks when he meets with Russian President Vladimir Putin later this month.
In mid-day trading Tuesday, Bitcoin changed hands at $32,248.35, down 10.87% in the last 24 hours but still up 8.56%% for the year. The 24-hour range is $31,035.49 to $36,012.27. The all-time high is $64,829.14. The current market cap is $603.99 billion, CoinDesk reported.
MarketPulse
"Shrinkflation"—smaller packages for about the same price—have hit supermarket shelves and affect a range of products, including ice cream, spaghetti sauce, hot dogs and margarine.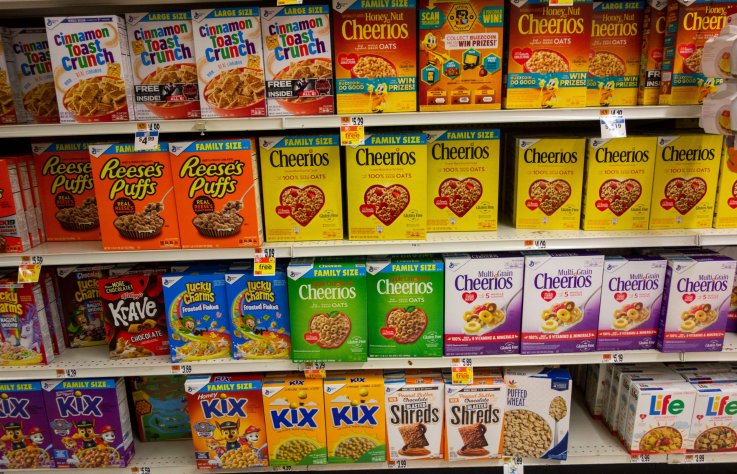 Retailers are selling smaller packages of products for about the same price, a practice known as "shrinkflation." Pictured, boxes of cereal seen on the shelves of a grocery store in New Rochelle, New York, in January 2019.
Don Emmert/AFP via Getty Images
The rising price of commodities erodes profit margins, forcing food producers to raise prices or soften the blow by shrinking package size.
Higher commodity prices can warn of inflation ahead because commodity markets reflect changes in the economy more quickly than prices for finished goods, economists said.
The price of basics continues to rise. Corn, used in cereal, muffins and sweeteners, is up about 50% this year. Higher hog futures mean the sizzle of breakfast bacon will cost more.
Food prices are rising worldwide.
The United Nations Food and Agriculture Organization tracks the worldwide price of cereal, oilseed, dairy products, meat and sugar. The organization said food prices in May were 4.8% higher than April, the largest monthly increase since October 2010.
"The sharp increase in May reflected a surge in prices for oils, sugar and cereals along with firmer meat and dairy prices," the U.N. said in a report.
In grocery aisles at home, that means higher prices per ounce for mundane items such as peanut butter or crackers and fewer half sheets per roll of paper towels.
But some believe the price of commodities will be a smaller factor in the price of finished goods because production has become more efficient.
Between 1990 and 2015, the U.S. about tripled its economic output per kilogram of oil consumed, the World Bank said in a report. Increased efficiency has held prices down overall in the past, but it's not enough to slow the current rate of increase.
The price of oil, used in the manufacture of many products and distribution of just about everything, is the key factor in rising prices. West Texas Intermediate Crude, the guide for U.S. prices, recently hit a two-year high—and prices at the pump spiked.
Gas Buddy, a travel and navigation app, said the national average price for a gallon of gasoline topped $3 a gallon for the first time since 2014.
Commodities are rising across the board, boosting consumer prices at a rate not seen since the recession of 2007-2008, which was caused by the collapse of the subprime housing market.
Commodity prices can swing wildly, and in most cases are not a concern because the spikes are often isolated and short-lived. But price increases are now generalized and show no sign of abating.
The price of copper is up about 29% this year. It's used in home appliances, water pipes, computers and mobile phones, and is a key component in future price increases for many durable goods, or products expected to last more than three years.
Kinks in the distribution chain have crimped supply in some sectors, driving up the price for fewer goods amid strong demand.
The price of lumber is up about 250% in the last year. The National Association of Homebuilders said the jump has added about $24,000 to the cost of a new house.
But so far, demand for housing remains strong, driven in part by low mortgage rates and the desire of many to leave major cities for the suburbs.
The Federal Reserve, the nation's central bank, slashed interest rates close to zero to support the economy during the worst of last year's COVID-19 shutdown, and has kept them low to boost the recovery. Consumer spending represents about two-thirds of the U.S. economy.
While the Fed expects inflation to exceed its 2% target for at least the rest of the year, it believes the trend will be "transitory."
For investors, the higher retail prices might mean looking at companies that can pass on price hikes without taking a hit.
Soft drinks like Coca-Cola and Pepsi might not be clipped by rising prices. Household products manufactured by Johnson & Johnson and Procter & Gamble might have what economists call "price elasticity" and continue to sell well despite inflation.
Many shoppers like the wide selection offered by Amazon and are likely to be willing to pay for the convenience of shopping from home with a few clicks.
If nothing else, buying online saves burning increasingly expensive gasoline to make a trip to the mall.