India Looks to Ban Crypto, Considers Seizing Digital Assets
Crypto in India may be headed for the crypt, as it considers a ban on Bitcoin and other cryptocurrencies. Government officials are drafting a report on proposed legislation and will submit it to the cabinet for review soon.
"India will propose a law banning cryptocurrencies, fining anyone trading in the country or even holding such digital assets," Reuters reported.
Citing an unnamed government official, the news agency said the proposed bill "would criminalize possession, issuance, mining, trading and transferring crypto-assets."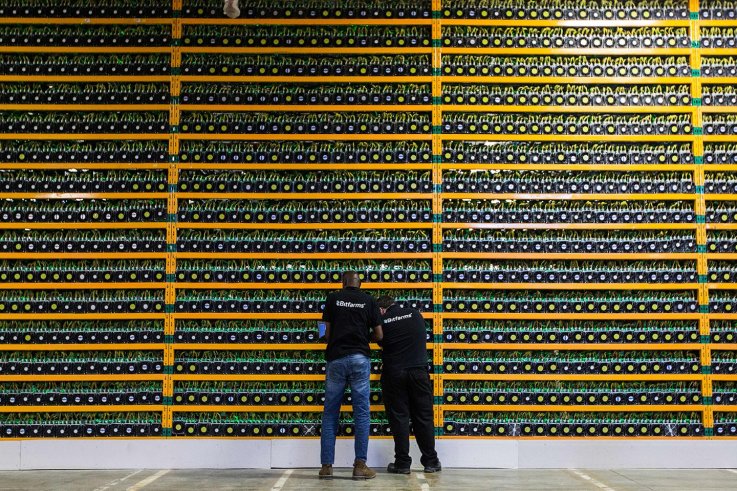 Two technicians inspect bitcon mining at Bitfarms in Saint Hyacinthe, Quebecon March 19, 2018. Bitcoin is a cryptocurrency and worldwide payment system. It is the first decentralized digital currency, as the system works based on the blockchain technology without a central bank or single administrator.
LARS HAGBERG/AFP/Getty
Other governments have warned that cryptocurrencies can be used to fund illegal activity and have raised the possibility of tighter restrictions, but haven't proposed an outright ban.
At a recent hearing conducted by the House Financial Services Committee's Subcommittee on National Security in Washington, witnesses said U.S. investigators lack full authority to pursue the financial transactions of alleged domestic terrorists using Bitcoin or other cryptocurrencies.
India is able to ban cryptos because Prime Minister Narendra Modi's Bharatiya Janata Party holds a solid majority in Parliament.
The anonymous government official quoted by Reuters said the proposed bill would give Bitcoin investors six months to liquidate their holdings before penalties would be imposed.
The Reserve Bank of India, the nation's central bank, is reportedly considering development of an official digital rupee. However, finance minister, Nirmala Sitharaman appeared to soften the government's stance on cryptocurrencies.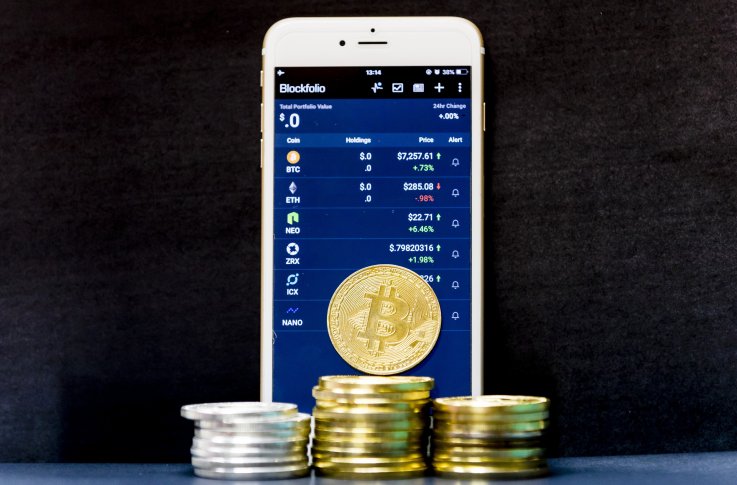 A visual representation of the digital Cryptocurrency, Bitcoin and a smart phone showing the Blockfolio app is seen on the screen on September 04 2018 in Hong Kong, Hong Kong.
Yu Chun Christopher Wong/S3studio/Getty Images
"From our side, we are very clear that we are not shutting all options off," she said. "We will allow a certain amount of window for people to use so that experiments in blockchain, Bitcoin or whatever you may want to call it, the cryptocurrency experiments and fintech, which depends on such experiment, will have that window available for them."
However, the finance minister stressed that the report will contain proposed cryptocurrency regulations.
In mid-day trading Tuesday, Bitcoin changed hands at $56,068.14, up 0.01% for the day, CoinDesk reported. The cryptocurrency reached a new high of $61,556.59 earlier this week and is up 91.74% in 2021.
Market Pulse
Hail to the Technoking of Tesla and his sidekick, Master of Coin.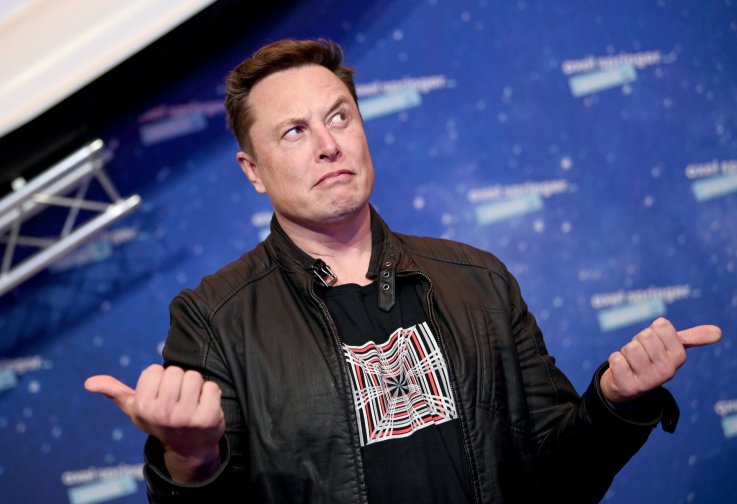 SpaceX owner and Tesla CEO Elon Musk (File Photo).
BRITTA PEDERSEN/AFP via Getty Images
While not yet as famous as Don Quixote and his sidekick, Sancho Panza, some argue that Tesla CEO Elon Musk is tilting at windmills with his investment in Bitcoin, and may wonder if CFO Zachary Kirkhorn offers witty comments about Dogecoin along the way.
The noms de plume, or perhaps more appropriately, noms de guerre, for Tesla's senior executives were included in an SEC filing by the company, with no explanation given.
But although Musk has frequently shown he enjoys a good laugh, he rarely is one to explain it. As the richest man in the the world, it's not clear who could demand an explanation, anyway. After all, Musk made an estimated $1 billion just from his investment in Bitcoin, or more than Tesla earned in 2020 from the sale of its electric vehicles.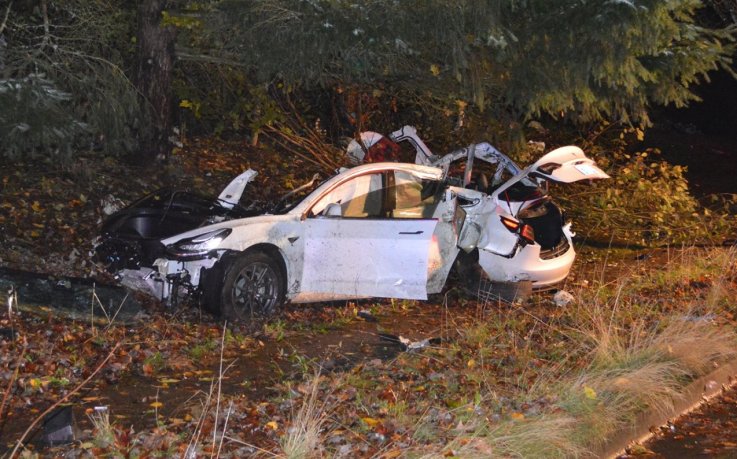 The remains of a Tesla Model S driven by Dylan Milota in Corvallis, Oregon on November 17, 2020. Police said he going about 100 mph when he crashed, destroying the vehicle, a power pole and starting a fire when some of the hundreds of batteries from the vehicle broke windows and landed in residences.
City of Corvallis Police Department
The company's stock has fallen recently as investors move out of innovative technology stocks like Tesla that soared during the COVID-19 lockdown and into cyclicals likely to benefit from reopening the economy.
The bet: After being locked down for a year, there's pent-up demand for just about anything outside the house,and the desire to spend is accompanied by a cascade of $1,400 stimulus checks from Uncle Sam.
So, it's unlikely that Musk's frivolity is damaging Tesla's stock price.
Musk has been skilled at talking up the virtues of Bitcoin and boosting its price – not to mention the value of his investment.
He's also had fun with Dogecoin, a cryptocurrency launched as a joke and currently valued at about a nickel after peaking at $0.078 earlier this month. Musk has mused that the bowser of cryptos might become the world's currency.
The comments were covered extensively by the press, and demonstrate Musk's media savvy. Perhaps he aspires to be a conceptual artist in his spare time: The mass media is his canvas, his wry comments are his paint and the buzz he creates is the art.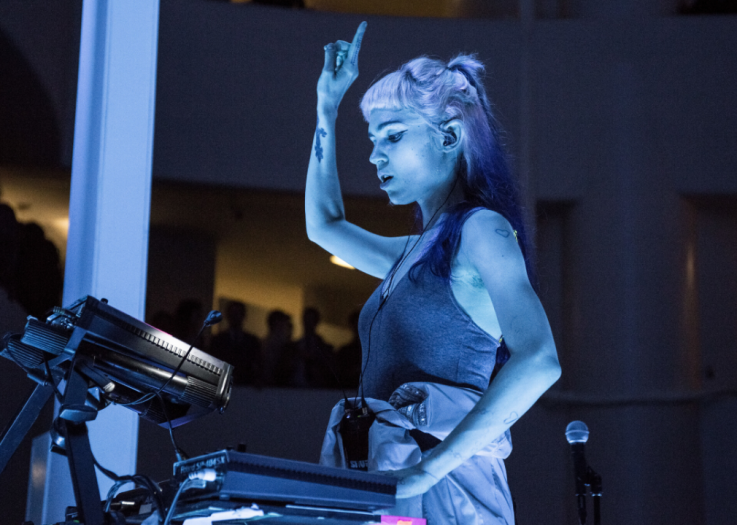 "Art Angels' by Grimes.
Timothy Fadek/Corbis via Getty Images
According to press reports, Musk is dating a musician and artist known as Grimes who recently sold animations she made for about $6 million on a website called Nifty Gateway.
In a video complete with pounding techno music and what looks like a trophy festooned with coins and mutt figurines, Musk plugs a non-fungible token, called an NFT by the cognoscenti and authenticated by blockchain.
"I'm selling this song about NFTs as an NFT," Musk tweeted.
NFT's grabbed attention during the lockdown and some people spent piles of money for an item that exists only online.
As Sancho Panza famously noted, "Holding the power and the staff, I'll do whatever I want."