U.S. Lacks Authority to Pursue Financing of Domestic Terror, Witnesses Tell House Subcommittee
Investigators lack full authority to pursue the financial transactions of alleged domestic terrorists using Bitcoin or other cryptocurrencies, witnesses told members of Congress Thursday.
The hearing conducted by the House Financial Services Committee's Subcommittee on National Security didn't focus exclusively on the use of Bitcoin to fund illegal activity, but witnesses said cryptocurrencies were one of several methods used for funding the January 6 attack on the nation's Capitol.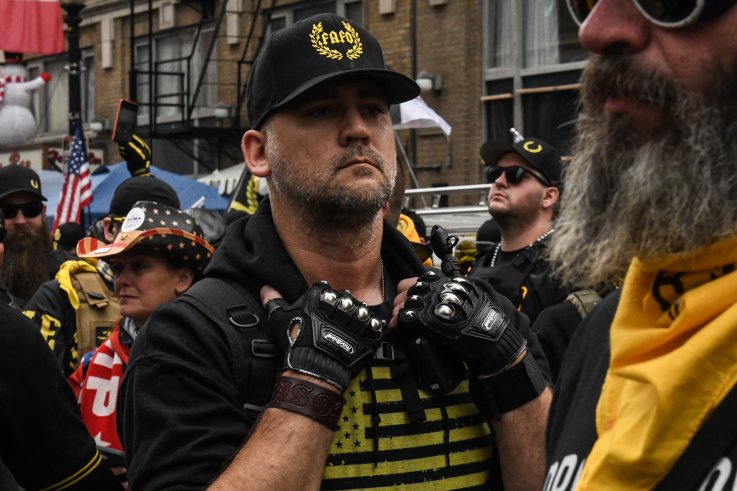 Members of the Proud Boys gather outside of Harry's bar during a protest on December 12, 2020 in Washington, D.C.
Stephanie Keith/Getty Images/Getty
Lecia Brooks, executive director of the Southern Poverty Center, said at least $500,000 in Bitcoin transactions were used to fund the assault on the Capitol that killed five and injured about 140 people.
Other methods used to back the illegal activity included crowd-funding, charities, and self-funding, witnesses testified.
Dr. Daniel Rogers, co-founder and chief technical officer of the Global Disinformation Index, a non-profit watchdog group based in the United Kingdom, said extremist groups often move to cryptocurrencies after being de-platformed and losing conventional ways to raise and transfer money.
"We definitely saw use of cryptocurrencies by the most extreme groups we studied," he told the committee.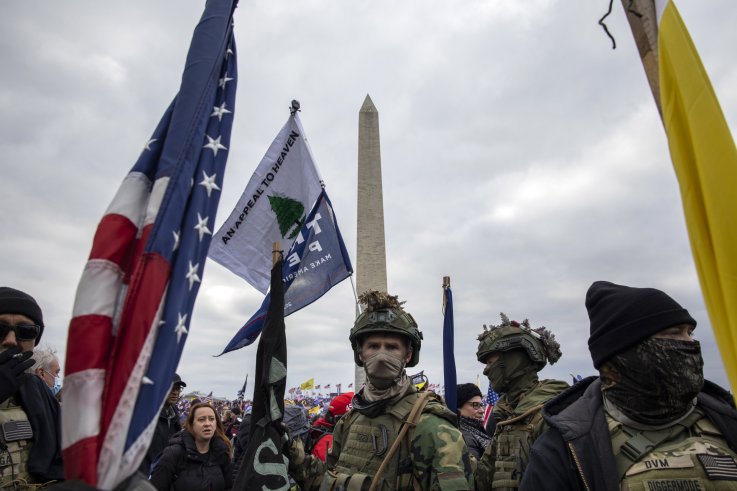 Prosecutors allege the Oath Keepers had a plan when they entered the Capitol on January 6. Pro-Trump protesters gather in front of the U.S. Capitol Building on January 6 in Washington, D.C.
Bret Stirton/Getty
Proposed legislation would require the Government Accounting Office to study fundraising of suspected domestic terrorists and explore possible links to foreign extremists.
Another proposed bill would empower investigators to freeze assets of those charged with crimes related to domestic terrorism.
A third proposed measure would establish an education program to alert local, state and federal authorities to the potential danger.
None of the proposed measures has been assigned a bill number or introduced for debate.
Daniel Glaser, a senior advisor at the Foundation for Defense of Democracies and former assistant secretary for Terrorist Financing and Financial Crimes at the U.S. Treasury, said in most cases cryptocurrencies must be converted to dollars or other fiat currency to purchase goods or services.
He said monitoring the sites converting Bitcoin into dollars offers investigators an effective way to track illegal activity, but the U.S. Treasury now lacks full authority to pursue domestic terrorists while having an array of tools to track foreign terrorists.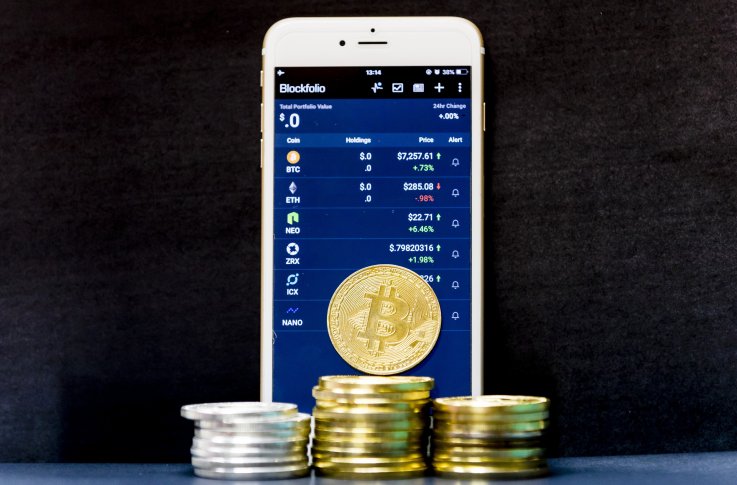 A visual representation of the digital Cryptocurrency, Bitcoin and a smart phone showing the Blockfolio app is seen on the screen on September 04 2018 in Hong Kong, Hong Kong.
Yu Chun Christopher Wong/S3studio/Getty Images
Congressman Warren Davidson, a Republican from Ohio, said any legislation must respect the right to free speech and uphold the Constitutional prohibition against unreasonable search and seizure.
"We're further intruding on an individual's privacy by handing the government (access to) more and more of an individual's financial records," he said. "At what point do we draw the line? What constitutes an unreasonable search of an American citizen? Should Americans have any expectation of privacy with respect to their personal finances?"
Glaser agreed that citizens have the right to an expectation of privacy in financial matters, but said that right must be balanced with the need for public safety.
"It's a question of balancing where those expectations begin and end," he said. "I think it's possible every day to respect a person's privacy while giving the government the tools to protect its citizens from other threats. Threats to civil liberties come from all directions."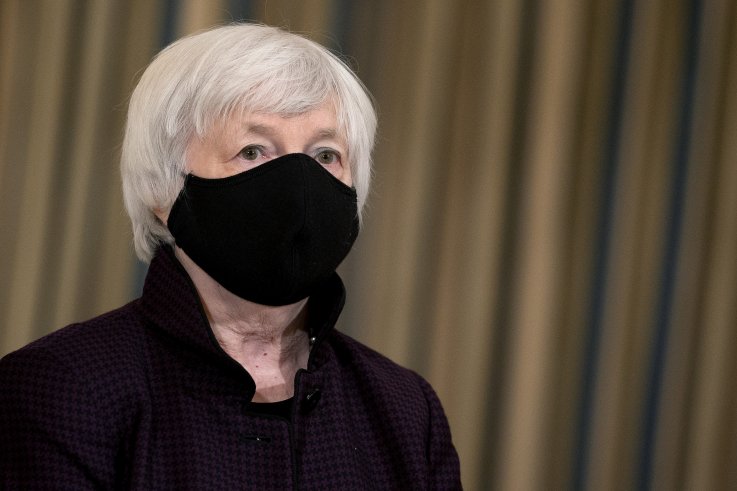 Treasury Secretary Janet Yellen listens to President Joe Biden as he delivers remarks on the national economy at the White House on February 05, 2021 in Washington, DC.
Stefani Reynolds/Getty
In prior statements, Treasury Secretary Janet Yellen warned that extremists can use cryptocurrencies to fund illegal activities.
"I think many (cryptocurrencies) are used, at least in a transaction sense, mainly for illicit financing," Yellen said in January. "I think we really need to examine ways in which we can curtail their use and make sure that money laundering doesn't occur through those channels."
Yellen didn't testify at Thursday's hearing.