Donald Trump Blasts Jan. 6 Panel After Ivanka Request: 'They'll Go After Children'
Former president Donald Trump has criticized the House committee investigating the January 6 insurrection for seeking his daughter Ivanka Trump's testimony.
The committee sent a letter on Thursday requesting a voluntary interview with Ivanka Trump, aged 40, who was a White House adviser to her father during his presidency.
In the letter, Rep. Bennie Thompson, the panel's chair, said Ivanka was in direct contact with her father during key moments on January 6, 2021, when a mob of Trump supporters stormed the U.S. Capitol in a bid to halt the certification of Joe Biden's election victory.
But former President Trump has said the panel seeking meetings with his children is "very, very unfair."
"It's a very unfair situation for my children," he told The Washington Examiner in an article published on Friday.
The committee has also sought logs of phone calls and text messages between the former president's son 38-year-old son Eric Trump and Kimberly Guilfoyle, another adviser and the fiancée to another son, Donald Trump Jr.
The deadly riot took place after a rally near the White House where Donald Trump had urged his supporters to "fight like hell" as a joint session of Congress covered to certify the results of the 2020 presidential election.
In the letter, the committee said it wants to speak with Ivanka Trump about what she knows about her father's alleged efforts to put pressure then-Vice President Mike Pence to reject the results, including a phone call her father made to Pence on the morning of January 6—a call the panel says she witnessed.
"You were present in the Oval Office and observed at least one side of that telephone conversation," the letter said.
The committee said it was also seeking information from Ivanka Trump about concerns she may have heard about those efforts from Pence's staff, members of Congress and the White House counsel's office.
The committee said it also wants to ask about her actions while the riot was underway.
"Testimony obtained by the Committee indicates that members of the White House staff requested your assistance on multiple occasions to intervene in an attempt to persuade President Trump to address the ongoing lawlessness and violence on Capitol Hill," Thompson wrote in the letter.
But Donald Trump claimed the panel was overreaching. "They are using whatever powers they have. They couldn't care less. They are vicious people," he said of the committee.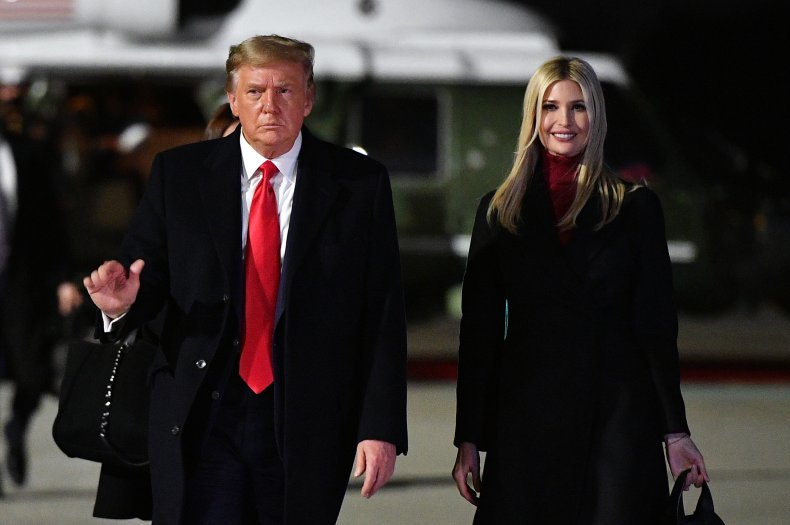 He also suggested the committee's investigation was being used to distract from his successor's failures.
"It's a disgrace, what's going on," he said. "They're using these things to try and get people's minds off how incompetently our country is being run. And they don't care. They'll go after children."
A spokesperson for Ivanka Trump said Thursday afternoon that she had "just learned" about the inquiry. It is unknown whether she will agree to testify.
"As the Committee already knows, Ivanka did not speak at the January 6 rally," the spokesperson told Newsweek. "As she publicly stated that day at 3:15pm, 'any security breach or disrespect to our law enforcement is unacceptable. The violence must stop immediately. Please be peaceful.'"
A spokesperson for Donald Trump has been contacted for additional comment.