Pro-Trump Boat Parades Over Labor Day Weekend to Feature Thousands of Boats Amid COVID-19 Pandemic
Amid the ongoing coronavirus outbreak, boat parades supporting the re-election of President Donald Trump are scheduled to take place over the Labor Day weekend in several parts of the country, including in Florida, California, Texas and Oklahoma.
Donald Trump Jr. is reportedly attending a Trump boat parade in Florida running from Jupiter to Mar-a-Lago on Monday, according to Florida's The CW West Palm.
The parades are expected to draw large crowds of Trump supporters keen to watch the boats float by, including up to 7,000 boats on Pine Island in southwest Florida.
On Saturday, a Trump boat parade, reportedly featuring between 6,000 and 7,000 boats, is scheduled to begin at the north and south ends of Pine Island before converging in the middle. "It's going to be huge," the organizer of the parade, Brian Rezny, told Florida's WINK News.
Another boat parade for Trump, as well as one for U.S. presidential candidate Joe Biden, is scheduled at Horton Park in the city of Cape Coral in southwest Florida.
The Biden boat parade is due to feature a few hundred boats and aims to remain eco-friendly, WINK News reported.
The organizer of the Biden parade, Danika Fornear, told WINK News: "We're going to have canoes and kayaks and some standup paddle-boarders that will be coming. We actually have a rack of canoes that we're loaning out to anyone that wants them."
The Florida Trump boat parade running from Jupiter to Mar-a-Lago is being hosted by Carlos Gavidia, a Trump boat parade organizer who was charged with a second-degree felony for sending a written threat to kill or do bodily injury after surrendering himself to police on Tuesday morning.
Gavidia, who previously received thanks from Trump for organizing boat parades in support of the president, was accused of using anti-Semitic language and sending threatening messages to a Florida resident.
The parade hosted by Gavidia will reportedly be joined by Trump Jr., his girlfriend Kimberly Guilfoyle and former Florida Attorney General Pam Bondi, The CW West Palm reported.
In California, a Trump boat parade is planned for San Diego Bay on Sunday. Kicking off in Point Loma and ending near the Coronado Bridge, the parade is expected to draw nearly 50,000 spectators and feature around 2,000 boats, San Diego's KUSI-TV reported.
Over in Texas, a Trump boat parade is planned for Saturday at Lake Travis, which will feature parachute jumpers jumping out of helicopters, according to the event's Facebook page.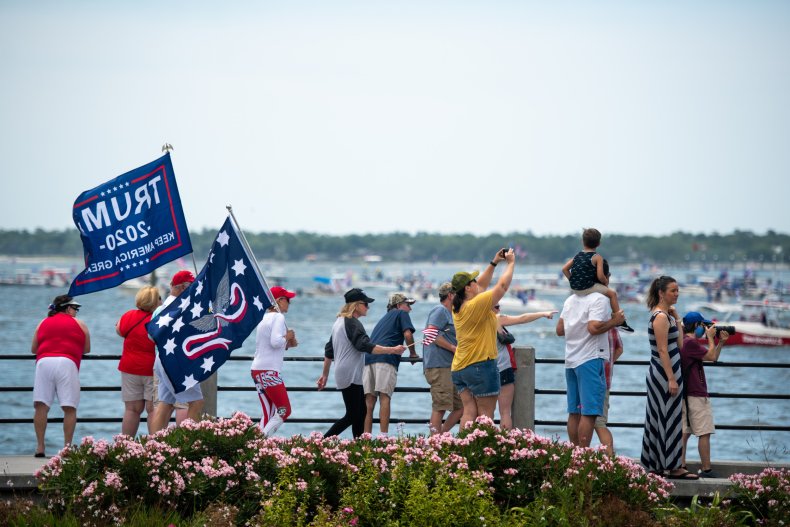 "At noon on the day of the parade, 4 parachute jumpers will be jumping out of a helicopter with smoke and flags flying! They will be on the south side of the lake between Starns Island and Emerald Point. Two of which are military veterans and one is an amputee. Thank you for your service to our country and for volunteering for this event! We honor you!," the event page noted.
Several Trump boat parades are also scheduled to take place in Oklahoma on Saturday, including at Lake Eufaula, which is expected to be attended by hundreds, potentially over a thousand people, according to the organizer of the parade, Christy Black, Oklahoma's News On 6 reported.
Two additional boat parades supporting Trump will be held at Lake Hudson and Lake Tenkiller in Oklahoma on Saturday, News On 6 reported.
The novel coronavirus has infected over 26.6 million people across the globe, including more than 6.2 million in the U.S. Over 875,000 have died following infection, while over 17.7 million have reportedly recovered, as of Saturday, according to the latest report by Johns Hopkins University.
The graphic below, provided by Statista, illustrates the spread of COVID-19 cases in the U.S.